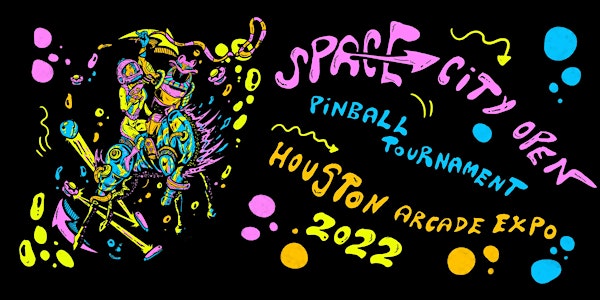 Space City Open Pinball Tournament at the Houston Arcade Expo
The Space City Open is a limited entry, matchplay pinball tournament held at the Houston Arcade Expo.
When and where
Location
Houston Marriott Westchase Richmond Room 2900 Briarpark Drive Houston, TX 77042
Refund Policy
Refunds up to 30 days before event
Eventbrite's fee is nonrefundable.
About this event
The Space City Open is a matchplay pinball tournament, held at the Houston Arcade Expo. There will be two distinct qualifying groups (Red & Blue), during which players will play 12 games (split between Friday and Saturday) on randomly selected machines against groups of randomly selected (but balanced) opponents. The top 12 players from each session will move on to the finals. Please see the website for the full rules. The times for each session are shown below: 
Early Group: Friday (11/11) 5pm - 8pm & Saturday (11/12) 9am- 12pm
Late Group: Friday (11/11) 8pm - 11pm & Saturday (11/12) 12pm - 3pm
T-shirts will be available to pre-order along with your purchase, until 10/1. You can still pre-order t-shirts if ticket sales are closed by clicking "register". T-shirts will not be available for purchase at the show.
ALL TICKETS ARE CURRENTLY SOLD OUT. You can add yourself to the waitlist by clicking "Register". Note there is only one waitlist, even though it looks like both groups have their own waitlist. You do not need to add yourself to both. We will contact players in order should a spot in either group open.
REGISTRATION FAQs
How many qualifying groups can a player register for? 
A player is only permitted to play in ONE of the qualifying groups. Do not register for both. If you register a player for both, we will randomly eject the player from the extra group at our choosing. If this happens prior to October 13, you will be issued a refund (and a stern warning), minus fees. After October 13, you will not be refunded. Bottom line -- do not register for more than one group!!!
What is the refund policy?
You can be refunded, minus fees, until October 13. We cannot issue refunds after October 13. Refunds will only be issued if you cannot attend the tournament or no longer wish to play. You may not request a refund for the purpose of transferring to a different session. You can transfer to a different session for a $10 fee. Contact spacecitypinball@gmail.com.
What about reimbursements for game lenders?
If you have an agreement with the tournament director to bring a game for the tournament, THANK YOU! You will still need to purchase your ticket like everyone else. However, you will not need to pay entry into the show. You will receive reimbursement for your tournament entry after the show is over.
Can I update my registration information?
No. If you need to make modifications or made an error, please contact the event organizers and we can update. 
Is my registration fee or ticket transferrable?
A player may transfer to different group for a fee of $10. You cannot transfer registration to another player. Waitlist positions are non-transferrable.
Is it ok if the name on my ticket or registration doesn't match the person who attends?
No. The name on registration must match the player attending. 
Do I also need to purchase entry into the Houston Arcade Expo?
Yes. All players must also purchase entry into the expo. You can do this at the show, or online here.  If you bring a game to the show or loan one to the tournament, entry is free.
How many players can I purchase registration for? 
You can purchase registration for up to 5 players per session. This can be a bit cumbersome, so be extra careful when entering the names for each player, and double check you are signing them up in the right session. 
Will there be other tournaments I can play in?
At the Houston Arcade Expo, there will also be a women's tournament. Prior to the expo, there will be WPPR eligible tournaments every day of the week leading up to the event! See website for more details.
Can I see what qualifying sessions other players have signed up for before registering? 
Previously, eventbrite had the option to show the registrations in real time but have since removed that feature. The player list will instead be posted on the website, however this will be done once, one week after sign ups have happened and then after substantial changes.
Are you requiring masks/vaccinations/tests for COVID-19?
The current plan is mask optional. We will not be checking vaccination records. Ample hand sanitizer will be available. Note that the SCO will be in a conference breakout room with little to no room for social distancing. For that reason, we HIGHLY RECOMMEND getting vaccinated prior to the event. Please use common sense. If you are not feeling well, DO NOT ATTEND. Any player exhibiting symptoms of COVID-19 will be asked to take a rapid test or will be removed from the tournament. The hotel uses 19 AHU handlers to provide air to all rooms. The Air Handler Units are all 100% fresh air use MERV 14 as filter Media.