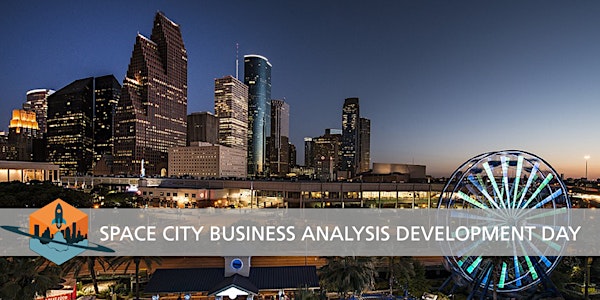 Space City BADD 2019
When and where
Location
Houston Marriott West Loop by The Galleria 1750 West Loop South Houston, TX 77027
Refund Policy
Refunds up to 7 days before event
Description
Welcome! In coordination with the local Houston IIBA chapter and ASPE, our organizing committee is once again excited to host our second annual Space City Business Analysis Development Day (BADD)! This will be another fantastic opportunity for you to expand your skills set, learn about the latest industry trends, and network with your colleagues. This conference is not just for B.A.'s; Space City BADD is a technical conference for Business Analysts, Project Managers, IT Managers, and anyone else, whether expert or beginner, involved in technology. You will also be eligible to claim up to six CDUs and PDUs for attending. We are so happy to be returning to the greater Houston area! If you require any accommodation(s) while attending our conference that are based on ADA compliancy, please contact Kyle Anderson at kanderson@aspeinc.com.
The overall theme of this year's Space City BADD is Evolution in Business Analysis.
Based on feedback from Space City BADD 2018 and in an effort to provide deeper understanding into how business analysis continues to evolve, 2 educational tracks are available over the course of the day.
Leading the Technology Revolution - this will give attendees the opportunity to focus on topics such as DX (Digital Transformation) Programs, DevOps, and Big Data & Data Analysis.
Driving Future Decisions - this will give attendees the opportunity to focus on topics such as Process and Decision Modeling, Relationship Management, and Working with Executives.
The B.A. role is continuously evolving day by day, and the ever changing requirements and opinions of what a Business Analyst is, has importance in the success of major projects. Enterprises depend on Business Analysts to propel products and projects while connecting team members. This event focuses on the future of the Business Analyst role, while providing educational advancement to those who communicate with Business Analysts every day.
For more information on group package pricing, please contact Kyle Anderson at kanderson@aspeinc.com.
For more information on how to become a Space City BADD 2019 sponsor, please contact Kyle Anderson at kanderson@aspeinc.com.
KEYNOTES:

Business Analysis in a DevOps World - Alan Koch (Morning Keynote)
Agile development has already challenged BAs to work in new ways and change their ideas about their own jobs. DevOps is continuing and accelerating this challenge. Writing documents is fading in its importance, but researching, meeting and talking with people, and analysis and critical thinking are only becoming bigger parts of the job. As broad collaboration across all of IT (and extending into our customer organizations) becomes the rule, a BA's skill set grows in value. But how we use those skills, and what our jobs will morph into is an open question that is ripe to explore.
The Badass Business Analyst Bucket List - Bob the BA (Afternoon Keynote)
Is it the end of an era? The beginning of the end? As businesses change so must our profession to meet their needs. Business analysis is not dead, it is evolving and that is okay. It really is! After all, the egg did not get to where it is today without the chicken evolving (it's true - the chicken came first). Change is happening way too quickly for woulda, coulda, shoulda. In this session, I will share my bucket list with you, but more importantly we will work together to create yours. This is not a "Someday I wish I..." bucket list, but a genuine, actionable, dare-I-say ultimate bucket list for this profession, that will transform you into the analyst of the future!
Track 1: Leading the Technology Revolution

Bob the BA - Technical Requirements, DX Transformation, & The Future of Business Analysis
More and more, roles in organizations demand more technical savvy. Everyone is talking about digital transformation. Technology is rapidly changing to meet those needs and in turn, is changing how we need to approach our roles and the requirements that drive product changes. The term "Technical requirements" is not an industry standard yet they seem to be cropping up more and more. What is the best way to handle these technical requirements? Who should own them? How can we analyze them? Are you ready for your technical future? Come join us for a fun-filled session to learn about technical requirements, discover what they really are, are not, and how to document them.

Alan Koch - Agile Story-Writing
User Stories are the primary way Agile teams capture their customers' requirements and manage their work. Story-writing is a skill that every BA needs in the new Agile world. We will learn about Epics, User Stories and how to write good ones.
Peter Oliver-Krueger - Emergent Design is Not Agile: Using User Story Mapping to Design Real MVPs
"Emergent Design" - the idea that we'll design the application as we build it - is sloppy, wasteful, and not actually Agile. ...But this also isn't a talk about how Waterfall is the misunderstood, black sheep of the software world. Big, Up-Front Design (BUFD) is also wasteful, and also not Agile... Instead, I'll show you a story-splitting workflow workshop, based off of Lean Startup techniques, that can be done in hours - not days - and which will produce a true Agile Design that your teams can implement, in true iterative fashion.

Jared Gorai - Digital Disruptors and the Future of Business Analysis
Times are changing at a faster and faster pace and business analysis professionals need to understand the changes and how they affect the world around them. The McKinsey Global Institute identified 12 disruptive technologies that will transform life, business and the global economy in the very near future. In this session, we will review seven of the disruptors that will most affect Business Analysts during our careers as well as discuss the future trends and core concepts in business analysis and the outlook on the future of the business analysis professional.
Track 2: Driving Future Decisions
Joyce Statz - Process Modeling BPMN
This session provides the participants with background and experience using some of the key elements of BPMN – Business Process Modeling and Notation. Leveraging experience with other techniques used for modeling processes, ranging from simple flow charts to swim lane diagrams to tool-assisted complex techniques, BPMN is becoming a widely-accepted approach. This session describes some of the features which make BPMN attractive to modelers such as ways to model interactions of multiple organizations, to illustrate a range of decision-making options, and to exchange data and messages. Participants then use some of those techniques in illustrative process fragments during the session.

Lisa Combest - Leveraging the Harvard Business Review's Value Model to Realize Value
Business Value is often thought of in terms of dollars and cents, but the smart team knows there is so much more to Value. The Harvard Business Review (HBR) developed a value pyramid to assist teams in determining the value for products and services. The pyramid is a useful tool for ideation in marketing and sales planning efforts as well. This session will discuss the different levels of the value pyramid, each aspect of value, and how a team can work through inclusion of the various level in product development in order to ensure maximum value for customers and maximum return on investment for the company.


DaMarcus Robertson - Relationship Management Drives Future Decisions - Influence EQ and Power
Enduring business relationships are built on trust, loyalty, and solidified alliances; yet it is the effective management of these business relationships which enables one to persuade minds and influence action. The lack of communication, authority issues, poor chain of command, and fear of ownership are all factors that impede the completion of the objectives and overall direction of operations. This presentation combines business and sociology practices to frame how we can effectively drive future business decisions in the workplace through assertive, goal oriented, and interpersonal relationship management.
Gladys Lam - Engineering the Business Solution: How Business Rules, Business Processes, Data, and Requirements Can All Work Together
This presentation illustrates hands-on, best-of-breed analysis techniques that can work together seamlessly to produce superior business solutions. Watch how a process model transforms when business rules and decisions are added. Work through a case study iteratively to demonstrate how business rules, decisions and vocabulary can dramatically improve your business requirements. Do you have data quality problems? This presentation shows how business concepts and business rules can help you get out of the perpetual problem of creating complex logic to compensate for your data issues. Make your models come to life. Prepare your designers to develop intelligent screen designs, work out smart usage scenarios, and create test scripts. Enable your business to achieve true business agility, pinpoint customization, and world-class quality in customer service.
SPACE CITY BADD 2019 - AGENDA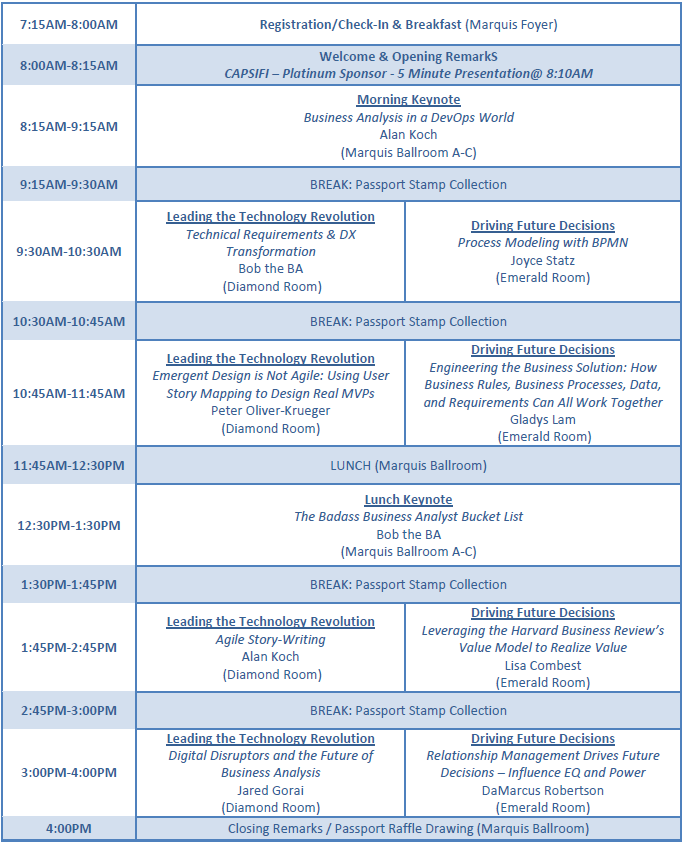 THANK YOU TO OUR SPONSORS!!: