Description
a Space Themed One Night Furry Con!
Prepare for liftoff with space themed costumes, dancing, DJ's, fursuiting, The Apollo 11 Test Capsule, a full bar, and waterfront views on the historic USS Hornet Aircraft Carrier.
This massive 24,580 ton ship has plenty of free secure parking, lots of indoor fursuit friendly naturally cooled space, and an outdoor fantail patio with bay views!
We've evolved from a dance party to a full on one night con featuring an expanded dealer's den, fursuit group photo, and more!
This is an 18+ Event. Limited $25 tickets are available while supplies last, $30 in advance, and $40 at the door. No one turned away for lack of funds; please consider volunteering in exchange for free admission.
See SpaceCampParty.com for more info!
A New Sponsor Experience
Our new $100 Sponsorship level will enable us to make Space Camp bigger and better as well as making free tickets available for those who cannot otherwise afford to attend. We have some great Sponsor Perks this year:
1 hour early boarding to Space Camp Party
Access from 5pm-8pm to our Exclusive Sponsor Lounge - featuring sunset views of the San Francisco Bay and downtown along with private bar access
Exclusive Swag (to be announced)
Free Admission Ticket to The Hornet for The Space Camp Photoshoot Sunday Dec 9th (the USS Hornet is a non-profit museum and has granted us special access to photograph)
Thanks so much for your support in making this event happen! We can't wait for liftoff!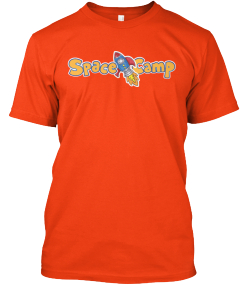 Space Camp 2019 T-Shirts - Offered to Ticket Holders At Cost for a limite time!
$12.42 Basic T-Shirt, $15.94 Premium or $23.06 Hoodie +$3.99 Shipping
As a small way of saying thanks for all your donations and support we are offering all attendees for a limited time only - the Official Space Camp T-Shirt at cost! Use the link below to select a size and color and it will ship direct to you in just a few days!