The Honorable Charles F. Bolden Jr., 12th NASA Administrator, will be speaking in our Space-Cafe event.
About this event
This Space Cafe event will be dedicated to The Honorable Charles F. Bolden Jr., the 12th NASA Administrator, who will be talking about Space economy and the future of the space industry.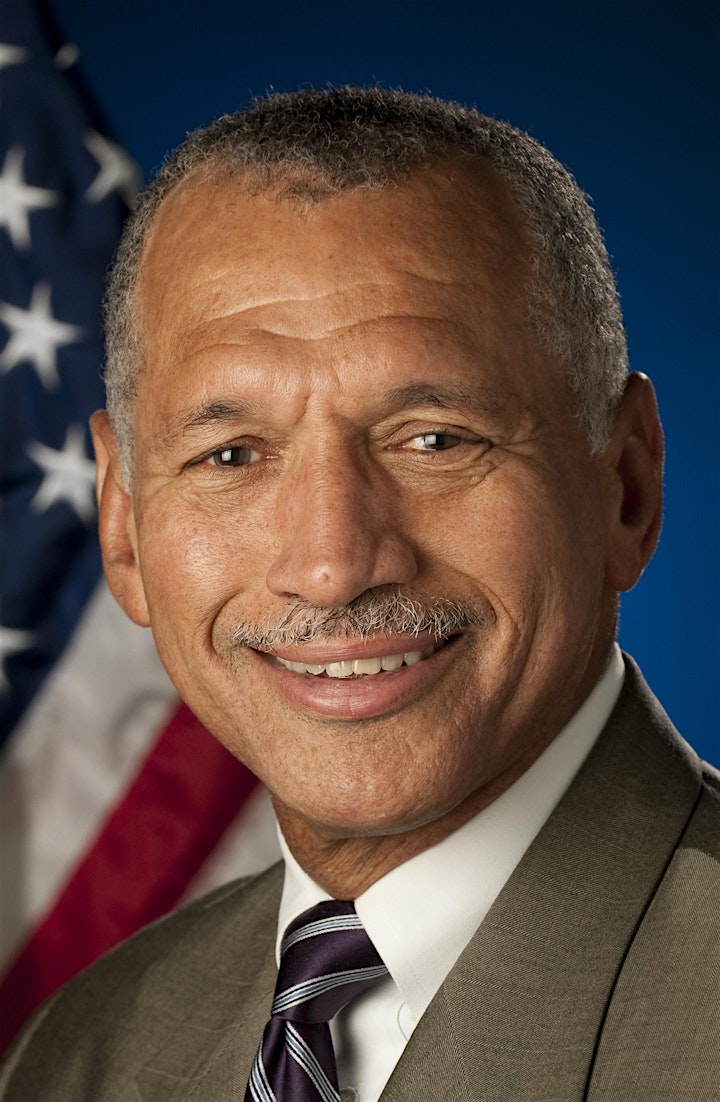 About Charles F. Bolden Jr.
Major General, United States Marine Corps (Ret.)
12th NASA Administrator
Founder & CEO Emeritus, The Charles F. Bolden Group
Retired Marine Corps Major General Charles Frank Bolden Jr. was the
Administrator of the National Aeronautics and Space Administration (NASA)
from July 2009 until January 2017.
Bolden's 34-year career with the Marine Corps included 14 years as a member
of NASA's Astronaut Office. After joining the office in 1980, he traveled into
orbit four times aboard the space shuttle between 1986 and 1994,
commanding two of the missions and piloting two others.
Today, in addition to his numerous professional affiliations, General Bolden
serves as the Founder and CEO Emeritus of The Charles F. Bolden Group,
providing leadership in the areas of Space/Aerospace Exploration, National
Security, STEM+AD Education and Health Initiatives.
Bolden is a graduate of C.A. Johnson High School in Columbia, SC. He earned
a Bachelor of Science degree from the U.S. Naval Academy and a Master of
Science degree from the University of Southern California.
Bolden is married to the former Alexis Walker of Columbia, SC. They have two
children, A. Che' Bolden, Colonel, USMC (Ret.) and Dr. Kelly M. Bolden, MD,
FACS; and four grandchildren – granddaughters Mikaley, Kyra and Talia and
grandson Walker Elias.

About The Bolden Group
The Charles F. Bolden Group was founded in 2017, and is a consortium of accomplished leaders and problem solvers with extensive experience leading complex organizations in challenging environments.
Vision: Leadership for the Global Advancement of Science and Security.
Mission: Provide singular and trustworthy expertise to cultivate and transform leadership in the areas of Space/Aerospace Exploration; National Security; Science, Technology, Engineering, and Math + Arts and Design (STEM+AD) Education, and Health Initiatives.
About Space Cafe Tel-Aviv
Space Café is a community gathering for space professionals created by International Space University alums and takes place regularly in several locations around the globe. With the help of many ISU alums, including Michael Potter, we aim to bring SpaceCafé to every city where ISU alums reside.
Space Café TLV was founded by Ofer Lapid and Ran Livne of the Ramon Foundation and the Israel Space Agency's support to add Tel Aviv to the global map. We intended to introduce incoming VIPs to the local ecosystem, but we temporarily opted for live events since most traveling had come to a halt due to COVID-19.