Learn about checkoff-funded research, earn continuing education credits, network with your peers, and enjoy a snakehead fish fry dinner!
About this event
Local farmers and industry professionals are invited to join the Maryland Soybean Board to learn about checkoff-funded research out in the field and enjoy a snakehead fish fry and barbeque dinner. Research to be featured includes a spray drone demonstration, use of forage soybeans to control deer damage, evaluation of growth-promoting projects, variety trials, cover crops, and weed management.
CEUs Available:
Maryland Nutrient Management: 2.0
Maryland Pesticide Applicators: Pending
Delaware Nutrient Management: 2.0
Delaware Pesticide Applicators: Category PA Core or Private Applicator - 2.0, Category 1A Agricultural Plant - 2.0
Certified Crop Advisers (CCA): Integrated Pest Management - 1.0, Crop Management - 2.0, Sustainability - 0.5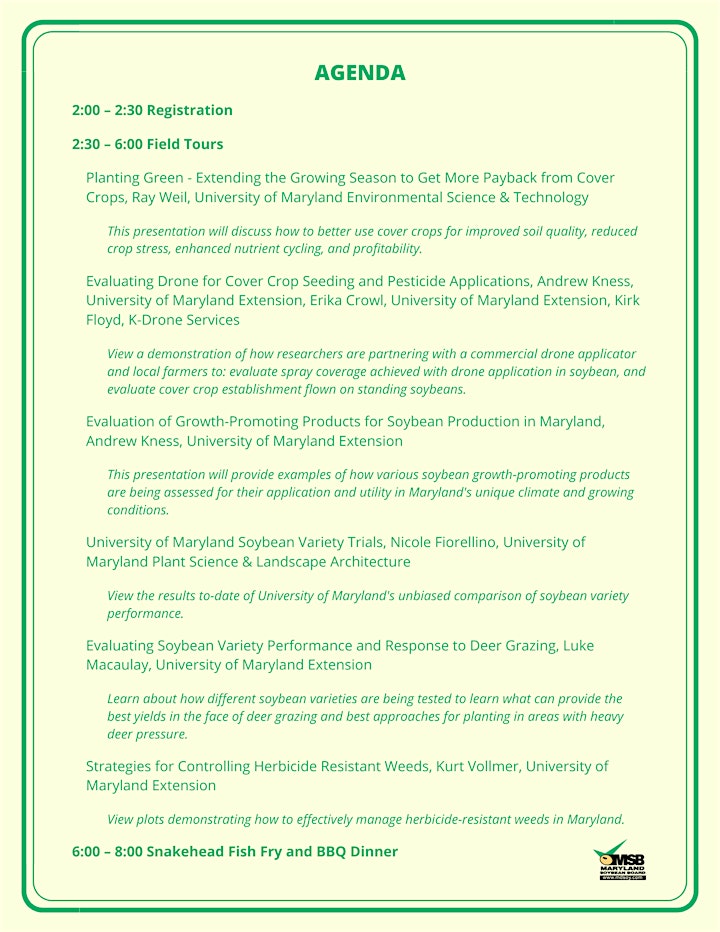 Organizer of Soybean Checkoff Research Field Day
The Maryland Soybean Board is funded by the national soybean checkoff program, which assesses one-half of one percent of the net market value of soybeans at the first point of sale. The board consists of ten volunteer farmer-directors and directs funds for research, marketing and education programs to benefit the Maryland soybean industry.