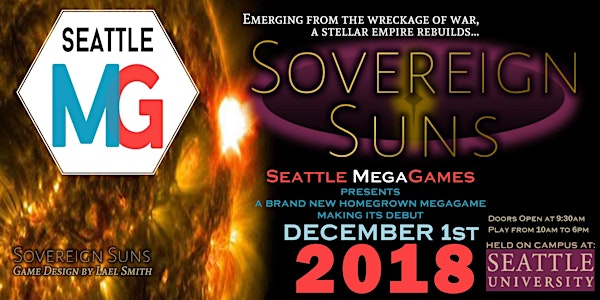 Sovereign Suns
Refund Policy
Refunds up to 7 days before event
Description
The Galaxy Rebuilds
Sovereign Suns is a brand-new megagame inspired by Twilight Imperium and designed by Lael Smith. Set in the distant future, you will play as ascendant interstellar factions in a galaxy recovering from all-out war. Whether you are a diligent technologist, a member of the raucous pirate alliance, or a fanatical religious purist, you all seek the same prize: dominance in this new age.
For newcomers, a megagame is part LARP, part board game, and all tension. Players are divided into teams - in this game as divergent human and alien groups - each with their own goals to achieve, and set against the other teams with limited info about what, exactly, everyone is up to. The next eight hours are spent frantically negotiating, researching, skirmishing, and role playing in order to achieve your own team's galactic ambitions over all others. Some players might even have sneaky motivations that not even their team is aware of.


Terms and Conditions
Unfortunately, due to liability issues, we cannot allow players below the age of 18 to play. We may be prepared to make exceptions if a parent or guardian is present and playing, but in general, the game is not well suited to younger players.
We will not tolerate behavior that disrupts the game or constitutes harassment of others. If you feel that another player, or anyone else involved with the game, is harassing you or preventing you from enjoying the game, speak to a game controller. In particular, sexual advances of any kind are considered unwelcome by default.

We reserve the right to take reasonable measures to address the problem, which may include warning the offending individual or, in extreme cases, ejecting them from the game. In such cases, no refund will be offered.


FAQs
Can I sign up to play with a group of people, as a team?
Of course! After registration is completed we'll send you a Player Survey where you can list all the people you'd like to be on a team with, up to six total. We always prioritize keeping groups together, above all else! But preferences are processed in order of purchase, so if you book late, you may not be able to play on the same team.
You can also buy multiple tickets, to guarantee that you'll have as many slots as you need.


Can I buy more than one ticket?
Of course. There is a limit of 6 tickets per purchase.


How do I select my team or role?
We'll send a Player Survey after registration with a signup form to collect this information. Feel free to reach out to us at seattle.megagames@gmail.com if you haven't been contacted!
If you don't know what you want to play, that's okay! We're happy to answer any questions you might have about the various roles.


I've got a crazy idea I want to try in the game! Can I run it by you to see if it's possible?
Yes! The easiest way is in the Player Survey, but you can also contact us via email as well. We strongly encourage coming to the game with personal goals, and the more we know about them ahead of time the more we can help them happen.

What if I can't attend? Can I get a refund?
Yes. We will refund you immediately if you let us know at least a week before the game. (November 24th at 11:59pm) After that time we will only give you a refund if we're able to find someone to take your place. If you have a friend you would like to give your ticket to, we can arrange that, also. Let us know via email and we'll help you out.


Why do you need my email address and phone number?
We'll use your email address to send you materials before the game, and your phone number to try and track you down if you're not there when the game starts.


I can't make this game, can you let me know about future games?
Of course! Follow us on Facebook or Discord for news about our next event. We usually run games every 3 months or so.