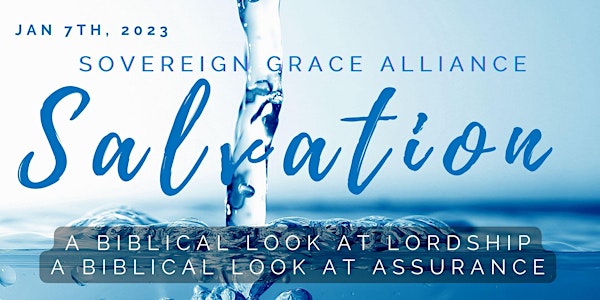 Sovereign Grace Conference 2023 - Sovereign Grace Pastors Alliance
Join us as we look at the biblical view of assurance, good works, sanctification, and more in light of Lordship Salvation.
When and where
Location
GraceTruth Church 1 East Railroad Street Claxton, GA 30417
About this event
SAVE THE DATE: Jan 7, 2023
LOCATION: 1 East Railroad Street, Claxton GA 30417 – Sovereign GraceTruth Baptist Church
The Sovereign Grace Alliance will host our conference on the subject of assurance of salvation, the place and role of good works, and the solid purpose of God in sanctification in Jesus Christ alone. The teaching will examine several areas that are pertinent to the current church and the gospel of Free and Sovereign Grace.
Most notably, we will address the popular idea of what is termed "Lordship Salvation" and expound on the Scripture on the different views and what the Bible actually teaches about our surety in the work of Christ in contrast to the numerous philosophies that have birthed from the ideas of the contemporary teaching of "fruit" assurances.
Open 8:30 for Fellowship
9 AM – Welcome, Scripture, Songs of Praise
9:30 AM – Pastor Scott Price, Defining "Another Gospel" (Gal 1:8) in Relation to Lordship Salvation
10:30 AM – Pastor Sonny Hernandez, A Response to John MacArthur's Lordship Salvation View
11:30 – Lunch Break | Fellowship
1 PM – Songs of Praise, Prayer, and Scripture
1:30 PM – Pastor Bill Parker, Grasping the Biblical Doctrine of Assurance
2:30 PM – Pastor James Tippins, Understanding Sanctification and the Place of Obedience and Growth (Progressive Sanctification/Synergistic Sanctification)
3:30 – Break / Fellowship / Books
4 PM – AMA Q&A Panel – Discussion
5 PM – Conference Close
The schedule is subject to change.
Pastor Bill Parker
Bill Parker grew up in Northeastern Kentucky. After graduating from high school, he earned an English Education degree from the University of Kentucky and taught school for a few years. Having been brought up in religion, he first heard the TRUE Gospel of God's free and sovereign grace in and by the Lord Jesus Christ in 1978 from Pastor Henry Mahan at the Thirteenth Street Baptist Church in Ashland, KY. After the Lord brought him to believe the true Gospel, he attended Pastor Mahan's school for preachers in the early 1980s. Since then, he has been studying the Bible, writing books, pamphlets, articles, and sermons, as well as pastoring churches for more than forty years. He is currently pastor of Eager Avenue Grace Church and director of Reign of Grace Media Ministries in Albany, Georgia, where he and Debbie, his wife of forty-three years, currently reside.
Pastor Sonny Hernandez
Sonny Hernandez is the pastor of Trinity Gospel Church (KY), and he served 20+ years in the armed forces. He earned a doctorate in pastoral theology/leadership from Tennessee Temple University. He served as an adjunct professor for McKendree University (Radcliff, KY Campus) and Grand Canyon University (distance learning). Sonny has authored several books and has written several published articles for news sources and journals.
Pastor Scott Price
Scott Price pastors Gospel of Grace Ministries, which meets about 25 miles North of Cincinnati. Scott first learned of "Calvinistic" theology in seminary in 1982. Later served in the USAF. He heard sovereign grace in a gospel context and converted in 1987 and has been in a teaching/preaching capacity since 1989 and has pastored the current church (2nd) since 1998. Married 37 years to his wife Becky. They have 3 children and 8 grandchildren.
Pastor James Tippins
James Tippins is the founding pastor of Sovereign GraceTruth Baptist Church, the father of five, and grandfather of one. He and Robyn have been married for 27 years and have lived and served in many cities across the country. He holds a BS in Religion and Counseling, M.Th.S in Theology, M.Div. in Theological Studies, Ph.D. in Applied Theology, and is D.Min(c) in Exposition. James is an advocate, a shepherd, and a lover of the church; pressing her to hear the Word and know the Joy of Christ.