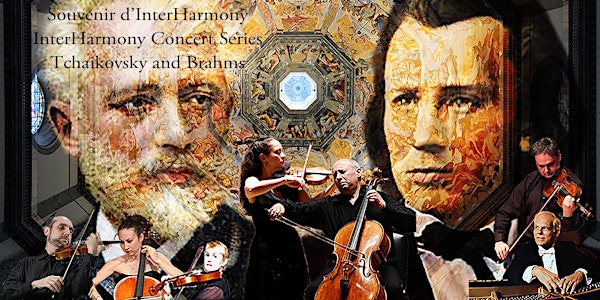 Souvenir d'InterHarmony at The Modern: InterHarmony Concert Series
Event Information
Location
Modern Art Museum of Fort Worth
3200 Darnell St
Fort Worth, TX 76107
Description
Souvenir d'InterHarmony at The Modern: InterHarmony® Concert Series Explores Radiant Contrasts and Complements of Tchaikovsky and Brahms on March 24 at 2PM
At the Modern Art Museum of Fort Worth, Texas, InterHarmony® will present a rare opportunity to compare two titans of the Romantic period through their most beloved chamber works superlatively performed by a roster of internationally acclaimed musicians. On Saturday, March 24 at 2PM Brahms' 1st Piano Trio in B-major will share the stage with Tchaikovsky's String Sextet, Souvenir de Florence. Tickets are $35 for Adults, $30 for Seniors, and can be bought on www.interharmony.com or 2 hours before the concert at The Modern Museum of Art.
There are famous rivalries and jealousies in world of art, da Vinci and Michelangelo, Gaugin and Van Gogh that cost him his ear; Pollock and de Kooning's was more about a war of the critics that championed them; and now the battle of the graffiti artists Banksy and King Robbo that deface each other's art. About Brahms and Tchaikovsky, perhaps their misunderstanding of each other's aesthetic is like the arguments between Ingres and Delacroix, about classicism versus unbridled Romanticism.
Though the men shared the same birthdate, May 7th, besides a love of drink, they shared not a regard for each other's music. Brahms once infamously fell asleep during a rehearsal of the younger composer's 5th Symphony, and the aristocratically elegant Tchaikovsky was scabrous in his expression of disdain to Brahms.
"What an ungifted swine! It angers me that this conceited mediocrity is regarded as a genius." "Herr Brahms! I consider you to be a very untalented person, full of pretensions but utterly devoid of creative inspiration." ~ Tchaikovsky's Diary Entry from 1886
A contemporary scribe wrote, "Tchaikovsky's music sounds better than it is; Brahms' music is better than it sounds."
Decide for yourself!
Both works are in four movements, and in classical forms. The Brahms Trio was written when the composer was twenty, a work driven by the passions and ardors of a young man, a work that ending darkly in the minor expresses a pessimism of Schopenhauer. It is spiritual. The performers will be Olga Kaler (violin), Misha Quint (cello) and John Owings (piano).
Tchaikovsky's Souvenir was written when the composer was fifty. Its music is torrid, and graceful. It is dramatic opera; it is ballet; it is flesh-and-blood, performed by Olga Kaler and Leonid Yanovskiy (violins), Misha Galaganov and Inga Kroll (violas) and Misha Quint and Caitlin McConnell (cellos).
From this afternoon you will take away two unforgettable souvenirs to cherish.
Date and time
Location
Modern Art Museum of Fort Worth
3200 Darnell St
Fort Worth, TX 76107
Refund policy