Description
Southwest Invasion 2016
An Amazing 3-Day Live Event on the Whole Foods Rooftop Plaza during SXSW Music Week
FREE for All Ages Event featuring over 30+ of Your Favorite Artists
RSVP Today
First Come, First Served
2016 Artist Lineup Announced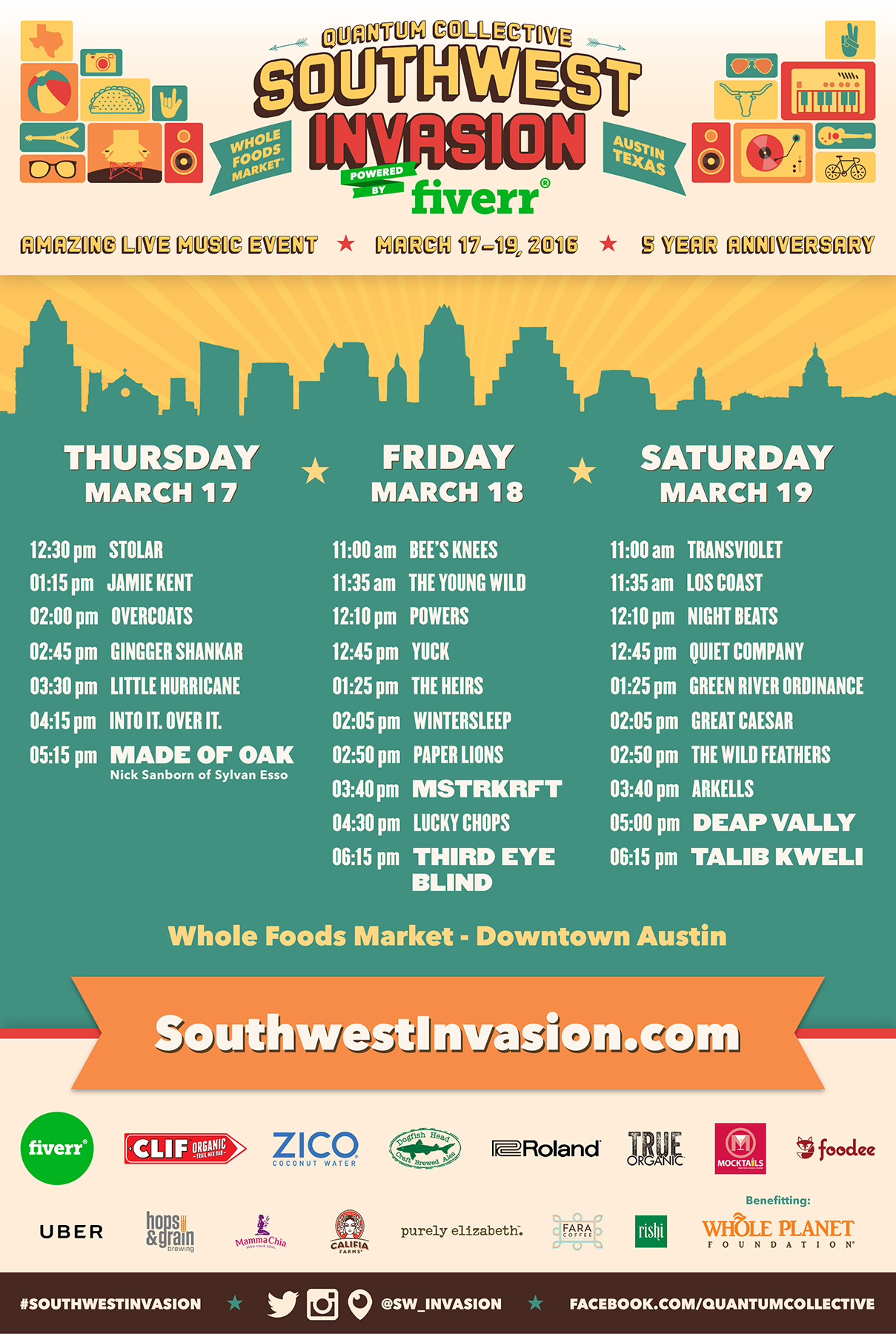 Third Eye Blind - Talib Kweli
Deap Vally - Made Of Oak - MSTRKRFT
Into It. Over It - Wintersleep - POWERS - The Wild Feathers - Paper Lions - Quiet Company - Arkells - Yuck - Little Hurricane - The Heirs - Lucky Chops - Green River Ordinance - Gingger Shankar - Night Beats - Overcoats - The Young Wild - Bee's Knees - Los Coast - Great Caesar - Transviolet - Jamie Kent - Stolar
Set Times Coming Soon!
Exclusive Past Southwest Invasion Performances
Relive the Invasion! Click Here to check out exclusive content of your favorite artists performing at past Southwest Invasions.
SouthwestInvasion.com is powered by Section101

Organizer of Southwest Invasion 2016
The Quantum Collective is an innovative marketing group that works to expand awareness by building complementary communities to support artists, musicians, celebrities and consumer brands through original programs, live entertainment and experiential events. Quantum Collective will present its 7th annual Southwest Invasion live music event in Austin, TX.

Hosted by Whole Foods Market and benefitting the Whole Planet Foundation, the Southwest Invasion village, which takes over the rooftop of the Whole Foods store in downtown Austin, pairs socially responsible products with performances by emerging and legacy musicians. Artists and products selected for previous Southwest Invasion events have gone on to global success within months of the event, including products such as Health-Ade Kombucha and Lagunitas Brewing, and artists Imagine Dragons, The Lumineers, Capital Cities, Pentatonix and more. 
Visit SouthwestInvasion.com for more information.