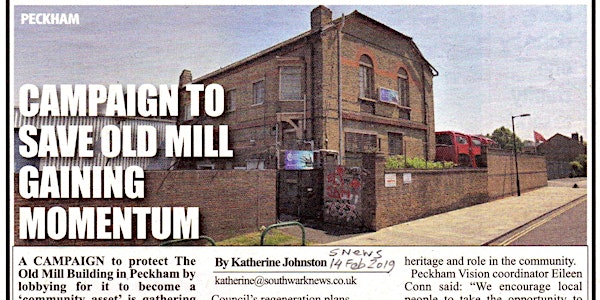 Southwark's Heritage Local List
When and where
Location
Old Mill Building 72 Copeland Road Peckham London SE15 3SL United Kingdom
Description
This is a public community meeting on the preparation of the new Southwark Heritage Local List.
6pm Exhibition, and 7pm-9pm public meeting, with speakers and discussion.
If you aim to come, to help us gauge numbers, please register.
If you are keen to protect local heritage in your area in Southwark and also to encourage other local people to help in that protection, this is an event for you. We will explore how community groups can take action on this in their own area, and you can connect with others keen to take action. Further background to the Southwark Local List is here: https://www.peckhamvision.org/wiki/Local_List
The exhibition and the meeting will look at the Old Mill Building as an example of a local heritage asset, how to think about heritage buildings and spaces, and about the preparation of the Heritage Local List. There will be several short talks followed by questions and discussion.
We hope that people across the borough will come to the meeting to take part in thinking of ways to enable local communities to say what is important to them in their area's local heritage, and find out how to protect it. Further information about the historic venue is below.
THE OLD MILL BUILDING
The Old Mill Building is opposite Bournemouth Road and the Copeland Road entrance to Copeland Park in Peckham SE15. It was built as a 'wine manufactory' around the 1880s. It is now used as a church and community centre. It is on a redevelopment site in the New Southwark Plan, and so its future is not secure. Peckham Vision and Community Outreach Ministries are working in partnership to seek the views of local people on its value as a community and heritage asset.
* Info about the campaign to save the Old Mill Building: http://www.peckhamvision.org/wiki/Old_Mill_Building
This meeting is being arranged by Peckham Vision for the SPN.