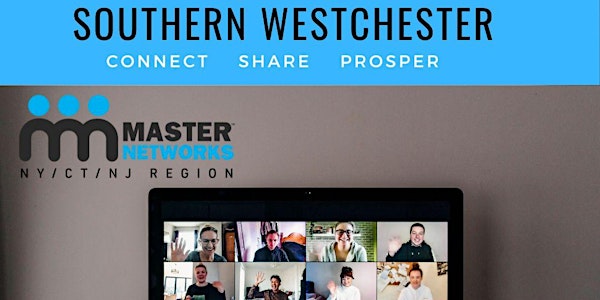 Multiple dates
Southern Westchester Business Virtual Networking meeting Thursdays @ 9am
Come and Discover a New Way to Network
By Tina Campbell - Master Networks NY Regional Partner
Date and time
April 29, 2021 · 6:30am - August 15, 2024 · 7am PDT
About this event
NY Region Master Networks  https://www.masternetworksnyct.com
Master Networks NY is designed to meet and greet fellow business people in the NY area and beyond. Consider it like a big network for successful people that want to increase their opportunities
We are also an exclusive business networking and referral group. Currently supporting businesses around the New York and the US.
Would business professionals mentioning and reminding their friends, clients, and associates about your business help you grow? If you answered "yes", add our meetings to your calendar.
You are invited to visit our Southern Westchester chapter!
This exciting organization takes a fresh approach to leads and referrals. Our focus on long-term business success is evident from the meeting agendas (which are varied and interactive) and our training (which is free to our members). Building a Community of Like Minded Business People.
The meetings are just one hour long with an opportunity for further networking at the end. It will provide valuable referrals and support to each other, and allow everyone to benefit from our unique national revenue sharing program.
For more information in New York - email tinacampbell@masternetworks.net or call 914.441.1383
Professional Development · Business Referral Networking ·Professional Networking ·Business Development ·Self-Improvement ·Entrepreneur Networking· Small Business Networking · Small Business Owners Business Card Swap · Entrepreneur Networking · Business Strategy · New In Town · Startup Businesses · Self-Improvement · Fun Times · Social · Nightlife · Singles · Social Networking ·
About the organizer
I am a very focused and project oriented manager and entrepreneur. I believe in the power of relationships, in fact, it comes to me naturally. Building bridges to make connections is my passion. I love to help people use their connections to increase their businesses. Building Top of Mind Awareness & Communicating Your Unique Value Proposition is key to a successful local business.
Are you interested in exploring whether Master Networks is a good tool in helping you meet your business expectations? Then you are invited to attend one of our meetings to determine whether Master Networks will benefit you and your business. We meet in weekly chapters around the country. Please call me at 914.441.1383 for more information.
"The opportunity to speak to customers who want, need and are capable of purchasing your products is a goal that all entrepreneurs seek. I have achieved this goal through my membership to Master Networks, a national networking organization dedicated to the establishment and maintenance of business relationships. As a result of this membership my business has doubled." ~ NY Region Member