Description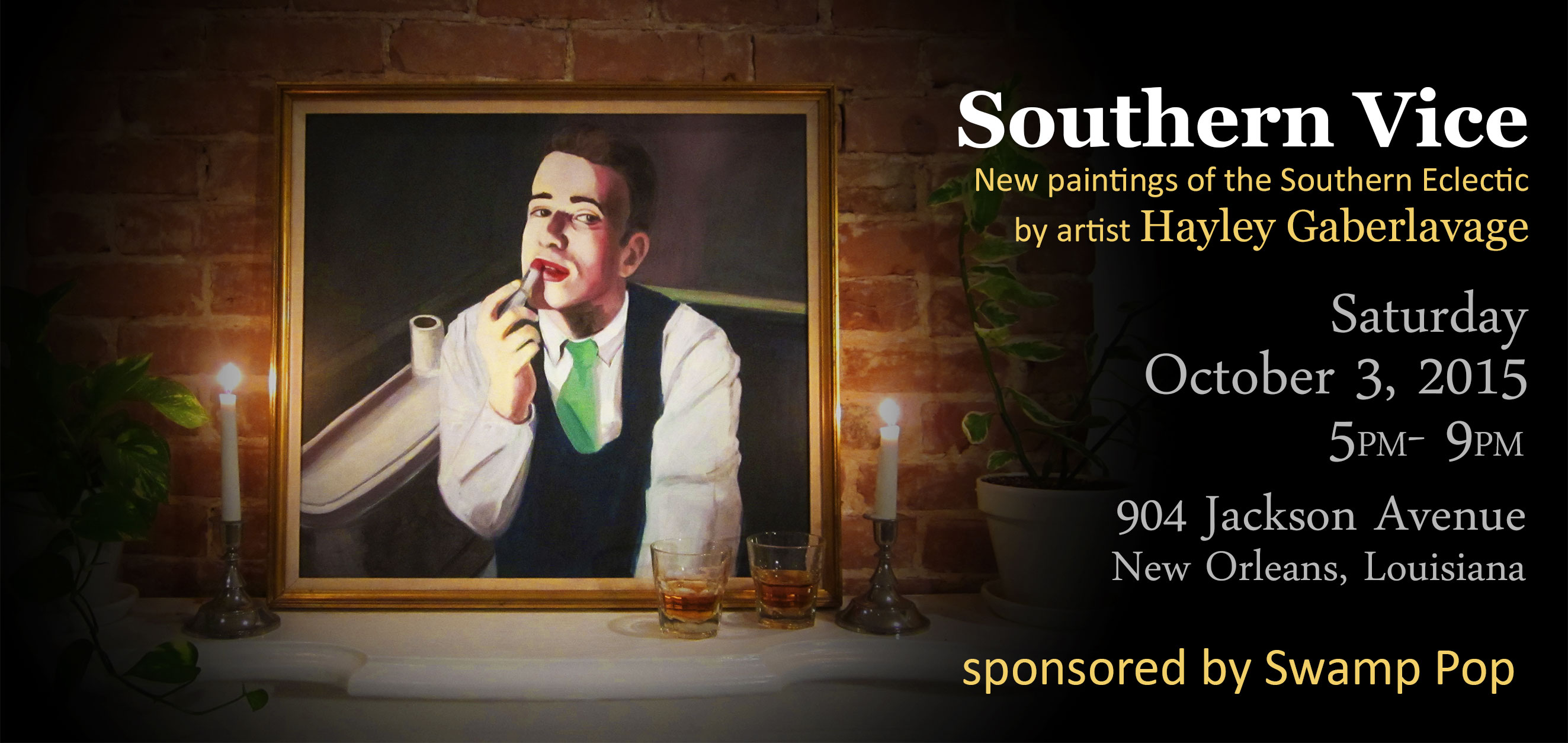 Join New Orleans artist Hayley Gaberlavage at her new gallery during Art For Art's Sake. Gaberlavage will be showcasing new paintings in her Southern Vice collection.
Come view the new collection in the gallery and party in the back courtyard as we celebrate a night of local art with music and complimentary cocktails from SwampPop.
-------------------
"Life is too important to be taken seriously" – Oscar Wilde
It is the essence of human nature to feel, to crave, to enjoy. Instead of being shameful, we celebrate the unique and the decadent in the South where the Southern Vice is as timeless as a cool dip in the pool amongst the warm summer breeze. This new collection by Artist Hayley Gaberlavage is inspired the Southern Eclectic, where the past and present are suspended in a moment of carefree pride, rabid enjoyment, and restless indulgence, not bothered by time or troubles.
See samples of Gaberlavage's artwork at HayleyGaberlavage.com
Organizer of Southern Vice: New Paintings by Hayley Gaberlavage
In my paintings I contemporize the out-dated. With a sentiment for bygone attitudes and appearances, my acrylic on paper, canvas and panel paintings shimmy in two directions: towards the decorative, where I explore long-time infatuation with design, and in a sociological portraiture where innocence is equally dispersed amongst irreverent youth and the blue collar Americana of my Alabama roots. Preferring turquoise blues, olive greens, muted tones and unfinished background surfaces, my palette is distinct. My technique of evaporating background into swarthy brushstrokes allows time into the work, the acknowledgment of memory, which is imperfect, always unfinished, and congruous to the retro aesthetic and mood.
Hayley Gaberlavage works and lives in New Orleans, Louisiana.
More at www.HayleyGaberlavage.com