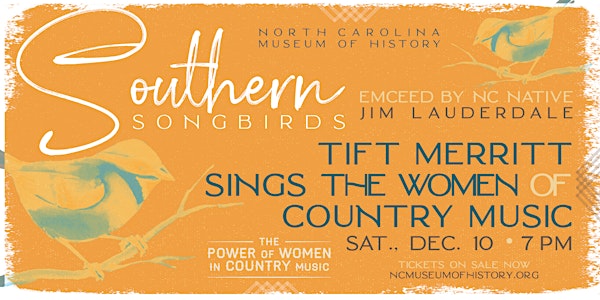 Southern Songbirds: Tift Merritt Sings the Women of Country Music
On December 10, Tift Merritt will sing women's country music, joining the series with original works and covers of country trailblazers.
When and where
Location
North Carolina Museum of History 5 East Edenton Street Raleigh, NC 27601
About this event
The North Carolina Museum of History announces a special concert series in conjunction with the traveling exhibition The Power of Women in Country Music, coming to us from the GRAMMY Museum® in Los Angeles in October!
The exhibition is punctuated by our Southern Songbirds concert series. On December 10, Tift Merritt sings women's country music, joining the series with original works and covers of the country trailblazers that inspired her. Legendary country artist Jim Lauderdale will emcee the entire concert series.
Tift Merritt wanted to be a writer until her father taught her guitar chords and Percy Sledge songs. In her 20-year career, she has toured around the world with her sonic short stories and garnered a reputation for making her own way and setting an interesting artistic table. The New Yorker calls her "the bearer of a proud tradition of distaff country soul that reaches back to artists like Dusty Springfield and Bobbie Gentry." Emmylou Harris calls her "a diamond in a coal mine."
Taking time off the road to raise her daughter, Merritt began work on larger, site-specific projects by way of collecting objects in an old motel and an abandoned asylum as forgotten, essential language. Merritt also collects artist interviews about process and integrity on the program The Spark in partnership with Carolina Performing Arts. A regular contributor to the magazine Oxford American, she lives in North Carolina with her daughter Jean. 
At any given time, you're likely to find Jim Lauderdale making music, whether he's laying down a new track in the studio or working through a spontaneous melody at his home in Nashville, Tennessee. And if he's not actively crafting new music, he's certainly thinking about it. "It's a constant challenge to try to keep making better and better records, write better and better songs. I still always feel like I'm a developing artist," he says. This may be a surprising sentiment from a man who's won two Grammys, released 34 full-length albums, and taken home the Americana Music Association's coveted Wagonmaster Award. But the forthcoming album Game Changer is convincing evidence that the North Carolina native is only continuing to hone his craft.
Operating under his own label, Sky Crunch Records, for the first time since 2016, Lauderdale recorded Game Changer at the renowned Blackbird Studios in Nashville, co-producing the release with Jay Weaver and pulling from songs he'd written over the last several years. "There's a mixture on this record of uplifting songs and, at the same time, songs of heartbreak and despair—because that's part of life, as well," he says. "In the country song world especially, that's always been part of it. That's real life."
Lauderdale would know: He's been a vital part of the country music ecosystem since 1991, when he released his debut album and began penning songs for an impressively long roster of country music greats. "When I was a teenager wanting to be a bluegrass banjo player, I never would have imagined that I would get to work with people like Ralph Stanley and Robert Hunter and George Jones and Elvis Costello and John Oates," he muses. "Getting to work with them inspires me greatly to this day, and I know it always will."
MOHA/museum members, in addition to enjoying unlimited access to the exhibition during its run, will receive a reduced ticket price and priority seating for the concert. Please note: this concert will be recorded live by PBS North Carolina. As such, there will be cameras in the audience. Seats around those camera stations will not be open. This concert is general admission, and seats are available on a first-come, first-served basis.