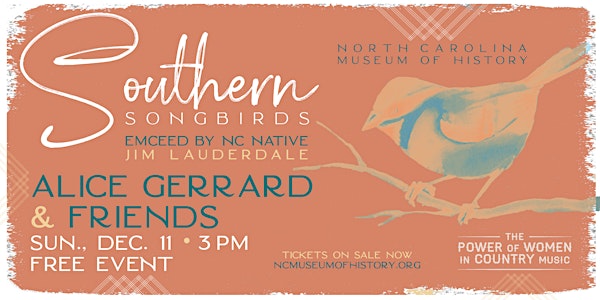 Southern Songbirds: Alice Gerrard and Friends
On December 11, Alice Gerrard will join us for a screening of her biopic, You Gave Me a Song, followed by a short performance and Q&A.
When and where
Location
North Carolina Museum of History 5 East Edenton Street Raleigh, NC 27601
Refund Policy
Contact the organizer to request a refund.
About this event
The North Carolina Museum of History announces a special concert series in conjunction with the traveling exhibition The Power of Women in Country Music, coming to us from the GRAMMY Museum® in Los Angeles in October!
The exhibition is punctuated by our Southern Songbirds concert series. On December 11, Alice Gerrard will join us with special guests for a screening of her biopic, You Gave Me a Song, followed by a short performance and Q&A with the artist. Alice is joined by Tatiana Hargreaves and Dashawn Hickman. This event will be emceed by legendary North Carolina native Jim Lauderdale. 
A singer and songwriter, Alice had recordings with Hazel Dickens during the 1960s and 1970s that influenced a generation of women musicians from Laurie Lewis to the Judds. Her songs have been recorded by Kathy Mattea, Cathy Fink and Marcy Marxer, Tatiana Hargreaves and Allison de Groot, and Rhiannon Giddens, among others. Nominated for a Grammy in 2015, Alice was inducted into the International Bluegrass Music Association Hall of Fame in 2017.
In 1987 she founded the Old-Time Herald (music) magazine and edited it until 2003. It continues under the leadership of Sarah Bryan. A tireless advocate for traditional music, Alice has documented, photographed, and worked with traditional musicians over many years, as well as recorded on many collaborations and on her own solo projects. A documentary film about Alice, You Gave Me a Song, premiered at the Full Frame Documentary Film Festival in 2019.
At any given time, you're likely to find Jim Lauderdale making music, whether he's laying down a new track in the studio or working through a spontaneous melody at his home in Nashville. And if he's not actively crafting new music, he's certainly thinking about it. "It's a constant challenge to try to keep making better and better records, write better and better songs. I still always feel like I'm a developing artist," he says. This may be a surprising sentiment from a man who's won two Grammys, released 34 full-length albums, and taken home the Americana Music Association's coveted Wagonmaster Award. But forthcoming album Game Changer is convincing evidence that the North Carolina native is only continuing to hone his craft.
Operating under his own label, Sky Crunch Records, for the first time since 2016, Lauderdale recorded Game Changer at the renowned Blackbird Studios in Nashville, co-producing the release with Jay Weaver and pulling from songs he'd written over the last several years. "There's a mixture on this record of uplifting songs and, at the same time, songs of heartbreak and despair—because that's part of life as well," he says. "In the country song world especially, that's always been part of it. That's real life."
Lauderdale would know: He's been a vital part of the country music ecosystem since 1991, when he released his debut album and began penning songs for an impressively long roster of country music greats. "When I was a teenager wanting to be a bluegrass banjo player, I never would have imagined that I would get to work with people like Ralph Stanley, Robert Hunter, Loretta Lynn, George Jones, Emmylou Harris, Elvis Costello, Lucinda Williams and John Oates ," he muses. "Getting to work with them inspires me greatly to this day, and I know it always will."
From rollicking guitar riffs on "That Kind of Life (That Kind of Day)" to the slow, sweet harmonies of "I'll Keep My Heart Open For You," Game Changer shows off Lauderdale's ingenuity as a singer, songwriter, and producer—while reestablishing him as one of Americana's most steadfast champions. "Country music is constantly evolving, but I'll always have a soft spot in my heart for steel guitar and a Telecaster," he says. "I have done my job on this record if people who love classic country feel like they can put it on, or have it in their collection, and it would fit right in."
Respecting the past doesn't mean he's not breaking new ground. "We're All We've Got," a co-write with Mary Gauthier and Jaimee Harris, offers a timely message about healing torn relationships at home and across the world. And "Friends Again," a grinning number about rekindling a friendship, is fresh and forward-looking. At every turn, Lauderdale's collaborative spirit and genuine love for the creative process reveal themselves in thoughtful, well-crafted songs sure to stand the test of time. "When everything works right, it's just magical to be able to hear them back," he says. "You feel, at least for those three-and-a-half minutes, like life makes sense."