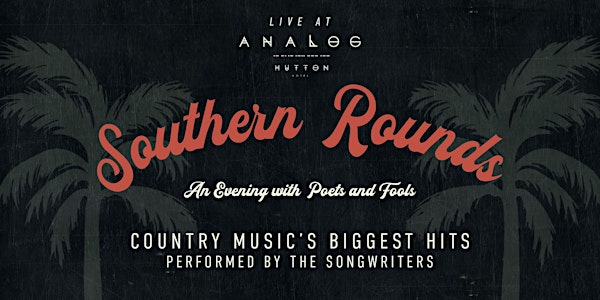 Southern Rounds
Country Music's top songwriters live from Analog at The Hutton Hotel!
By Analog at Hutton Hotel
Date and time
Starts on Wednesday, June 14 · 6pm CDT
Location
Analog at Hutton Hotel 1808 West End Avenue #2nd Floor Nashville, TN 37203
Refund Policy
Contact the organizer to request a refund.
About this event
6PM DOORS/7PM SHOW
Also available as a livestream if you are not in Nashville June 14th. Click here to watch via livestream.
This Show is 21+
**SCHEDULE LINEUP CHANGE** SONIA LEIGH JOINS THE SOUTHERN ROUNDS STAGE ON JUNE 14TH. D. VINCENT WILLIAMS WILL NOW BE PERFORMING ON THE WEDNESDAY, AUGUST 9TH SHOW.
Southern Rounds delivers topline hit songwriters each month at Analog and this show makes no exception. On the Southern Rounds stage will be Kristian Bush (Sugarland) performing hits and new songs alongside Wil Nance and Sonia Leigh, who have penned hits for George Strait, Brad Paisley, Rascal Flatts, Zac Brown Band and many more. The #1s, the awards, and the millions of records sold shine a spotlight on these incredible songs—and the stories behind these hits make the songs the main act on Southern Rounds.
KRISTIAN BUSH
Kristian Bush is a MULTI-PLATINUM-selling, two-time GRAMMY Award winner most known for being half of the record-breaking Country duo Sugarland. The Sevierville, TN native launched his professional music career in 1994 with the Folk-Rock duo Billy Pilgrim. Within the decade, Kristian moved on to form Sugarland with Jennifer Nettles. The pair who released debut single "Baby Girl" in 2004, went on to chart five No. 1 hits and 12 Top 10 songs. His "Southern Gravity" solo debut in 2015 produced Top 20 hit "Trailer Hitch." Kristian made a foray into television theme songs in 2016 with "Forever Now (Say Yes)," which he penned and performed for TLC's popular show "Say Yes to the Dress."
The multi-instrumentalist is also a founding member of Rock Jam band Dark Water alongside his brother Brandon Bush and esteemed guitarist Benji Shanks. In addition, Kristian co-wrote a song for the Atlanta staging of Stephen Schwartz's "Working: A Musical" and has written three musicals. "Troubadour" (2017) and "Darlin' Cory" (2021) opened at Atlanta's Alliance Theatre, and "Me Before You." While Kristian has stayed active on the music scene, the projects that have been released represent a small portion of the songs he's written over the years. His latest creative adventure "52" is a 52-song four-album collection of his favorite tracks that have been tucked away in his back catalog. He divided the songs into four albums following the themes of a country R&B, summer, rock and life, which are available now. "52's first volume ATL x BNA begins with two songs about death – and this last volume ends with a New Year's resolution to spend more time with your people – no matter who they are, including yourself," Kristian says. "My wish is that listeners will start to connect different songs in different ways as if it was their job to collect these songs into their own individual albums." For more info on Kristian, check out his website: https://kristianbush.com [kristianbush.com]
WIL NANCE
Wil Nance is a multi-platinum, chart topping songwriter based in Nashville, Tennessee. Initially from House Springs, Missouri, Wil has called Music City home for over 20 years. Known for his sharp and reliable southern lyrics, Wil Nance is one of Nashville's most genuine treasures. Wil earned his first number one song at country radio with George Strait's "Round About Way." "Round About Way" was a single off of Strait's multi-platinum, CMA Album of the Year, Carrying Your Love With Me. He has had multiple songs recorded by George Strait and has been part of over 10 million records sold; some of these songs include "Where Have I been All of My Life" and "If Heartaches Were Horses." Wil hit the top of country charts for the second time in 2007 with his number one hit for Brad Paisley "She's Everything," off of yet another multi-platinum, CMA Album of the year. Wil's songs have been recorded by artists like Tracy Lawrence, John Michael Montgomery, Joe Nichols, Craig Morgan, Diamond Rio, the Oakridge Boys, Easton Corbin, and Mo Pitney. Learn more about Wil Nance here: https://curbwordmusicpublishing.com/products/wil-nance [curbwordmusicpublishing.com]
SONIA LEIGH
Sonia Leigh's musical style cannot be put in a box. From Hip-Hop to Country to Pop and Rock and Roll. Her Southern Ground debut album, 1978 December, was where Leigh made her country catapult. The first single off the album "My Name Is Money," hit Top 40 at US Country Radio. She also co-wrote the Zac Brown Band #1 singles "Goodbye in Her Eyes" and "Sweet Annie". Leigh currently canopies several projects to umbrella her different styles such as hip hop/rock duo TYGR TYGR (with Daphne Willis, Position Music) where Leigh features under her hip hop alias, ELYVN:ELYVN. Other projects include low-fi 90's hip-hop duo Indica Girlz, and the mysterious grunge-pop project Rob The Man, all pending follow-up releases in 2023. Leigh has toured the world with the likes of the Zac Brown Band, Blackberry Smoke, Amos Lee, Melissa Etheridge, Willie Nelson, Loretta Lynn, Joan Jett, and many more. Amongst all of this, Sonia Leigh has been writing and in the studio working on her next solo Sonia Leigh record, The hard-hitting first single "Thin Ice," released Feb 2023, is fueled with pure rock and roll energy that calls for burning down the barriers around one's self to realize their full potential and made Apple Music's New In Rock and Women Who Rock new music playlists. "Devil May Care" her next release gives nods to The Bee Gee's, My Morning Jacket and The Black Keys, will be available everywhere June 2nd! Learn more about Sonia here: https://www.sonialeigh.com [sonialeigh.com]
DAVE KENNEDY
Dave Kennedy is a storyteller above all else, and it's easy to see why. His songs paint a cinematic portrait of America as his characters journey through love, heartbreak, humor, sin, redemption, revenge and perhaps even a few of the songwriter's own footsteps along the way. Bringing these songs to life is a voice so soaring and powerful you can't help but be swept away into his world by the end of the first chorus. He navigates his way through each story and each world with a dynamic presence of both strength and subtlety that appreciates both the peaks and the valleys, the highways and the backroads, the loves lost and lingering in his mind. It's for all these reasons that Dave has a reputation as one of Nashville's most respected songwriters and artists, and why artists like Travis Tritt, Riley Green, Whiskey Myers, Drake White, Larry Fleet and others are eager to continue writing and performing with Dave Kennedy. Check Dave's website for more info: https://davekennedymusic.com [davekennedymusic.com]
About the organizer
Analog at Hutton Hotel is an intimate music venue showcasing the industry's most inspired musicians that gives you an up close and personal experience in a comfortable living-room style setting. It immerses audiences in Nashville's unrivaled live music scene, where storytelling is prized above all else. Located just steps from the famed Music Row, Analog was designed to provide some of the best venue acoustics in all of Nashville while providing an intimate, interactive, and engaging experience for audiences and talent. From the artists; to the design of the lounge seating; to the advanced, innovative technology; to the mixologist providing crafted cocktails—the artistic spirit inspires a unique experience nightly.