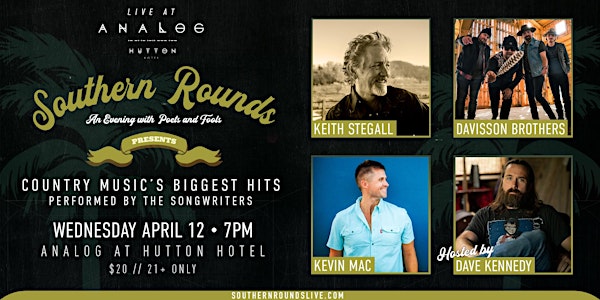 Southern Rounds
Country Music's top songwriters live from Analog at The Hutton Hotel
By Analog at Hutton Hotel
Date and time
Starts on Wednesday, April 12 · 6pm CDT
Location
Analog at Hutton Hotel 1808 West End Avenue #2nd Floor Nashville, TN 37203
Refund Policy
Contact the organizer to request a refund.
About this event
6PM DOORS/7PM SHOW
Also available as a livestream if you are not in Nashville February 15th. Click here to watch via livestream.
This Show is 21+
Country Music's top songwriters live from Analog at The Hutton Hotel! Featuring Keith Stegall, the Davisson Brothers, Kevin MaC and hosted by Dave Kennedy.
This Southern Rounds threads together longtime collaborators, with one of Nashville's most celebrated men behind the scenes: Legendary award-winner songwriter/producer KEITH STEGALL, joined by one of the world's most successful independent bands DAVISSON BROTHERS and uber-talented songwriter/entrepreneur KEVIN MAC.
KEITH STEGALL
A Grammy award winning producer and writer of multiple number one hits including "I Hate Everything" by George Strait, "Don't Rock The Jukebox" by Alan Jackson and "I Do (Cherish You)" by 98 Degrees, Keith Stegall is one Nashville's most celebrated men behind the scenes. As Alan Jackson's longtime producer, the pairing has sold over 60 million records. With the Zac Brown Band, Stegall produced the group's first three albums, resulting in the group's first nine singles to reach number one on the country charts. Stegall is currently President of Dreamlined Entertainment Group, a Nashville-based production, publishing and record company specializing is songwriter/artist development. For more on Keith and Dreamlined Entertainment: http://www.dreamlinedentertainment.com [dreamlinedentertainment.com]
DAVISSON BROTHERS BAND
The Davisson Brothers Band are a genre-blurring mountain rock band formed in Clarksburg, West Virginia, by Chris and Donnie Davisson. Along with nephew Gerrod Bee and life-long family friend Aaron Regester, the band has created a uniquely authentic Appalachian country sound, which has helped them grow into one of the most successful independent acts in the world. Since their founding in 2006, the band has recorded three albums, been celebrated as a Highway Find on Sirius XM, charted on country radio with "Foot Stompin'" and scored a hit song in Australia with "Po' Boyz," while also earning a dedicated following in the Jam Band/Bluegrass scene and standing shoulder to shoulder with mainstream country stars at festivals like CMC Rocks (Australia) and the Carolina Country Fest. The new album, Home Is Where the Heart Is, was produced by Brent Cobb and David "Ferg" Ferguson, and features Tim O'Brien, Rob McCoury, Stewart Duncan, Leftover Salmon's Vince Herman, Ronnie Bowman, Kyle Tuttle, Lindsay Lou and more. http://davissonbrothersband.com/band/ [davissonbrothersband.com]
KEVIN MAC
Country artist and musician Kevin MaC. KMaC is a prolific songwriter and storyteller whose ability to cross multiple genres makes him a dynamic live performer. As a songwriter, Kevin co-wrote "Easy Tonight" by Niko Moon and most recently has two cuts on the newly released Cactus Cool EP by Rome & Duddy (Rome/Sublime and Duddy/Dirty Heads). Kevin has shared the stage with Kenny Chesney, Trace Adkins and REO Speedwagon and has performed at The Opry and at the Bluebird numerous times, not to mention being an OG of Southern Rounds. You can learn more about Kevin here: https://www.kevinmacofficial.com/ [kevinmacofficial.com]
DAVE KENNEDY
Dave Kennedy is a storyteller above all else, and it's easy to see why. His songs paint a cinematic portrait of America as his characters journey through love, heartbreak, humor, sin, redemption, revenge and perhaps even a few of the songwriter's own footsteps along the way. Bringing these songs to life is a voice so soaring and powerful you can't help but be swept away into his world by the end of the first chorus. He navigates his way through each story and each world with a dynamic presence of both strength and subtlety that appreciates both the peaks and the valleys, the highways and the backroads, the loves lost and lingering in his mind. It's for all these reasons that Dave has a reputation as one of Nashville's most respected songwriters and artists, and why artists like Travis Tritt, Riley Green, Whiskey Myers, Drake White, Larry Fleet and others are eager to continue writing and performing with Dave Kennedy. Check Dave's website for more info: https://www.instagram.com/davekennedymusic [instagram.com]
About the organizer
Analog at Hutton Hotel is an intimate music venue showcasing the industry's most inspired musicians that gives you an up close and personal experience in a comfortable living-room style setting. It immerses audiences in Nashville's unrivaled live music scene, where storytelling is prized above all else. Located just steps from the famed Music Row, Analog was designed to provide some of the best venue acoustics in all of Nashville while providing an intimate, interactive, and engaging experience for audiences and talent. From the artists; to the design of the lounge seating; to the advanced, innovative technology; to the mixologist providing crafted cocktails—the artistic spirit inspires a unique experience nightly.