Southern Fire Exchange Webinar: Integrated Management for the Control of Ch...
Description
Integrated Management (Mechanical, Herbicide and Fire)
for the Control of Chinese Tallow
A free one hour webinar from the Southern Fire Exchange and Clemson University
Wednesday, September 30, 2015 1:00 - 2:00 PM ET.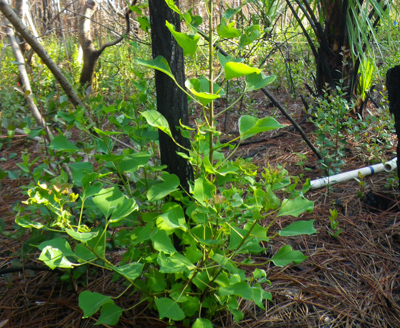 Program Description
Presenter: Lauren Pile, PhD Candidate, Clemson University
Chinese tallow (Triadica sebifera) is an aggressive, fast growing, highly adaptable invasive tree of the southeastern United States. Since introduction in the early 1800s, Chinese tallow has become a serious threat to grassland and forest communities. The goal of this study was to develop an ecologically based management approach that achieved effective control of Chinese tallow while facilitating the restoration of native plant communities. The study tested several integrated silvicultural treatments including mechanical, herbicide and fire. This webinar will describe the findings and management implications of the multi-year project. Following the webinar there will be time for Q & A.
---
Event Registration
Pre-registration for the webinar is required. Once registered, participants will receive an Eventbrite Ticket email containing the webinar link. On the day of the webinar, click the link to join the meeting.
---
Webinar Requirements
If you have not previously used Adobe Connect, ensure that your computer and network connections are configured to provide you with the best possible experience by running a test. A reliable internet connection and speakers / headphones are required to participate. Webinar audio will be broadcast directly to your computer via the Adobe Connect interface. Participants do not need a microphone or video camera. Click here to test your browser and computer configuration / connection. See the Adobe Connect Quick Start Guide (.pdf) for more information.
---
Webinar Recording
If you can't make the webinar, look for the recording to be posted on the Southern Fire Exchange YouTube Webinar Archive.
---
Contact Us
If you have questions about this webinar, contact the Southern Fire Exchange (contactus@southernfireexchange.org).