Event Information
Location
Saturn
200 41st Street S
Birmingham, AL 35222
About this Event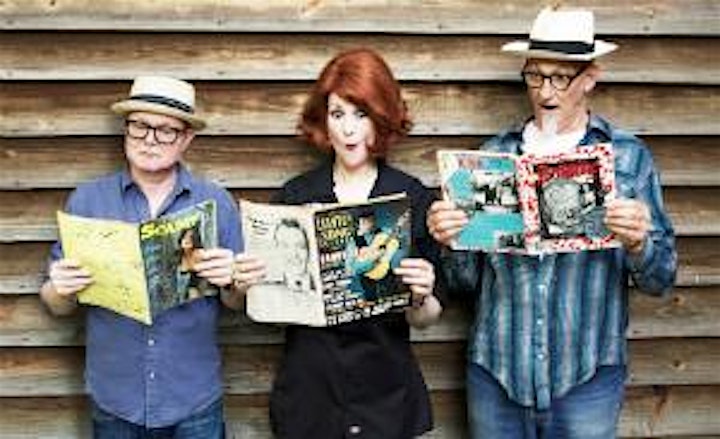 Southern Culture On The Skids has been consistently recording and touring around the world since its inception in 1983, when Rick Miller was a grad student at UNC-Chapel Hill. The current lineup (Dave Hartman - drums; Mary Huff - bass and vocals; Rick Miller - guitar and vocals) has been playing together for over 30 years. The band's musical journey has taken them from all-night NC house parties to late night network talk shows, and from performing at the base of Mt. Fuji in Japan to rockin' out for the inmates at NC Correctional Facilities. Their music has been featured in movies and TV, and used to sell everything from diamonds to pork sausage, and their legendary live shows are a testament to the therapeutic powers of foot-stomping, butt-shaking rock and roll.
Bootleggers Choice is the brand new album from Southern Culture On The Skids. The album features 16 all-new recordings of the most requested songs from the bands long out-of-print major label releases, Dirt Track Date (1995) and Plastic Seat Sweat (1997), plus a re-mastered edition of the original 1991 recording of "Camel Walk" from the Santo Sings EP. These 16 new recordings were tracked and mixed by Rick Miller and the original engineer/producer of Dirt Track Date and Plastic Seat Sweat, the one and only Mark Williams, at Ricks rural NC studio (and SCOTS clubhouse) The Kudzu Ranch. Double LP, CD, and digital available for pre-order Sept 14th, in stores Nov 16th .
For nearly 30 years, the name Dex Romweber has been the password to a cool club. It lets the doorman size you up through the slit in the green door that leads to a world where rock and roll is still real… and real, real gone. Dex's progeny, impacted by his wild and wildly influential work in Flat Duo Jets, his Duo and solo, includes the White Stripes, the Black Keys, the Kills, Man or Astroman? and dozens of other bands that have stripped down, turned up, and cut loose.
Songs don't just come out of Dex, they seem to erupt; there is an unearthly urgency in the singer and the song. There's no tamping it down, Dex lays it out there every time. But sometimes – in all that mind-blowing sound and energy – the soul often gets overlooked, and Dex is, above all else, a deeply soulful performer.
Carrboro, with its cover shot of the railroad tracks that run through his hometown, where on a grey day or a dark night you'd find a young Dex immersing himself in the music of his idols, is his fourth record for Bloodshot (and his first for us a solo artist). Through 13 originals and far-ranging covers, Dex reaches into his steamer trunk of influences and inspirations, and fabricates an enthralling sonic quilt. As Dex describes his approach, "It doesn't matter to me what genre—if I like a song I might record it." It's all different, but all of one piece.
On Carrboro, Dex assumes several musical mantles (and uncharacteristically plays all or many of the instruments). There's the sparse and jumpy hillbilly liveliness of "Knock Knock (Who's That Knockin' On My Coffin Lid Door?)" with help from Rick Miller of Southern Culture On The Skids; "Lonesome Train," originally recorded by Cecilia Batten in nearby Chapel Hill in '57; and a take on the T. Bone Burnett-penned "I Don't Know," sung by The Dude and Ryan Bingham for the film Crazy Heart (says Dex: "the lyrics seem to be so much about my own life… damn I just had to record it"). With the fuller sound of the New Romans, a 10-piece Chapel Hill collective, "Nightide" is a Tarantino grind on the surf-deck of the USS Enterprise, while Mahalia Jackson's "Trouble of the World" throbs with a thrilling apocalyptic gloom.  
Dex's last-call crooner persona kicks off the album with a surprising contemporary cover, that of English singer-songwriter Findlay Brown's "I Had A Dream" ("It affected me deeply personally when I first heard it," Dex explains).  He embraces "Smile," a Charlie Chaplin tune (yeah, you read that right) and the Jerry Lee Lewis obscurity "Tomorrow's Taking Baby Away" with Waits-ian levels of resignation and weariness. And no Dex Romweber record is complete without some instrumental wizardry. There's the tiki surf of "Midnight at Vic's" and the sunset dreamscape of "Out of the Way." He even turns "My Funny Valentine," the Rodgers and Hart Broadway chestnut from the 1930s into the soundtrack to a ghostly roller rink murder caper.
In the end, the album plays like the jukebox at the full service honky-tonk saloon, jazz club, Tin Pan Alley pitch house, and blues joint along the tracks. Get off at the Carrboro station.
Performers
Date and Time
Location
Saturn
200 41st Street S
Birmingham, AL 35222
Refund Policy