Southern California Wetlands Recovery Project Directors Group Meeting
The Directors Group will tour the Los Cerritos Wetlands, followed by a meeting at the Aquarium of the Pacific. PLEASE RSVP ASAP.
About this event
AGENDA
February 27, 2020
10:00 a.m. – 3:30 p.m.
10:00 SITE VISIT TO LOS CERRITOS WETLAND RESTORATION PROJECT
Meet at Zedler Marsh (directions below), carpools highly encouraged.
11:30 LUNCH ON YOUR OWN
Marketplace Long Beach across from Site Visit location
Plan for 30-minute transit to meeting at Aquarium of the Pacific
1:00 INTRODUCTIONS and ANNOUNCEMENTS, AGENDA PREVIEW
1:15 WORK PLAN 2020
1:45 MAJOR PROJECT ISSUES
2:15 REGIONAL COORDINATED PERMITTING
2:45 FUNDING WETLANDS RESILIENCE PROJECTS
3:00 IN-LIEU FEE PROGRAM UPDATE
3:15 PUBLIC COMMENT (Each speaker is limited to 3 minutes.)
3:30 ADJOURN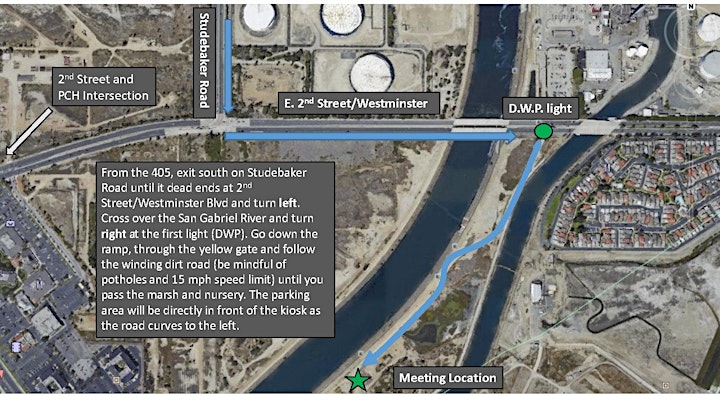 Directions to Zedler Marsh: Site coordinates: 33.755195, -118.100909
From the 405, exit south on Studebaker Road until it dead ends at 2nd Street/Westminster Blvd and turn left. Cross over the San Gabriel River and turn right at the first light (DWP). Go down the ramp, through the yellow gate and follow the winding dirt road (be mindful of potholes and 15 mph speed limit) until you pass the marsh and nursery. The parking area will be directly in front of the kiosk as the road curves to the left.