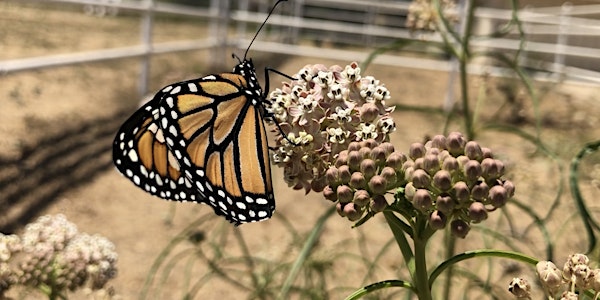 Southern California Monarch and Milkweed Conference
Join us for this FREE online event, where you can learn all about monarchs, planting native milkweeds, and how you can get involved locally!
About this event
Monarch butterflies are disappearing, and you and your community can help! We've teamed up with local monarch activists, scientists, and horticulturists to get you all the information you need to help monarchs and milkweeds in your garden and in your own community. This conference is open to all, and features 9 educational workshops covering the latest and most-relevant information on local monarchs and milkweed. See below for a short list of speakers and topics. Thanks for caring about our local monarchs and milkweed!
For more details about our presenters and their talks, please visit: southerncaliforniamonarch.org
Conference schedule:
9:00 AM: Opening Remarks by Rico Ramirez
9:15 AM: What's So Special About Monarchs? Presented by Bob Allen (Author and professor)
9:55 AM: Western Monarch Population: Status, Issues, and Action. Presented by Cat Darst (Assistant Field Supervisor, US Fish & Wildlife Service)
10:25 AM: Milkweed in the Santa Monica Mountains: The Hunt for 3 Local Species. Presented by Takuma Chipman (Field Lead, Santa Monica Mountains National Recreation Area Seed Collecting Team)
10:55 AM: Short break
11:00 AM: Restoring Habitats for Monarch Butterflies. Presented by the Xerces Society
11:30 AM: Lunch break
12:00 PM: Creating a Sustainable Backyard Nursery. Presented by Noey Turk (Co-Owner, Yes Yes Nursery in Santa Ynez, CA)
12:30 PM: Using native milkweed in your low-water garden.
1:00 PM: Early and Late Blooming Pollinator Plants for Emerging and Returning Monarchs. Presented by Antonio Sanchez (Nursery Manager, Santa Monica Mountains Fund native plant nursery)
1:30 PM: Get Involved: Ventura County Local Milkweed and Monarch Projects. Presented by Andy Spyrka (Resource Conservation Specialist, Ventura County RCD)
1:55 PM: Get Involved: L.A. County and Beyond. Presented by Richard Rachman (Los Angeles County Volunteer Coordinator for the Western Monarch Overwintering Survey)
2:20 PM: Closing Remarks
Sponsored by: Malibu Foundation, Metabolic Studio, Artemisia Nursery