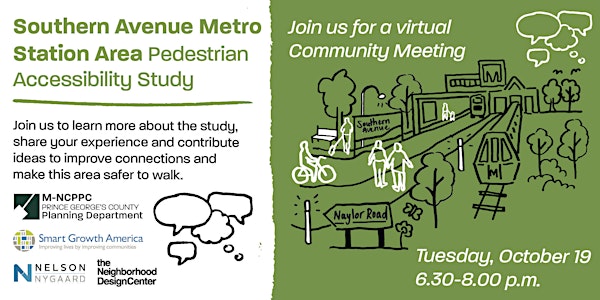 Southern Avenue Metro Station Areas Pedestrian Accessibility Study Meeting
Southern Avenue Metro Station Areas Pedestrian Accessibility Study Virtual Community Meeting
About this event
Join us for a virtual community meeting for the Southern Avenue Metro Station Area Pedestrian Accessibility Study!
Date: Tuesday, October 19, 2021
Time: 6:30 - 8:00 p.m. EST
 Virtual Meeting: Details to access the virtual meeting will be emailed to you prior to the event. PLEASE do not forget to check your inbox or spam folder for meeting details.
In June 2021 the Maryland-National Capital Park and Planning Commission (M-NCPPC) launched the Southern Avenue Metro Station Area Pedestrian Accessibility Study. The overall goal of the project is to improve neighborhood connections, promote health equity, and stimulate economic growth. Our focus is recommending improvements to local streets and station connections to make it safer and more enjoyable for people to walk.
The consultant team of Smart Growth America, the Neighborhood Design Center, and Nelson Nygaard has created a series of maps showing walking safety and accessibility issues within the Southern Avenue Metro study area. We want to hear from you about your experiences walking and cycling in the area, as well as exploring what changes community members would like to see.
For more details on the project visit: Prince George's County Planning Department https://bit.ly/SAMSAPA
For more information on the Prince George's County Planning Department of M-NCPPC, visit: www.pgplanning.org
Should you have any questions on this project, please contact the project manager, Jonathan Greene, at jonathan.greene@ppd.mncppc.org
For the best possible experience, please access the meeting by one of the following web browsers only: Google Chrome or Microsoft Edge. DO NOT use Safari, Opera, or Mozilla Firefox. If you encounter any issues accessing the polls during the meeting, staff will be available to assist you as needed.
_______________________________________________________________________________________________
Special Assistance: M-NCPPC encourages the participation of persons with disabilities and the need for language interpretation in all of its programs and services. For special assistance, call the Public Affairs Office at 301-952-4584.