Southeastern Symposium on Mental Health 2019

Friday, May 17, 2019 at 8:00 AM

-

Saturday, May 18, 2019 at 3:00 PM (EDT)
Event Details
The Southeastern Symposium on Mental Health provides an opportunity for stakeholders to collaborate across disciplines and share research findings utilizing evidence-based outcomes in order to improve patient-centered care. Our goal is to promote awareness about mental health issues, reduce stigma and discrimination, improve equity for mental health care comparable to other health care, and inform public. 
Taking an inclusive approach that recognizes mental health is about all of us. The Symposium theme – Reducing Mental Health Disparities Through Sustaining and Strengthening Healthy Communities: Increasing Knowledge through Research, Education and Practice encompasses a variety of topics illuminating creative and innovative ways of addressing mental illness.
Since mental illness is not a homogenous experience, we seek to recognize and embrace diversity from a wide range of perspectives. The Symposium opens up a space for discussions that not only engage with differences, but also endeavors to make a difference to stakeholders, community partners, clinicians, professionals and mental health consumers. Mental illness, stigma, and health depend upon a web of interdependent conditions such as: the physical, social environment, health, well-being, and cultural understanding of mental illness.
The Symposium therefore seeks to develop interdisciplinary and collaborative approaches that advance our understanding of the diversity and complexity of mental illness. In pursuing this goal, we encourage contributions exploring ways of engaging with diversity to enrich communities and to herald new approaches to mental health policy, research, education and practice.
---
TICKET TYPES
Community- attendees include: patients and their families, caretakers, member of the commnunity, etc. No CME/CEU
Professional- attendees include physicians, psychiatrists, psychologists, social workers, nurses, therapists, etc.  CME / CEU credits are included for professionals.  (Those seeking CLE credits need to register under the legal registration).
---
2019 Symposium Speakers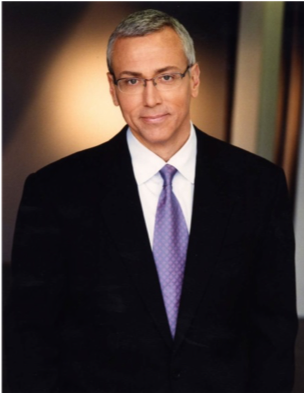 Drew Pinsky, MD
Board Certified in Internal Medicine, and Board Certified in Addiction Medicine
Dr. Drew Pinsky is the host of Dr. Drew Midday Live on KABC. In addition, Dr. Drew co-hosts the Adam and Dr. Drew Podcast with his former Loveline co-host Adam Carolla, This Life podcast with co-host Bob Forrest, as well as Dr. Drew Podcast, which is the #1 health podcast on iTunes, MTV reality television series, Teen Mom OG (Formerly known as "Teen Mom") and Teen Mom 2, where Pinsky hopes to raise awareness towards teen pregnancy and safe sex practices.
For over 5 years, Dr. Drew Pinsky hosted his own nightly show on HLN, Dr. Drew, where he attracted audiences and explored what makes people do what they do. In addition, Pinsky starred in the hit reality series Celebrity Rehab with Dr. Drew which chronicled the struggle for sobriety and the cycle of addictive disorders of a group of celebrities. The sixth installment of the series Rehab with Dr. Drew followed the real-life experiences of everyday people who are struggling with addiction as they undergo detoxification and treatment. Additionally, Dr. Drew hosted the nationally syndicated radio show Loveline where he took calls from listeners and answered questions about love, sex and relationships for over 32 years.
Pinsky is the author of the New York Times bestseller The Mirror Effect: How Celebrity Narcissism is Seducing America (Harper-Collins), and Cracked: Putting Broken Lives Together Again (Harper-Collins). Dr. Drew co-authored the first academic study on celebrities and narcissism. The study was published in the Journal of Research in Personality (Elsevier) and received worldwide press coverage.
Dr. Pinsky received his undergraduate degree from Amherst College and his M.D. from the University of Southern California, School of Medicine, where he remained for his residency. Pinsky then became chief resident at Huntington Hospital in Pasadena. He is a diplomat of the American Board of Addiction Medicine and the American Board of Internal Medicine. He has been appointed to the Alpha Omega Alpha Honor Medical Society and is a Fellow with the American College of Physicians (FACP). Dr. Drew is also a member of the board for the Prostate Cancer Foundation.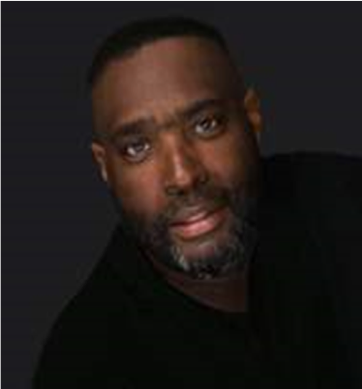 Antwone Fisher
Best-selling Author & Screenwriter
Antwone Fisher is the screenwriter and real-life subject of the Hollywood hit Antwone Fisher, directed by Denzel Washington. The film tells the story of his childhood at the hands of the foster care system.
Antwone Fisher was born in prison to seventeen-year-old Eva Mae Fisher and twenty-three-year-old Eddie Elkins. His father, Eddie, was shot and killed before Antwone was even born. Antwone was placed in foster care within the first few weeks of his life, and for two years he lived with a loving family. The state eventually put Antwone back in the foster system, claiming that Antwone's attachment to his foster mother could be problematic. He was subsequently placed in the home of Reverend and Mrs. Pickett, where some of his most traumatic childhood experiences unfolded. For fourteen years with the Picketts, Antwone suffered both emotional and physical abuse.
Antwone walked out the door of the Picketts without getting so much as a good-bye. The road ahead for Antwone wasn't easy. Upon graduating high school, he found himself staying at the YMCA where he began life as an emancipated minor. He fell in with a criminal named Butch to avoid the derelicts and sexual predators at the YMCA. He ended up sleeping on park benches and in alleys, and it was at that critical moment in his life that he decided to join the Navy. 
Antwone Fisher spent eleven years with the Navy where he learned many lessons and befriended a Navy psychiatrist, Commander Williams, who helped him realize his potential. Upon leaving the Navy, Antwone took a job as a security guard at Sony Pictures Entertainment. It was then in 1992 that he decided to look for his real family. He eventually found his aunt, Annette Elkins, who lived in Cleveland, and within months he met all of his kin, including his mother, Eva Mae.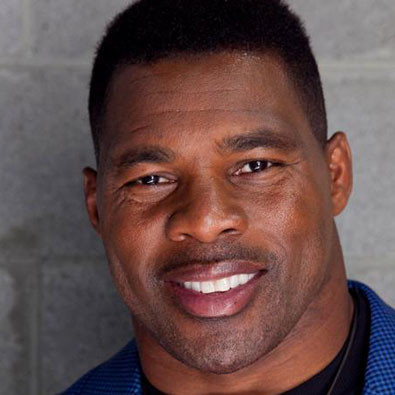 Herschel Walker
Successful businessman, legendary football player, Heisman trophy winner
Herschel Walker is a successful businessman, legendary football player, Heisman trophy winner, and a passionate advocate for mental health awareness. Throughout his career, Walker has established a reputation for honesty and diligence, a sincere commitment to the community, and an unsurpassed passion for excellence.
In high school he led his team to state championships in both football and track. In 1980, Walker participated in the Academy of Achievement program as valedictorian of his class. In 1981, he became the first Academy of Achievement honor student to return to the annual program as a recipient of the Golden Plate Award.
Walker's collegiate football career is legendary. As a freshman at the University of Georgia, Walker's performance helped capture the 1980 national football title. He earned consensus All-American honors three consecutive years, set numerous NCAA and SEC records, and capped a sensational college career by earning, in his junior year, the 1982 Heisman Trophy. In 2002 he was voted into the Collegiate Football Hall of Fame and was selected as the second greatest player in college football history, just behind the legendary Red Grange.
In 1983, Walker gave up his final year of collegiate eligibility and turned professional. During his 15 year pro football career, Walker's accomplishments include a) setting the still standing, single-season, pro football rushing record of 2411 yards, b) leading the NFL in rushing, c) gaining more total yards than anyone in professional football history and d) receiving numerous all-pro and pro Bowl honors.
Additionally, Walker held a world record in the 60-yd dash, participated in the 1992 Winter Olympics 2-man United States bobsled team, is a fifth degree black belt in Tae Kwon Do, and has performed with the Fort Worth Ballet.
The same commitment to excellence that delivered his athletic achievements is now applied to building his many business ventures. Walker is founder, President and Chief Executive Officer of H. Walker Enterprises, LLC (HWE) and Renaissance Man Food Services, LLC (RMFS), a certified minority business enterprise that supplies poultry, pork and bakery products to the food service and retail marketplace, as well as hospitality products to major hotel chains, the United States Military, schools, retail, and concessions organizations. Walker leads and is personally involved in all key aspects of his growing business enterprise, including product sales and development, marketing, manufacturing and promotional events.
RMFS respects its roots and is dedicated to helping others who are less fortunate. That is why a percentage of the company's profits are given to various charitable organizations serving people in need, including the National Multiple Sclerosis Society, The Special Olympics, PE for Life programs, the Boy Scouts of America and others. In addition to financial gifts, Walker formed and leads the Herschel's Famous 34 bike team specifically to support the Multiple Sclerosis Society. The team has raised money by participating in several of the Society's 150-mile bike ride events. 
Walker is also known for his presentations and speeches where he shares his personal story of living with Dissociative Identity Disorder. In 2008, Touchstone Hardcover Books (a division of Simon & Schuster) published Walker's memoir, BREAKING FREE: My Life with Dissociative Identity Disorder. Walker shares personal stories and inspiring leadership lessons he has learned about living with a mental illness diagnosis, teamwork, goal setting, perseverance, initiative, preparation, discipline, and overcoming obstacles.
Following the release of his memoir, Walker became the spokesman for programs specialized in mental health and addiction treatment for United States Military service members. On behalf of the Patriot Support Program of Universal Health Services, Walker has visited 160 military installations sharing his story of hope to thousands of troops.
Walker earned a Bachelor of Science degree in Criminal Justice from the University of Georgia in 1984. He resides in Texas.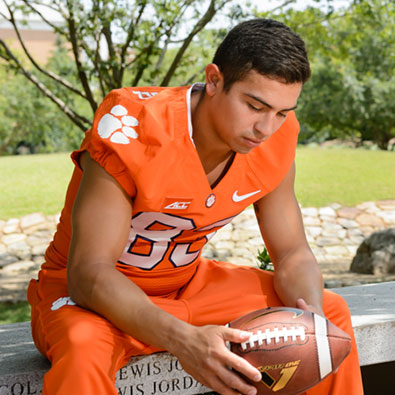 Daniel Rodriguez
Purple Heart Recipient & NFL Recruit
Daniel Rodriguez has had an incredible journey. After surviving the bloodiest clash of the war in Afghanistan, he left the military and walked on the Clemson football special teams in order to fulfill a promise to a friend who died on the battlefield. 
Rodriguez's father passed away four days after his high school graduation. He sought out the military and spent 15 months in Iraq before heading to Afghanistan, where he found himself in the bloodiest battle of the war. As more than 300 Tailban assaulted his combat outpost, it was partially overrun and nearly destroyed. During the 18-hour, point-blank battle, eight U.S. soldiers were killed, including Rodriguez's close friend, Pfc. Kevin Thompson. The two had bonded over making plans for what they would do after they got out of the military. Six months later, Rodriguez returned home, only to battle the psychological effects of war. After earning a Purple Heart and Bronze Star for his bravery, suicidal thoughts and heavy drinking became the new normal. Spurred by the desire to make his friend's death meaningful, Rodriguez decided to make a change. He enrolled in community college, raised his grades, and vowed to make good on the promise he had made to Thompson – to get his education and play college football.
Rodriguez committed to getting back in shape. He quit drinking and worked out more than six hours a day. Despite the training, he battled other stereotypes – he was older now than the typical college freshman and weighed less than 200 pounds. But Rodriguez didn't give up. With an utter devotion to accomplishing his goal, he found a friend with filmmaking experience and the two shot a unique recruitment video.
Never asking for a handout, only a chance, he reminds audiences what it means to take control and work to succeed with determination. Rodriguez shares the story of how he came back from the edge of war in order to honor his friend's life and create a new one for himself. His accomplishments resonate with anyone who has ever fought for what they wanted.
In 2012, Rodriguez was honored with the Discover Orange Bowl Courage Award for his display of courage on and off the field. In 2014, he received the Armed Forces Merit Award, presented by the Football Writers Association of America and honoring an individual with a military background that has made an impact in college football. He was also awarded the American Hero Award by the Walter Camp foundation. During his senior season with the Tigers, he published Rise: A Soldier, A Dream and a Promise Kept, the firsthand account of his journey from Kamdesh to Clemson.
In Spring 2015, Rodriguez was signed by the St. Louis Rams.
When & Where

Greenville Convention Center
1 Exposition Dr
Greenville, SC 29607


Friday, May 17, 2019 at 8:00 AM

-

Saturday, May 18, 2019 at 3:00 PM (EDT)
Add to my calendar