Description
Spend a great weekend with us at Camp Greystone, nestled in the Blue Ridge Mountains near Tuxedo, NC. Ask your campus minister to find out which week you are attending.
OUR SPEAKER:
Week 1:
Ben Milner
Ben Milner grew up in Winston-Salem on the campus of Wake Forest. He was an atheist in college until he met Margie Morgan in London. During a semester abroad she mesmerized him with the beauty and majesty of Jesus Christ. He converted to Christianity that Christmas break as he read CS Lewis' Mere Christianity. He graduated from Wake the next year and followed Margie to Richmond Virginia where she was starting Physical Therapy school. He asked for Margie's hand in marriage that fall. She accepted.
For 3 years they lived in Richmond: she as a student, he as a High School Physics teacher and basketball coach. During that time God clearly called Ben to Seminary and after a very difficult struggle he and Margie headed to Princeton NJ. He graduated with an M.Div. (a bit of a surprise) and decided to accept a call as a pastoral intern at Redeemer. During their last semester in Princeton, Margie gave birth to their first of two children (Rosabelle, 5). Cooper, 3, was born two years later. Ben was elected to be an Associate Pastor in 2006.
Week 2:
Shawn Slate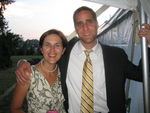 Shawn graduated from Clemson University with a degree in Biological Sciences. He spent about a year working for an achitecture firm as the "office jester" before serving as the youth director at Clemson Presbyterian Church until moving to St. Louis, MO to attend Covenant Theological Seminary in 1999. He graduated in 2002 and was ordained as the the Assistant Pastor of The Covenant Presbyterian Church in St. Louis, MO.

In the Spring of 2005 the Presbyterian Church in America called him to move to Charlottesville in order to serve the students at the University of Virginia. He is blessed with a fantabulous wife, Jennifer and three children (William-13; Mary Austin-10; and Annabel 7).
WHO IS COMING?
RUFs from all over the southeast will be there. Register for your week!
Schools:
Week 1
App State
College of Charleston/Citadel

Duke
UNC-Charlotte
UNC-Chapel Hill
Tenessee Tech
Week 2
Clemson
Davidson
Erskine
Furman
Johnson & Wales
NC State
UT Knoxville
Wake Forest
Western Carolina
Winthrop
Wofford
COST
Cost for the conference is only $99, which includes room and board. Scholarships are available! Talk to your campus minister if you need a scholarship. He will give you a special code to enter during registration, using the "enter promotional code" link. You can pay with a credit card to complete your registration online. If you would prefer to pay by check, choose the "other payment options" link and follow the instructions. You will make all checks out to RUF and give them directly to your campus minister.
WHAT TO BRING
In addition to your normal weekend-trip sort of packing, make sure to bring sheets, towels, blankets, warm clothes for layering, a Bible, notebook and pen, umbrella, etc. The meetings are in an outdoor pavillion, so dress accordingly. There are also tennis courts, basketball courts, a football/ultimate frisbee field, etc., if you want to bring your sports equipment. If the weather is warm enough, there will be several activities out on the lake as well.
Organizer of Southeastern RUF Fall Conference 2013
Although RUF is sent to the campus by the Presbyterian Church in America, we welcome students from any and all walks of life. We are here for the "convinced" and the "unconvinced." Students from a wide variety of church and religious backgrounds are involved in RUF on over a hundred campuses in the United States. But what is unique about RUF? Read More!