About this Event
Southeast Sizzler Car & Bike Show is hosting a Triple Car & Bike Event. We are awarding trophies stuffed with $10000.00 in cash prize money on Saturday! We will be hosting an Afterparty when the Car Show concludes so you can relax and enjoy cocktails, food & fun. We provide free lanes for 4 hours for general adm tickets and free lanes all night for VIP tickets plus a private room, VIP bottle service & dedicated waitstaff. It is the "NEW 300" for 1 night only! On Sunday, Southeast Sizzler hosts the Lakehouse Grill & Chill. Bring your lawn chair and your music, we provide the food & beverage. This event is in a gated, secluded & private area. You must have a ticket for entry. Access to Private Lakeside Cabanas is available with VIP tickets. These cabanas are fully furnished with a private deck overlooking the beautiful lake. VIP tickets include meal & beverage service and a personal runner to get whatever you need. VIPs never have to leave the lake! Come, relax and wind down on a lazy Sunday afternoon. VIP All Access tickets come with overnight stay privileges in our Lakeside Cabanas. CHILDREN 10 AND UNDER FREE ENTRY TO CAR SHOW>>> PLEASE NOTE CAR SHOW ONLY IS AT ARBOR PLACE. >>>AFTERPARTY @ 3931 LONGVIEW DR. DOUGLASVILLE GA 30135,>>> LAKEHOUSE GRILL & CHILL @ 1750 MT. VERNON RD. LITHIA SPRINGS, GA 30122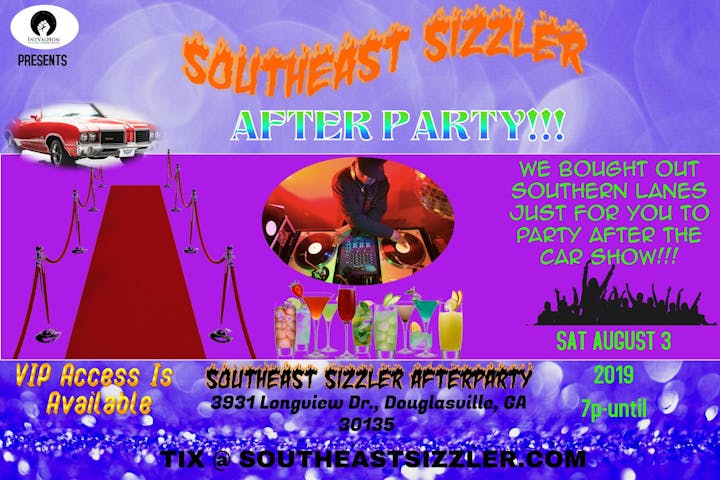 The Southeast Sizzler Afterparty location is 3931 Longview dr. Douglasville, GA 30135
find us at southeastsizzler.com or southeastsizzlerevents on IG
Starts at 7 pm and goes until you're ready to stop partying! It's the "NEW 300" for one night only! We provide free lanes for 4 hours with Gen Adm ticket and free lanes all night for our VIP tickets. VIP tickets also come with a private room, bottle service & dedicated waitstaff. We have lots of freebies to give away to everyone. Don't miss it!!
We bought out Southern Lanes just for you to party! Must have ticket for entry.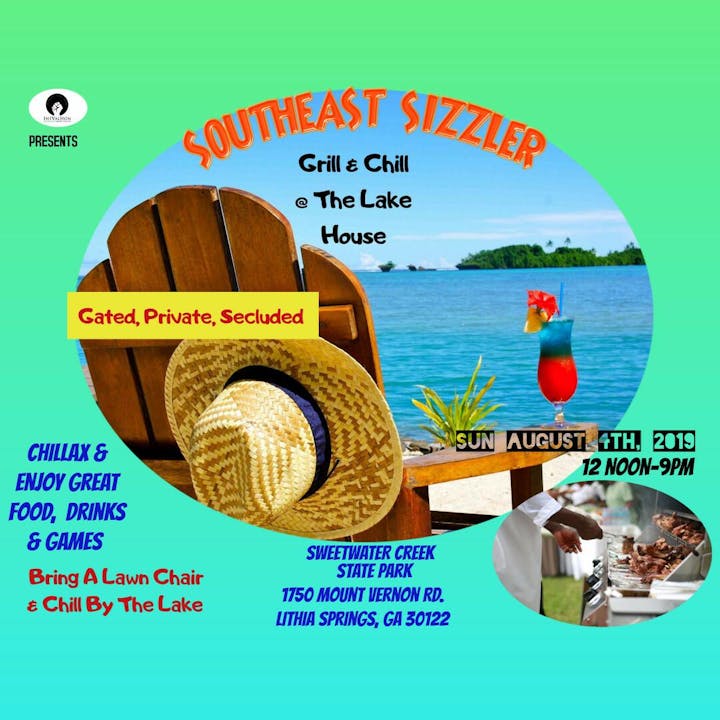 Lakehouse Grill & Chill location is 1750 Mount Vernon Rd. Lithia Springs, GA 30122
find us at southeastsizzler.com or southeastsizzlerevents on IG
From 12 pm until 9 pm. Come to the Lakehouse Grill and Chill and enjoy a leisurely, lazy day on the lake. Bring a lawn chair to relax and let us take care of all the grillin' while you do all the chillin'! Food and beverage included in ticket price. It doesn't get better than this! VIPs have Private Lakeside Cabana Access, meal service, dedicated staff and a personal runner to get whatever you need. Our VIPs never have to leave the lake! VIP All Access tickets have overnight stay privileges in our Lakeside Cabanas. Yeah...We bought out this secret, hidden area at Sweetwater Creek State Park too just for you to chill!
Gated, private, secluded. Must have ticket for access!