Southeast Coastal Regional Blue Ocean Conference

Thursday, March 7, 2013 at 7:00 PM

-

Saturday, March 9, 2013 at 12:00 PM (EST)
Event Details
Join us on March 7 - March 9, 2013, in Asheville, NC for the Southeast Coastal Regional Blue Ocean Conference
Exploring the dynamic intersection between faith & culture.
A nation-wide movement is developing among church leaders and people of faith who are eager to empower vibrant faith in our ever-secularizing society.  Join the conversation as we explore the exciting opportunities found in the intersection of faith and culture.   We'll chat about how to engage with secular culture and start faith conversations with those who may consider themselves outside of faith. 
You will have the opportunity to hear from and engage with nationally recognized church and cultural experts as well as other church leaders and people of faith from across the country that are developing new and innovative models and pathways to introduce Jesus to an ever-increasing secular society.
In recent surveys, the fastest growing religious identification category is 'none.'
-- Putnam, American Grace
 "I went to a Regional Blue Ocean conference when I was new to faith - I'd been going to church for eight weeks when I attended the conference. What an amazing experience! The speakers were incredible, the venue was terrific, and the Spirit presence was palpable. I made real friends in those two days, and I would go again in an instant."    --Dan from Minneapolis
"I love to interact with others who care as deeply as I do about leaving the culture war mind-set to faith far behind. People who realize there's a better way to engage the religiously unaffiliated and younger generations.  People who are practitioners--trying things out in their local communities--and committed to thinking deeply and biblically about all this.  Each year I've discovered in the Blue Ocean Summit a relational, cognitive and spiritual feast!"  -- Ken Wilson, Lead Pastor at Vineyard Church of Ann Arbor & author of "Jesus Brand Spirituality" & "Mystically Wired"
 Here are some of the exciting topics that will be covered:
Main Sessions
Dave Schmelzer's story "My Surprising Journey from Atheism to Faith."

"Fresh Ways of Looking at Faith in a Secular Age."

"Ways to Speak on God and the Bible That Become Meaningful To All people."

"Things We've Tried at a Church-Level for Engaging Culture."

"How All of this Might Just Bring Powerful Meaning to Your Every Day Life."
Workshops
"Having Meaningful Spiritual Conversations With Non-Churchgoing Folks."

"Tips, Strategies & Program Ideas For Church-Wide Relevance."

"A Conversation With Dave Schmelzer for Senior Church Leaders." 
Logistics:
WHEN: 


March 7th thru March 9th


Starts: Thursday @ 7:00 pm 
Ends: Saturday @ 12:00 pm



WHERE:

Blue Ridge Vineyard Church
501 Stone Ridge Blvd
Asheville, NC 28804
(see map on the right)



REGISTRATION:

Select ticket type, fill in your registration information, and purchase tickets above. A confirmation email will be sent to you regarding your purchase.


EARLY BIRD REGISTRATION ENDS Feb 22nd!

DISCOUNTS: 


EARLY BIRD SPECIAL -- Tickets purchased before Feb 22nd receive a $10.00 discount.




GENERAL ADMISSION

: 


GENERAL ADMISSION

-- Tickets are $65 per person and include snacks, drinks, and conference materials.



Recommended Hotels:

Download the hotels document.

Brief summary of hotels:
Conference Speakers: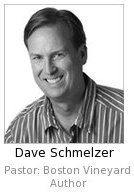 Dave Schmelzer
Dave is the author of Not the Religious Type: Confessions of a Turncoat Atheist. He developed the popular Seek Course for people who are exploring faith. Along with Charles Park, he also convened the Blue Ocean conversation.
Dave has a background both in theology (Fuller Seminary, '87) and the arts (Stanford University, '84, and a decade as a working playwright). Dave pastors the Vineyard Christian Fellowship--Greater Boston, keeps his hand in some fiction writing, and lives just outside Boston with his wife, Grace and their five children.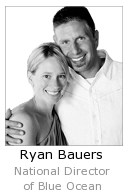 Ryan Bauers
Ryan is the National Director of Blue Ocean Faith. His has a degree in both Spanish and Communication from the University  of Minnesota Duluth. He received his pastor's license in 1999 and he has been in full-time ministry ever since. Ryan and Krista started Hillside Church with a team of people in April 2001. They are passionate about seeing people experience God in a powerful  way. They enjoy long, gourmet dinners with friends, traveling, hiking, hanging out at the beach and spending time with their two daughters and son.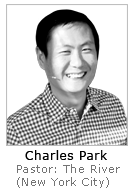 Charles Park
Charles Park is the Senior Pastor of The River in New York City. Charles and his wife Caroline moved to New York in June 2004 to start the Manhatten-based Vineyard. Charles studied (a little too much when he was young), earning a PhD in Economics at M.I.T. After striving hard to achieve the American Dream, he found getting tangled up with the story of God made life much more interesting and unpredictable. Of all the great heroes of Western Literature, he most identifies with Forrest Gump. "Life is like a box of chocolates."
He and Caroline live in Manhattan with their three children, Clara, Ariel and Caleb.
Church is the only organization that exists for the benefit of its non-members.
-- G. K. Chesterton
  Thursday, March 7th
6:00–7:30 pm              |          Registration
Registration will also be open Friday morning and evening before the plenary sessions.
7:00–7:20 pm              |          Worship 
7:20–8:00 pm              |          Introduction:  From Atheism To Faith
Dave Schmelzer
8:00–8:15 pm              |          Break 
8:15–9:30 pm              |          "Fresh Ways of Looking at Faith in a Secular Age"
Dave Schmelzer
Friday, March 8th
9:00–9:15 am              |          Worship
9:15–10:30 am            |          "A Blue Ocean Approach:  Let's Talk Culture"
Ryan Bauers
10:30–11:00 am          |          BREAK  
11:00 am–12:30 pm   |          "Things We've Tried:  Let's Talk Practice"
                                                Dave Schmelzer
12:30 –2:00 pm           |          LUNCH
2:00 –3:15 pm             |          Breakout Groups: Session 1
Dave: Lead Pastors
Ryan: Blue Ocean Approach to Faith Conversations
3:30 –4:45 pm             |          Breakout Groups: Session 2
Dave: Blue Ocean Approaches for your whole church
Ryan: Navigating GLBT issues in the modern church
4:45 –7:00 pm             |          DINNER
7:00–7:20 pm              |          Worship
7:20 –9:30 pm             |          The Story The Bible Is Telling:  Let's Talk Theology
Dave Schmelzer
Saturday, March 9th
9:00–9:20 am              |          Worship
9:20–10:15 am            |          "What Might This Mean For You?"
Dave Schmelzer
10:15 –10:45 am         |          BREAK
10:45 –12:00 pm         |          Q&A: Panel & Participants Chat About Relevant Topics
Dave Schmelzer & Ryan Bauers 
Suggested Pre-reading:
Written in 2009 for a Northeast Blue Ocean Summit, Blue Ocean Churches (previously named "Culture Center Churches") turned out to be a smashing success. In it, Dave Schmezler shares his experiences of planting a church in the heart of secular America. This manual chronicles the trials and errors of the Greater Boston Vineyard as it grew from 30 people to over 800 in an area of less than 3% churchgoers. Dave shares useful tips and advice for anyone looking to build a community of vibrant faith in this changing world.
Click the picture to download the manual for free or you can purchase a hard copy for $10 (free shipping) here: Blue Ocean Faith.
Written back in 2008, Not The Religious Type, Confessions of a Turncoat Atheist was one of the inspirations for these annual conferences. The intriguing topics raised in this book begged for larger discussion. The book has since served as the jumping off platform for our larger conversations about faith and secular culture. Click on the picture to purchase and read more about the book.
When & Where

Blue Ridge Vineyard Church
501 Stone Ridge Blvd
Asheville, NC 28804


Thursday, March 7, 2013 at 7:00 PM

-

Saturday, March 9, 2013 at 12:00 PM (EST)
Add to my calendar