Description
Refugee & Migrant Rights Fundraiser:
A reading and concert in support of South Texas Humanitarian Border Aide
All proceeds going to Team Brownsville & The McAllen Respite Center
October 20th, 7pm at Dig A Pony
736 SE Grand Ave, Portland, OR 97214
Featuring Readings From:
Kim Stafford
Ana Maria Ferreira
Sophia Shalmiyev
Armin Tolentino
Gwendolyn Morgan
Followed by DJ Daniela Karina
Auction & Raffle with prizes donated by Literary Arts, Tavern Books, IPRC, Zig Zag Wanderer, Costura Creative, Elixir Field Wellness, Theasophie Tea, and many more!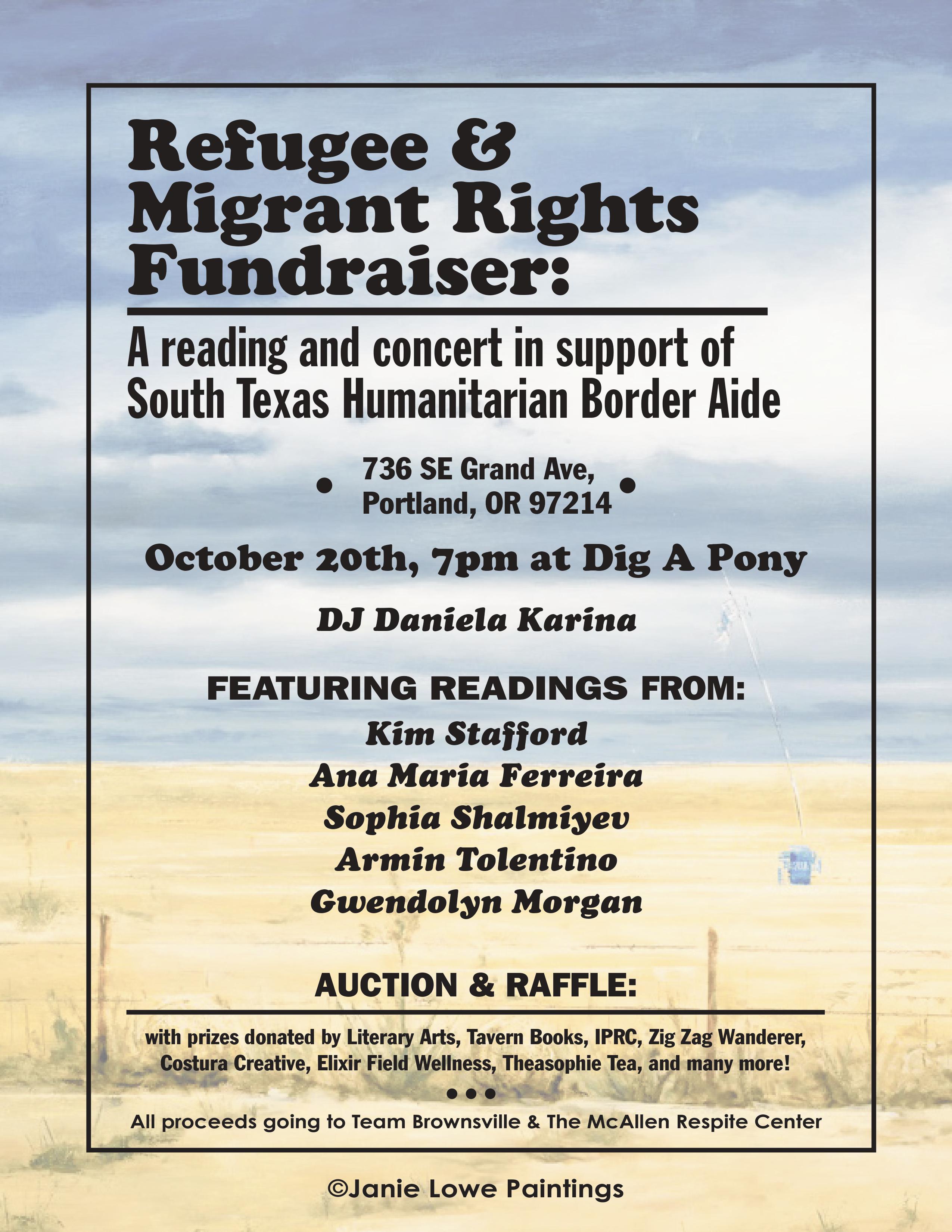 Following is a description of the two supported nonprofits:
Team Brownsville. This organization crosses the Matamoros–Brownsville International Bridge twice a day to feed migrants & refugees waiting to begin the process of legally entering the USA, some of whom have been waiting for months. Then, once people are released in Brownsville, Team Brownsville acts as support (& simply smiling faces) to people trying to navigate being in the USA.
Here's their website:
https://www.teambrownsville.org/
McAllen Immigrant Respite Center. This facility assists hundreds of refugees & migrants daily as they are released from detention camps. They offer showers, meals, clothing, & help translating legal documents. The nuns & volunteers who operate this facility do an incredible job of offering support & a sense of humanity to people who've just spent months in a cage.
Here's their website:
https://www.catholiccharitiesrgv.org/respitecenter/About.aspx