South Seas Island Resort! 2 Days Relaxation & 2018 Goal Setting Retreat For...
Description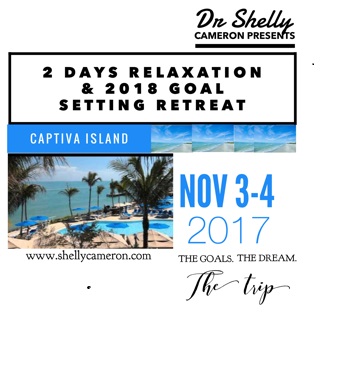 Take a break from your busy schedule and join us for this exciting 2018 Goal-Setting Retreat on November 3, 2017, at the Beautiful and Serene South Seas Island Resort!
A block of rooms has been reserved for this Group at the Special DISCOUNTED rate. Call 1-800-282-3402, and mention Group Name: Cameron Calder & Associates. Cut off special rate has been extended to October 20, 2017. Reservation questions, please contact event organizer at 954.495.1644
As a vivacious Planner, how many times have you sat alone at home or at the office and decided that you are going to do this or that for the coming year? No doubt, many times! But over 80% of individuals fall short of their plans within 2 months of the New Year. Then frustrations set in later when you look back and realize that you haven't done a thing towards accomplishing your goal.
Here's where we come in. Grab a Friend and Plan to attend 2018 Goal Setting Retreat on Captiva Island, Florida! This retreat is for you if you are an Entrepreneur, or Mid-Career Individual in Transition who wish to put your plans in order to set your goals for 2018.
Expected Outcome include:
Visioning | Planning | Finding Your Why
Identifying your Top 3 Key Goals
Creating Concrete Steps to Achieve
Strategies to Keep Your Plans on Target
Connect! Connect! Connect with like-minded Professionals
A chance to relax and rejuvenate in a different and fun environment
This event is geared for you to make your Goals a reality so:
Come prepared to Achieve
Stay for the entire session.
You should set concrete goals for the Workshop.
Experience Your facilitator will be headed by Dr. Shelly Cameron Organizational Leadership Specialist, Author and Coach, who has over 15 years planning Leadership Retreats to devise and concretize Goals and strategies to achieve.
Material: All working documents will be provided at no extra cost
Food: Breakfast and Lunch will be provided on the 3rd November
Relaxation: You will be able to reserve Excursion activity (your cost) on the 4th November
Hotel: Discounted rates are available at the South Seas Island Resort. Registration for the Event will be made by individual attendees directly with South Seas Island Registration. Call 1-800-282-3402, and mention Group Name - Cameron Calder & Associates. Cut off special rate date is October 20, 2017.
Additional Notes - Recommended you arrive in time for an early morning start (9AM) on November 3rd.
For Additional information - Email scameron@ccahr.com