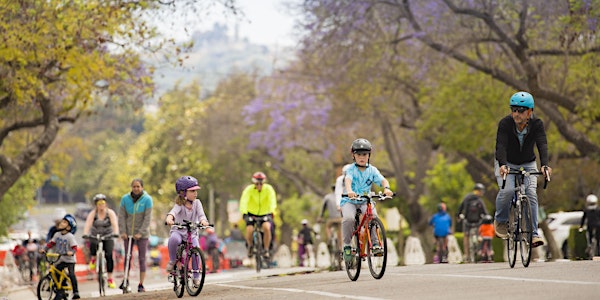 South Pasadena Bike Train and E-Bike Demo
No gas South Pas! Dust off your bike, don your favorite 626 apparel, and traverse some of South Pasadena's greenest streets on two wheels!
When and where
Location
Garfield Park 1000 Park Avenue South Pasadena, CA 91030
About this event
Join South Pasadena Mayor Pro Tem Michael Cacciotti, CA State Senator Anthony Portantino, and your friends at ActiveSGV for a leisurely ride along some of the SGV's most picturesque tree-lined streets. The ride will start and finish at the north side of Garfield Park, where participants will be able to check out E-bikes, E-blowers, and more. In September the City of South Pasadena became the first in the SGV to phase out the use of gas leaf blowers and will be hosting free demos in the park all day.
Post-ride Garfield Park is great for picnics, kids, and just hanging out, with lots of mature oak trees, a shaded playground, tennis courts, and space to throw a frisbee or kick a ball. Bring picnic-items, or pre-order a healthy lunch from a local eatery.
All punctual participants will receive a free raffle ticket, with 626 swag and other goodies up for grabs. Want to increase your chances to win? We'll be handing out extra raffle tickets for those who:
Test ride an E-bike (+1 raffle ticket)
Take an E-bike survey (+1 ticket)
Try an E-blower or other E-yard equipment (+1 ticket)
Bring an E-bike to share (+1 ticket)
Don your favorite #626goldenstreets attire (+1 ticket)
Show us your vaccination card (+1 ticket)
Pre-registration is required for all participants. If you are attending with other family members, each person must be registered separately in order to attend. Register now to guarantee your spot!
Date: Saturday, November 6 (10:30a-12:30p)
Timeline:
10:30am - Meet at Garfield Park (north side)
11:00am - Tour de South Pasadena
12:30pm - Return to Garfield Park
Start/Finish: Garfield Park, 1000 Park Ave, South Pasadena 91030 (group will meet near Stratford and Grevelia on the northeast side of the park)
Route: 6 miles, mostly flat. https://www.mapmyride.com/routes/view/4658808334
Getting There:
Public Transit: Metro L-Line Mission Station and Local Metro Buses
Parking: Parking available around the park

Experience Level: Beginner / Intermediate
What to Bring:
A functional bicycle or wheeled device (highly recommended with gears)
Mask or face covering to wear at stops and when not able to social distance
Hand sanitizer
TAP card or money for fare if you plan to use the Metro bus or train.
A helmet is required if under 18
Water Bottle (with water)
Bikes with training wheels are not permitted, but children are welcome to attend if pulled in a trailer or on-bike child seat
*** PLEASE NOTE: All ride participants must sign this waiver to participate. A parent or legal guardian is required to sign for and accompany any minors under 18 participating in the ride. ***
**RAIN POLICY: In the event of a rain forecast, we will contact you 24 hours in advance to confirm or cancel the ride**
Safety Protocols
We will be observing strict protocols during the ride to ensure safety and comfort for all participants and instructors. The entire ride will be conducted outdoors to maximize physical distancing. Please keep in mind the following rules while attending the ride:
You must confirm your attendance in advance of the ride so we know to expect you and hold your spot. Every attendee must sign-in and complete a waiver.
If you are feeling sick or unwell, please stay home. There are many virtual class and self-guided ride options still available.
Even if you are fully vaccinated, please bring a mask or face covering to wear at ride stops and socially distance from others on the ride not in your household. If you are not yet fully vaccinated, you are still required to wear a mask or face covering outdoors when you cannot keep a safe distance while exercising (at least 8 feet).
Staff and ride marshals reserve the right to refuse service to anyone who does not follow these protocols (e.g., arrives without prior registration, does not complete waiver, refuses to wear a mask).
This ride is made possible with support from the San Gabriel Valley Council of Governments.