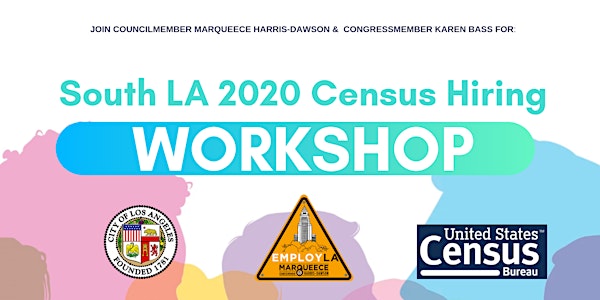 South LA 2020 Census Hiring Workshop
Location
Horace Mann Middle School
7001 St Andrews Pl.
Auditorium
Los Angeles, CA 90047
Description
To accommodate more participants, the location for our South LA 2020 Census Hiring Workshop tomorrow night has been changed from Community Coalition to Horace Mann Middle School.
Parking: Basketball Courts - Access through 71st St. and St. Andrews Pl.or Parking Lot at 68th St. Gate
The U.S. Census Bureau is hiring for the upcoming 2020 census. Learn about the various available positions and start the application process!
Available positions include:
Area Census Office Manager

Census Field Manager

Administrative Manager

Information Technology Manager

Recruiting Manager

Office Operation Supervisor

Office Clerks

Recruiting Assistants

Census Field Supervisors

Census Takers/Canvassers