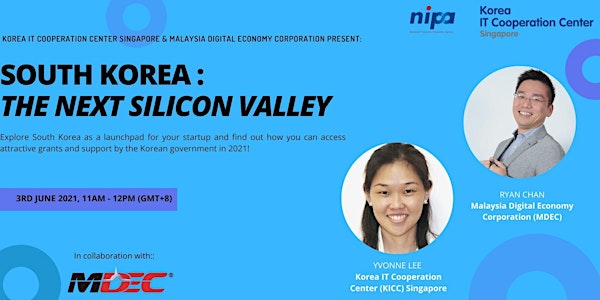 South Korea : The Next Silicon Valley
A webinar on initiatives by the Korean government to support foreign startups in launching their businesses in Korea.
About this event
The K-Startup Grand Challenge (KSGC) has kicked off once again! Through KSGC, startups and SMEs stand a chance to launch their businesses in South Korea via an accelerator programme funded by the Korean government.
Organised by the Korean government through Korea IT Cooperation Center (KICC), Ministry of SMEs and Startups, National IT Industry Promotion Agency (NIPA) the KSGC 2021 is set to bring in revolutionary, wide-ranging startups to South Korea and support the businesses to grow in the thriving Asian market.
The K-Startup Webinar has invited distinguished guest speakers, Yvonne Lee (Marketing Manager, KICC Singapore) and Ryan Chan (MDEC, Malaysia), to speak more about KSGC and the market potential in South Korea. Attendees can learn more about:
➨ South Korean Government Support for Startups
➨ The Startup Ecosystem and Market Potential in South Korea
➨ Korean Market Demands for Various Industries
➨️ Corporate Partnership opportunities via KSGC
➨️ How KSGC Serves as the Gateway into other Asian markets
.... and more.