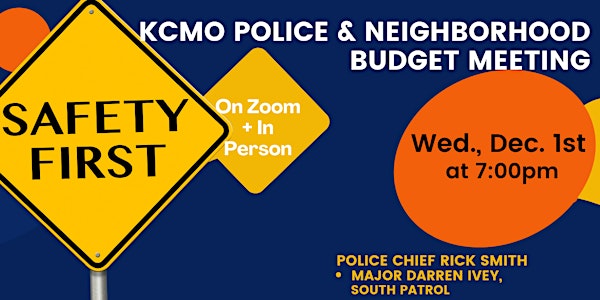 South KC Mtg Regarding Police Budget: 12/1 at 7:00pm: In-Person & On Zoom
Police Chief Rick Smith joins KC Neighborhoods as we face more crime & police officers w/ & Majors Darren Ivey & Paul L
About this event
Violent crime is on the rise! We will meet in person, on Zoom and by call in on 12/1 at 7:00pm on Wednesday, December 1st. By registering, you will get the Zoom link by email, and your name on the list at the door if you will join us in-person. Please specify which way you will join the meeting. Everyone will get the Zoom link.
We want our neighborhoods to make sure our voices are heard as it relates to the KCMO city budget of our taxpayer dollars and the number of police officers in our neighborhoods addressing the increasing amount of crime. We are inviting all at large members of the KCMO city council, the Board of Police Commissioners (Dawn Cramer has confirmed so far), the mayor and the 5th & 6th councilmembers (Ryana Parks-Shaw & Andrea Bough have confirmed so far).
We will ask the Police Chief Rick Smith & Commander, Major Darren Ivey & Major Paul Luster about our current crime levels, staffing situation and for the budget numbers - as well as what it will take to add the additional officers that we need.
Our meeting will be in person at the South Patrol , 9701 Marion Park (behind Home Depot on Bannister Rd- in the back building), on Zoom and by phone. You will be emailed the Zoom link prior to the event along with the call in number. And, there will be a list at the door for those registered that come in person. All are welcome to join us. Please share with your neighbors so that they can have their concerns and suggestions heard, too.