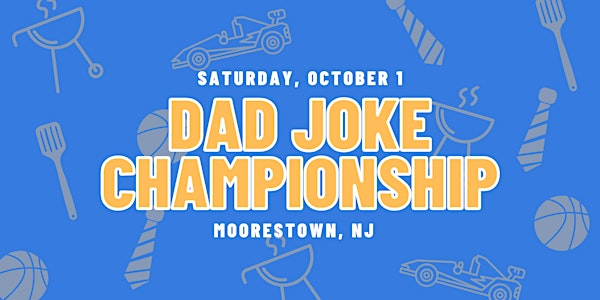 South Jersey Dad Joke Championship - Moorestown, NJ
Bring Your Own Chair - Sit back, relax and groan as South Jersey residents vie for the title of Dad Joke Champion
When and where
Location
Perkins Center for the Arts 395 Kings Highway Moorestown, NJ 08057
About this event
Sign up online here. It's free to compete. No, you don't need to be a dad to play.
What do you call a prehistoric restaurant? A diner-saur!
This is the day you've been training for since you traded in your Mazda Miata for a Chrysler Minivan. Collect your jokes and let your kids give you the pep talk you need to take home the trophy!
Rules are simple. It's a 1 on 1 competition where each contestant takes a turn telling the lamest/daddest joke possible. Jokes do not need to be original. Each contestant will tell three jokes per round. Points are earned by making your opponent laugh or smile. The contestant with the most points advances to the next round until we have a winner (judging panel of moms will break ties). Jokes must be family-friendly.
The winner receives $250. Runner-up will also win a $125 prize. Event benefits the Perkins Center for the Arts.
Check out niceonedad.com for inspiration.
Bring Your Own Everything: chairs, food, beverages, and blankets. None will be available on site. First come, first serve spaces. Please check-in together as a group. Entrance opens at 6:30 PM. Showtime at 7:00 PM. Price goes up $10/ticket day of show.
Additional: Family-Friendly | Free onsite and street parking available | Refunds will not be issued unless show is cancelled by venue or producer. Events are subject to change and cancellation.
Please support our nearby local Moorestown businesses by purchasing food and beverage prior to and after the show.
Smoking is prohibited, including but not limited to cigarettes, cigars, pipes, e-cigarettes or any other vaping devices.
WAIVER OF LIABILITY AND ASSUMPTION OF RISK. All attendees, by purchasing a ticket and/or attending the event, agree to assume all of the risks, hazards and dangers that may arise from, or relate in any way to, the risk of contracting a communicable disease or illness (including exposure to COVID-19, a bacteria, virus, or other pathogen capable of causing a communicable disease or illness) whether occurring before, during, or after the event, however caused or contracted. Therefore, anyone who purchases a ticket and/or attends the event, hereby waives any and all claims against the Perkins Center for the Arts, Comic Cure, the performers, and/or all related sponsors relating to all risks of personal injury, sickness, permanent disability and/or death.
Produced by Comic Cure this event benefits Perkins Center for the Arts. Perkins Center for the Arts strives to enrich lives, inspire learning, collaboration, interdisciplinary & intercultural experiences through the arts with programs and services which include; a conservatory of music; visual & performing arts classes; exhibitions; concerts; artist-led school residency programs; a scholarship and fee-based camp for urban and suburban youth; folk life center; and community enrichment projects throughout South Jersey.