South Florida Waterfront - Steals & Deals Real Estate Boat Tour

Tuesday, May 19, 2015 from 11:00 AM to 8:00 PM (EDT)
Who's Going

Loading your connections...
3 of your friends are going.
Share it to get more people on board!
Share

Sara Haughty
San Francisco, California

Luke Picard
London, United Kingdom

Rick Vespucio
Florence, Italy
Event Details
 I have one question for you;
How was you're winter? 
You've worked hard all you're life now its time to enjoy it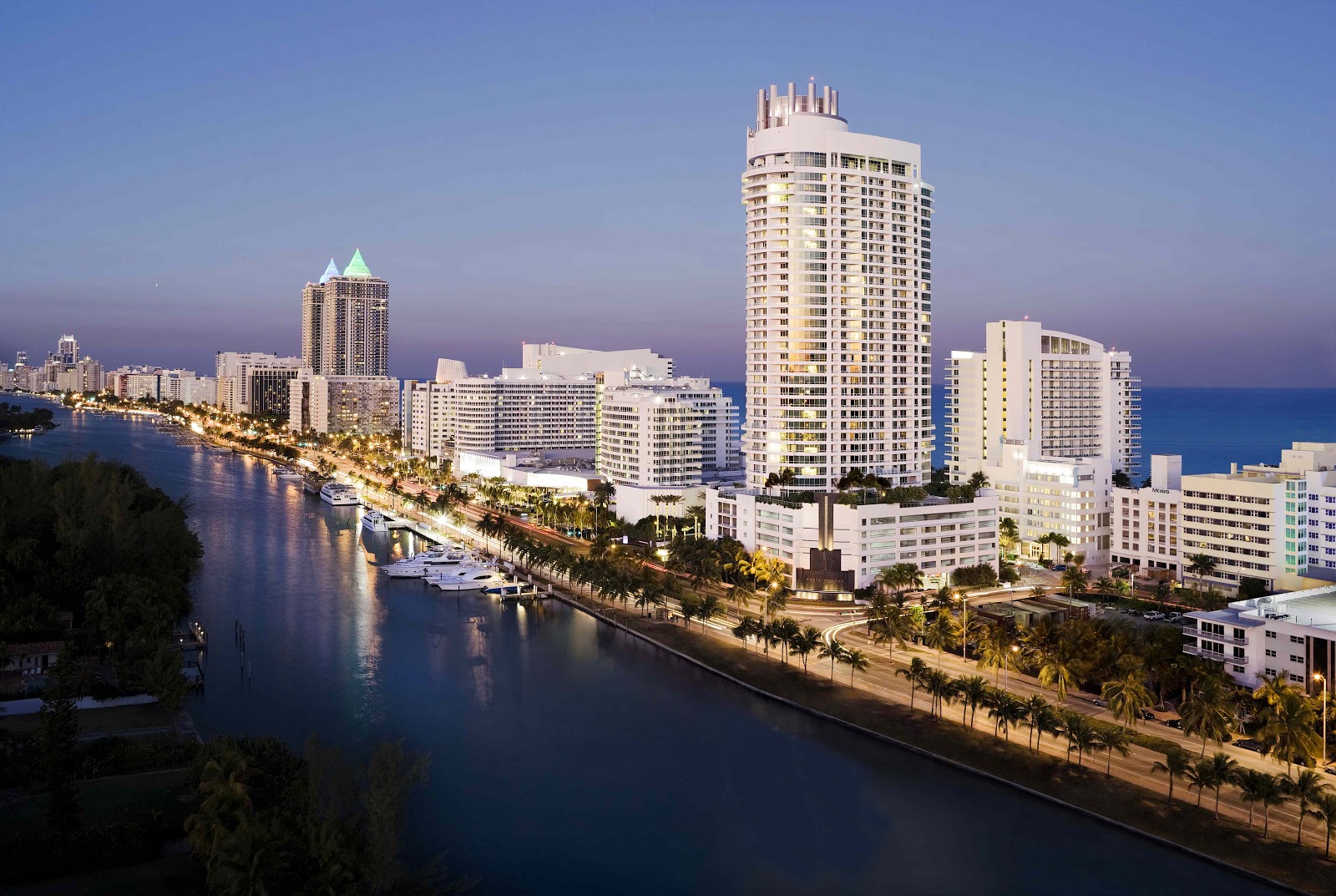 There has never been a better time to buy Florida Real Estate
for the first time in over 7 years, The South American and European buyers are taking a break on buying due the high price of the dollar. 
The Russian Ruble is down over 45% y-o-y
The Columbian Peso is down over 40% in the last three years alone. 
SO what does this mean to you??
Finally the power is switching back to the buyer. Lets face it, they aren't making any more of it! 
Miami and South Florida have had the biggest real estate boom in its history over the last 7 years. 
All while the naysayer's are complaining that it will never recover..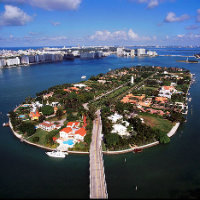 Well, Miami & South Florida have recovered and has garnered the attention & envy of the rest of the world. 
There is no other place in the world where you can get high-end luxury water front real estate for $700 - $1200 per sq. ft. 
NYC on the Hudson is $5000 per sq. foot, if you can find it 
LA is at least $5000 per sq. foot
and London is $2700 per sq. ft
Now Miami is no London or NYC, YET!!!
but its not half or a quarter of these cities either.. 
That's why we believe the opportunity to by Luxury Waterfront South Florida Real Estate is at its all time high. 
The strong dollar has brought a much-needed pause to the market in the $500,000 to $5,000,000 range.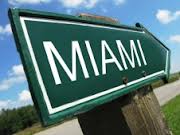 This won't last and the South American and European buyers will be buying heavy again in no time and with the Russian Ruble colapase will not be perminant! 
But it takes patience, preparation  & research in the form of dedicated study of local markets, extensive reseach on the MLS & then count less mettings with local Wholesalers, Banks & homeowners to uncover these deals. Combined with the ability to  act to not to miss out. 
So what's this got to do with you? 
Well thats where that's where Intel Realty Partners and LOCAL REAL ESTATE SPONSOR comes in; 
Intel Realty Partners was founded by Dallas Wharton - a Patriotic Canadian & full time florida resident & Christpher Crippen a born and raised florida native, both long time real estate investors.
Dallas Wharton & Christopher Crippen both left thier jobs at pubilcly traded REITS   becuase they saw the oppotuntiy to use powerful research tools & techniques,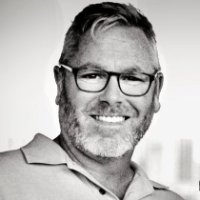 previously only aviable to large Wall Street REITS, to identify steals & deals in the booming South Florida Market. Being Candian Dallas naturally wanted to offer this technology to well qualified Candanian buyers that are in the market for primiary, secondary, vaction or rental investments properties. The kind of people he grew up with all his life. Intel Realty Partners now works with cadainian luxury real estate brokers to offer our research and technology to thier most exclusive buyers.
This is why we partnered with TORANTO REAL ESTATE COMPANY to set up the Luxury South Florida Steals & Deals Real Estate Boat Tour
Intel Realty Partners has a team of dedicated Equity & Debt analysts
that use the latest technology to scour the local markets for the best deals. 
Our analysts believe the next big opportunity in south Florida is in luxury residential waterfront properties in the $500,000 - $5,000,000 range 
and we have the data to back it up  download white paper here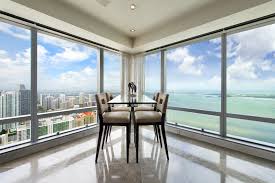 Please join us on Sunday May 29th aboard the Distressed Aquasitions 
for a night of like H'oderves, Drinks and beautiful scenery 
 as we get a water front tour of 
Miami's Booming Downtown River Front
11am - Overview of the South Florida Market
1pm - 6pm Bus Tour of best deals 
6pm - till - Boat Tour - H'oderves, Drinks and beautiful scenery 
DISCLAIMMER* On each tour we set up an exclusive tour of the top 10 best oppotunites on the market in the $500,000 - $5MM range. 
We combine this with an educatioanl and entertaining tour of the S Florida Market on board our boat The Disstressed Aquasititons.. 
This tour is limited to 10 people and only made avail to well qualified buyers that are currently in the market for a second home, investment home or primary residence in the boooming South Florida market and intend on purchasing in the next 90 days.
The best deals are all cash but we have financing options avail as well. Please note, if accepted to the boat tour, all participants must go through a pre approval process and verify their ability to buy. 
We have made arrangements with wholesalers, banks and other institutions to give us First look at their inventory before they put it on the market and they only thing they ask is that we don't waist their time with unqualified buyers.  Therefore due to the limited number of seats (10) and in order to ensure first look at the best deals, we must insist that all buyers go thought the qualifying process 
Please respond ASAP as we have offered this exclusive tour to more then the number of people the boat will hold. So its the first 10 that make the list and the others will have to wait for the next tour. 
When & Where

Distressed Aquasitions

Miami Beach, FL


Tuesday, May 19, 2015 from 11:00 AM to 8:00 PM (EDT)
Add to my calendar
Organizer
Christopher J Crippen
educational workshops focused on crowdfunding and early stage finance
 The Original Crowdfunding Renegade Christopher J Crippen
The JOBS Act represents a fundamental change in business financing. Many Companies previously left out of the market, will now be able to obtain capital like never before. This will lead to disruptions across the board. The JOBS Act recognizes that recent changes in technology have necessitated an update to the securities laws. The JOBS Act is the first major revision of Securities Law in 80 years. Get ahead of the curve. 
In a recent survey of would be startups and established startups about the greatest barriers to starting a business or launching a product raising money topped the list. 
Christopher giveing Intro to Equity Crowdfuning @ WallStreet Event
At any given time there is an estimated 27 million business that are in need of capital. The US Small Business administration states that the number one reason over 51% of all business go out of business is due to lack of capital. Yet in-spite of this obvious need, 23% of entrepreneurs are so daunted by the task of raising money that they don't even try and another 51% are turned down for their efforts. 
Student Testiominals  
This is all changing. Reaching out to Friends and family is how most entrepreneurs get started, but this source by definition is a very limited group with potentially limited means, Next on the list are traditional investors, Angels, Super Angels, VCs & the like, but these professional investors are typically too narrow in their focus and short sighted to fund most startups. 
In this super connected world, Crowdfunding is the tool that lets you tap into this new resource allowing anyone to mine the world for like mined individuals and fast track passion projects like never before.
There are now more the 2500 crowdfunding portals online today. Funding everything under the sun and that number is expected to double over the next few years. 
Globally the total funds raised has followed an exponential curve from $532MM in 2009 to just over $6.7BB last year and is expected to be over $15BB in 2015.
With the passing of the JOBS Act and the addition of equity crowdfunding to the scene, Crowdfunding is expected to grow to an incredible $300BB marketplace in the coming years. 
In this introduction to Crowdfunding workshop, Christopher gives an in-depth look into the revolution that is crowdfunding..
Christopher Moderating Equity Crowdfunding Panel @ Wall Street Event 
Funded by Design was founded by Christopher Crippen.
Christopher has worked as an Analyst, Asset Manager & Executive for large Wall Street REITs, the FDIC & Fannie Mae. When he attended a Crowdfunding conference in 2010, He recognized immediately it was a game changer for Entrepreneurs, Artists & Charities to use the power of the of the crowds to fund their dreams.
Christopher is considered an equity crowdfunding expert and regularly speaks and teaches at industry events. (See Below) & was named one of the "who's who's in crowdfunding" in 2014 by Crowdfund Beat.
He has created several very popoular workshops on crowdfunding and
teaches courses on Equity, Debt, & Donation based crowdfunding - http://bit.ly/1tTp4Xs
Crowdfunding 101 http://on.fb.me/1FpUxYx
How to crowd fund your next Real Estate Deal http://on.fb.me/1FpUxYx
How to crowd fund your next Film http://on.fb.me/1BHO08X
Crowdfunding for the Real Estate Professional - coming soon  
Christopher started his career in finance at a large lender where soon rose to the top of the company. To embrace his passion for development and entrepreneurism he opened First Republic Residential Investments, a Correspondent Mortgage Lender originating over $50mm in residential and Commerical mortgages annually. 
Christopher saw the signs of the pending crisis and closed his lender then went to work for Fannie Mae and then on to lead the FDIC Division at Prescient Investment Management. While at Prescient, Christopher led a team of Asset managers & bank closing personnel. During his tenure Christopher and his team closed 153 Banks and managed the disposition of over 23,000 REO assets with a combined value of over $2 billion. 
In 2010, Christopher decided to fulfill a life long ambition to study abroad and moved to France, where he studied fine art photography at the prestigious Speos Institute in Paris. He returned to the U.S. & now teaches and consults Entrepreneurs, Artists & Charities on equity crowdfunding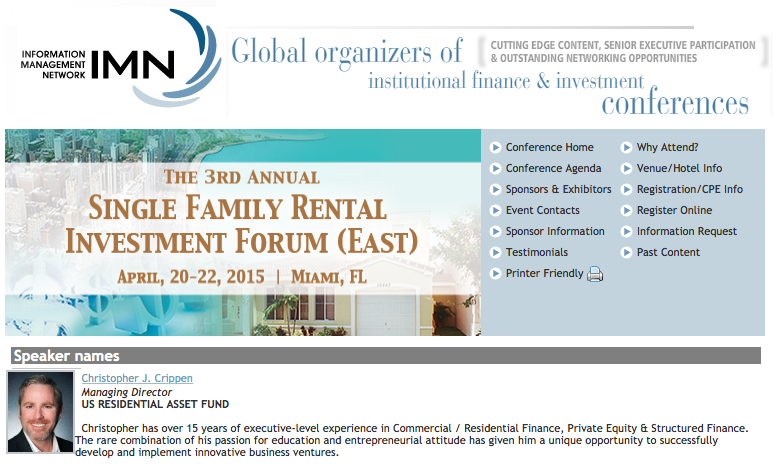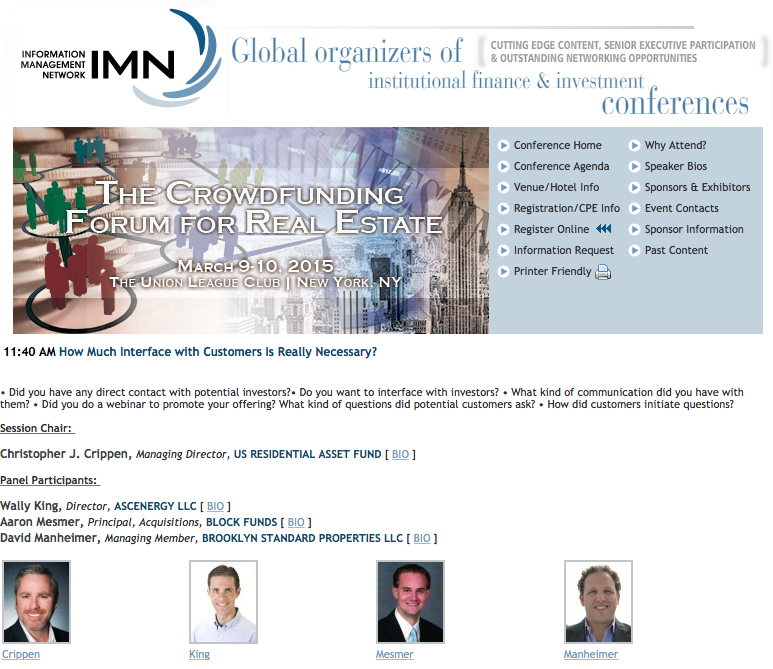 Christopher J Crippen - IMN RE Crowdfunding Event in NYC 2015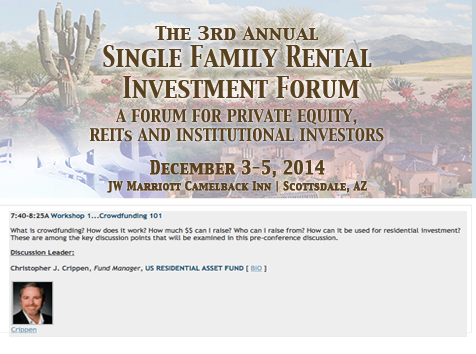 Christopher J Crippen: Opening workshop at IMN AZ: Crowdfudning 101
Come See Me @
My Upcoming
Speaking Engagements 
 ----------------------------------------------------------------------------------------------------------------------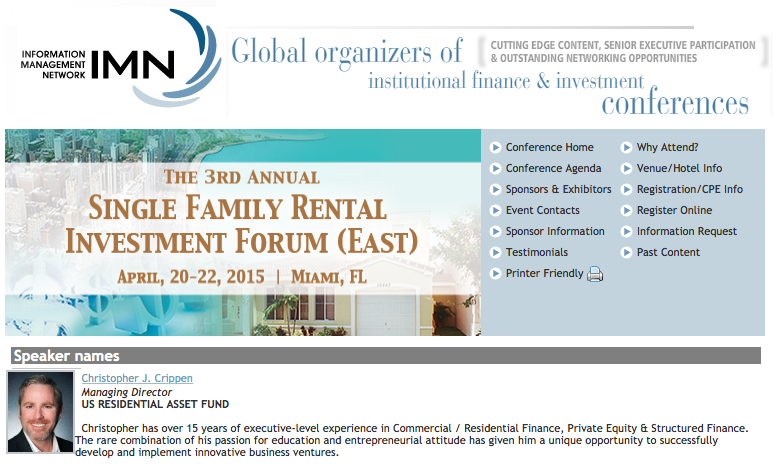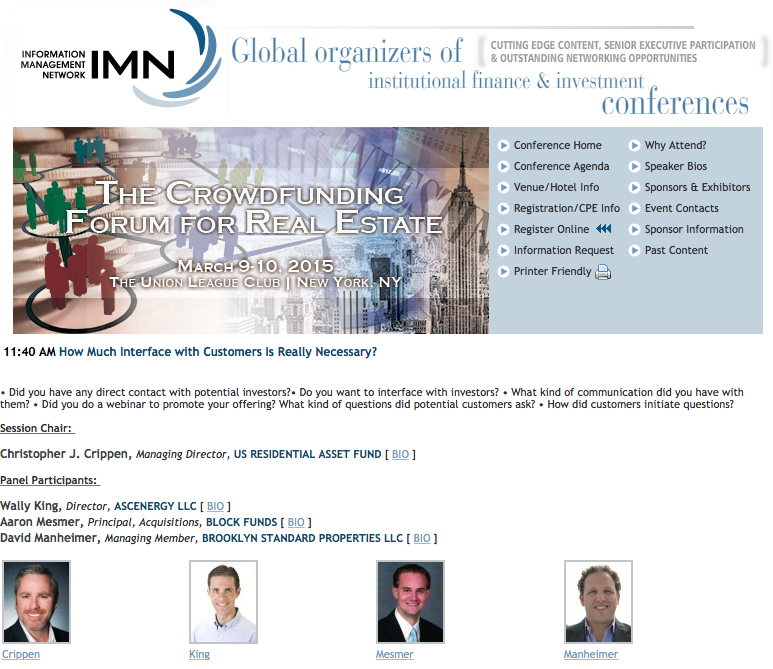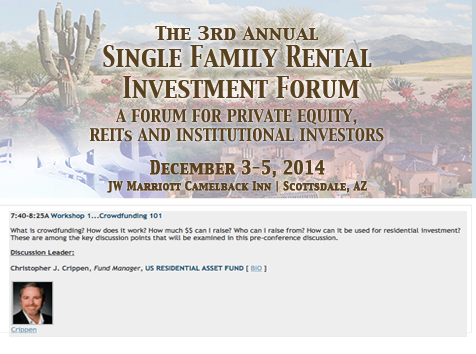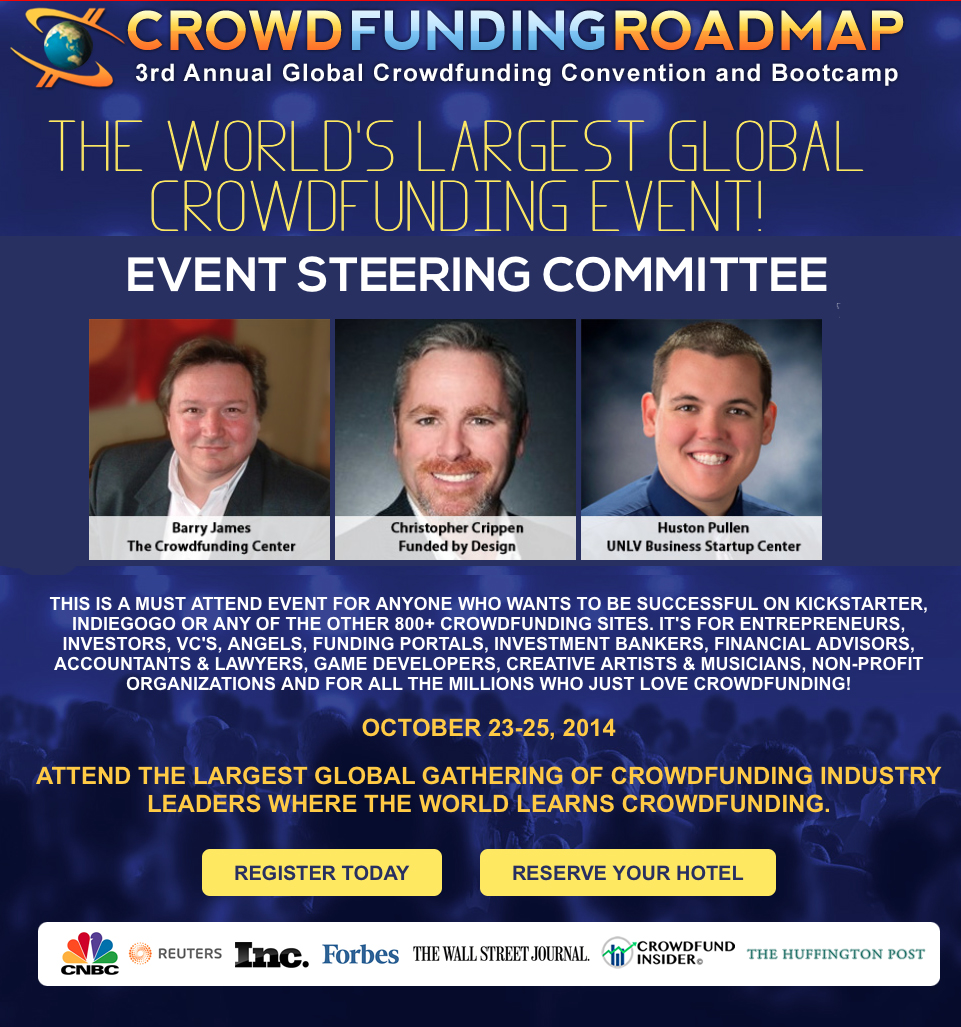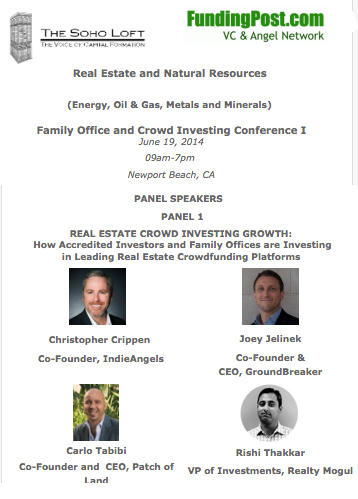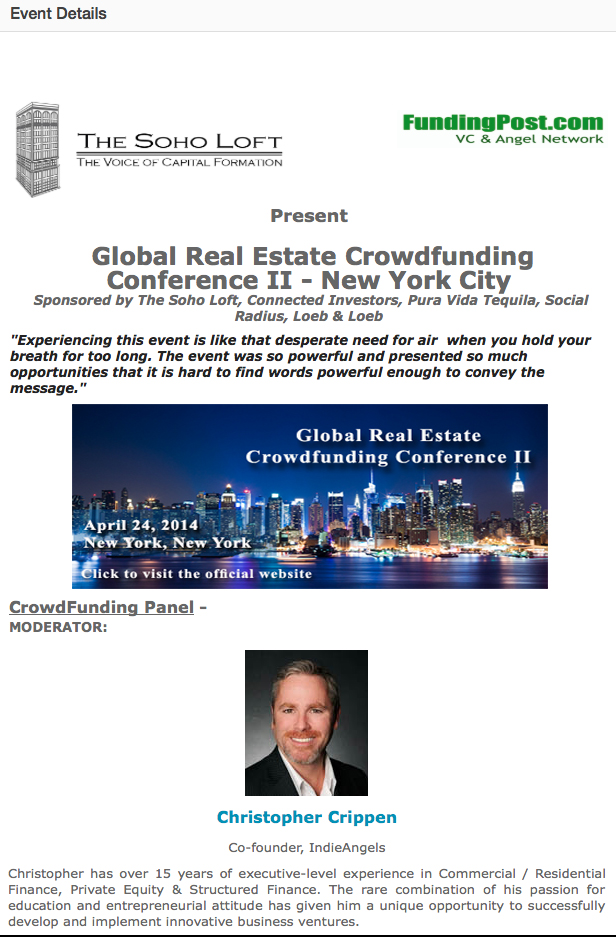 -------------------------------------------------------------------------------------------------------------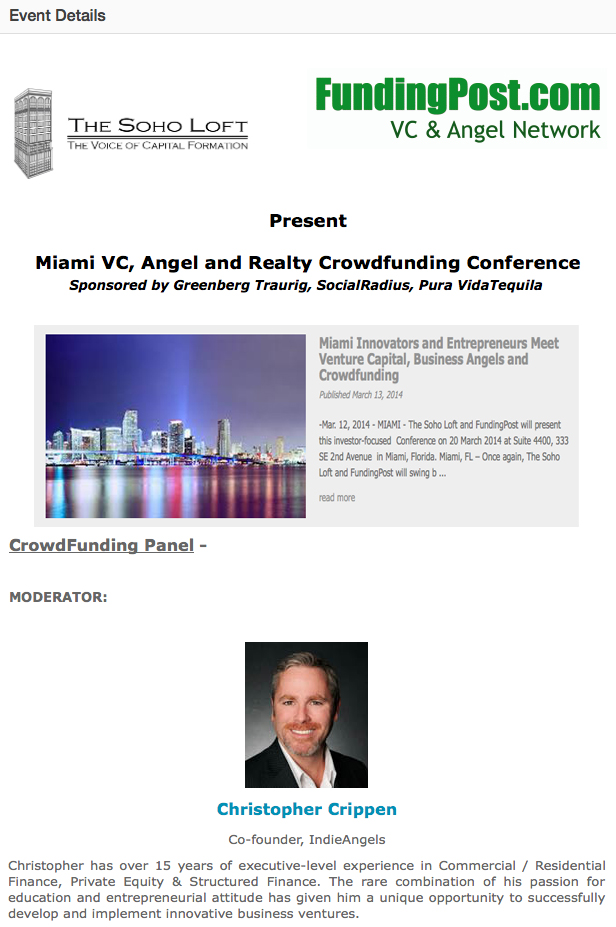 ---------------------------------------------------------------------------------------------------------------------- 
 ----------------------------------------------------------------------------------------------------------------------
 ----------------------------------------------------------------------------------------------------------------------
Crowd Funding BOOKS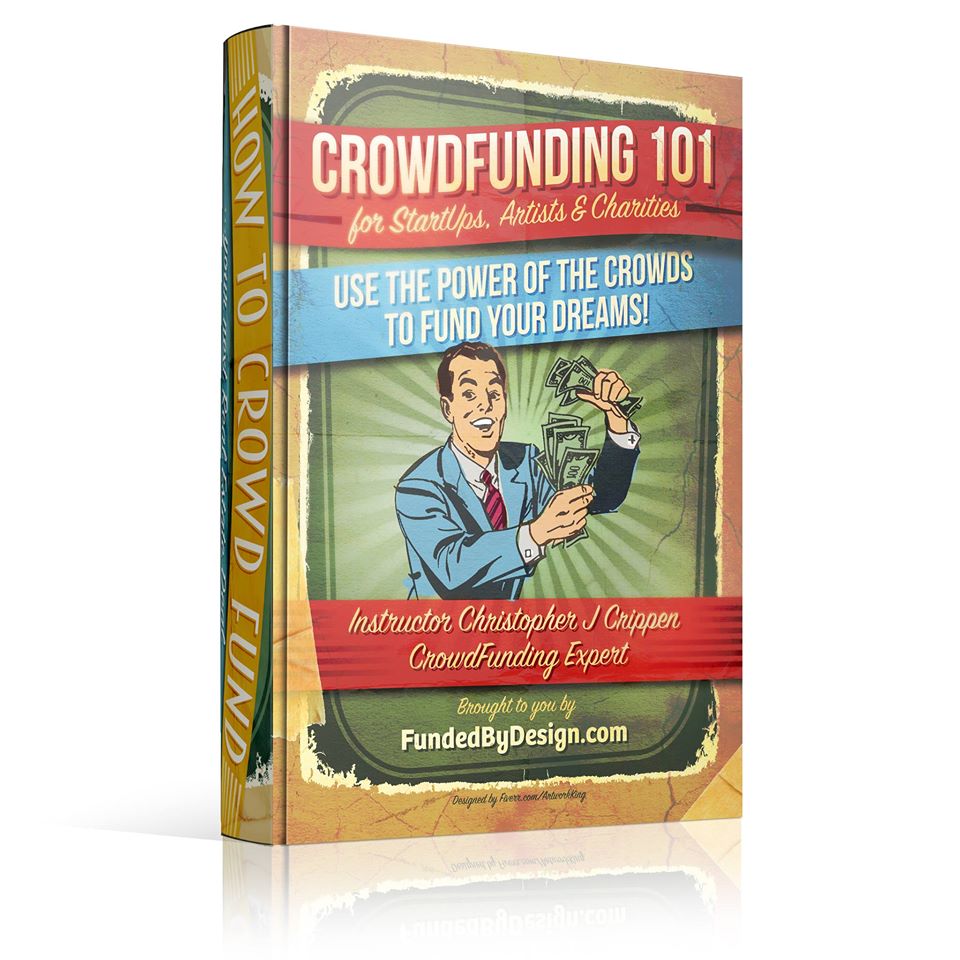 ---
Christopher J Crippen – Crowd funding 101 - 
Hire Chris to Speak or give a private Crowdfunding workshop tailored to your audience.. 
Presentation Honorariums forChristopher J Crippen
Keynotes & workshops up to two hours $2,500
Half-day (seminar) $3,500
Full day (seminar) $5,500
Save money by hiring Chris for more than one presentation.
Flat-Rate Travel Expenses
The fees below include round-trip coach airfare (upgrades are made with points) to the program venue, Fort Lauderdale transportation, en-route and on-site meals, gratuities, and ground travel between the airport and the destination hotel.
      South East: $300
      New York, Texas, Colorado and Las Vegas: $550 
      U.S. & Canada: $950 
      Outside of U.S. & Canada: Plus expenses, including Business Class or First Class air fare.
To Promote your event: Hire Christopher J Crippen to take part in your event and we will supply regional emailing lists (at no additional charge) to help you promote it. Just let us know which ZIP codes you plan to draw from.
 To make more money on your event: Christopher's books and other learning tools are available at quantity discounts. Fulfill your educational mission and make money for your treasury by selling Christopher's products in the back of the room. You can make 20% on each sale! Or, make a quantity purchase at a 40% discount and give one or more books to each attendee.
Guarantee. If I fail to show up on time (this has not happened yet), I will return all fees and pay you $500. You can count on me.
How to contract for speaking: Just contact FundedBYDesign.com at the address below or call during business hours. We will discuss your requirements and design a stimulating presentation to fit the needs of your group. Provide a budget and we will design a program to delight your audience.
A written agreement will be sent.
Contact
FudnedBYDesign.com
Christopher j Crippen
305-523-9239
Crippen@fundedbydesign.com 
South Florida Waterfront - Steals & Deals Real Estate Boat Tour