South Florida Regional Multi-Generational Business & Finance Conference

Monday, November 12, 2018 from 1:00 PM to 7:00 PM (EST)
Event Details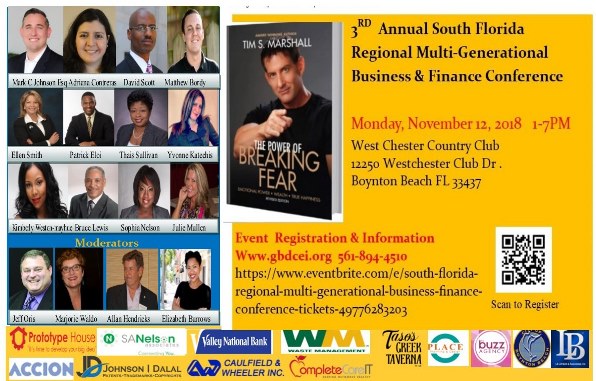 THIRD ANNUAL SOUTH FLORIDA REGIONAL MULTI-GENERATIONAL BUSINESS & FINANCE CONFERENCE. This year's conference will focus on educating and motivating entrepreneurs and small business owners to develop organizations that can foster multiple generational wealth; make decisions that will result in a business that can be sold or inherited and take full advantage of technology in today's marketplace. 

This distinctive event will take place on Monday, November 12, 2018. Leaders attending the event will hail from the banking /financing, government procurement, media and public relations industries. Additionally, representative's form some of South Florida's most successful family owned business will be on hand to share best practices for starting and growing profitable businesses. The day will be packed with "hot topics" and panel discussions with leaders at the top of their respective fields, including: Government, corporate, not-for-profit, communications, Finance, law and more.
Keynote Speaker  Tim S Marshall 
Tim S. Marshall is a motivational speaker, life coach, entrepreneur, and author.
 He's written 7 books in 2 years – on personal growth, entrepreneurship, young professionals, sales, leadership, millennials, and breaking fear in relationships.
Before that, he built a company that was recognized by Inc. Magazine for 4 years in a row as one of the fastest growing companies in America by using the tactics he later included in his books, and most importantly, by bridging the gap of generational thinking and acting to stay ahead of the market crash trends way in advance in order to combine all into one business plan for immediate success. Tim has taught, trained, and developed some of the most influential business professionals and athletes in the world. He created his company using only a desk and a telephone. Although Tim had $80,000 dollars in his business account when he founded his company, he didn't spend a single penny of it and built his company 100% organically from the ground up.
It may surprise you to learn that Tim received his college degree at 25 years old. At the age of 20, he had a 7th grade education and thought he was one of the least intelligent people on the planet. What changed is that he realized he could crack the code by disrupting his thinking with positive action through speed and activity. Tim turns weakness into strength, fear into speed, and self-doubt into power – fast.
His revolutionary tactics smash the molds, break the barriers, and bridge the gap between generations, with lessons and takeaways for both the present and decades into the future.
When & Where

West Chester Country Club
12250 Westchester Club Dr,
Boynton Beach, Florida 33437


Monday, November 12, 2018 from 1:00 PM to 7:00 PM (EST)
Add to my calendar
Organizer
GBDC Entrepreneurship Institute is a 501c 3 organization that provides technical assistance, business training & workshops, staff training, development incubation services and youth empowerment programs. Our services focus on incubator businesses, entrepreneurs, non-profits and public sectors.