Description
Do you have a clear plan to make 2018 the best year ever for your business and financial goals?
We are the organizers of an exciting and unique group:
Real Estate Investing for Women.
We welcome women of all levels (new to seasoned investors) and professions to join us and learn or share experiences in an non-intimidating environment.
The ticket cost is to cover your lunch, taxes, tip and Take Away Manual.
We always have a great time at these luncheons!
This group is in dedication to women real estate investors and related professionals that are serious about business, cultivating strong relationships and committed to providing access to knowledge and information that can help each of us grow to the next level of real estate investing.
During this luncheon we will share great food and discuss in a relaxed and informal way:
How to cut through the noise and get clarity on a step by step action plan to jumpstart your real estate business - I will share my 3 weeks action plan where you can close your first deal in the next 3 weeks!

Identify which strategies work today in real estate.

How to start and propel your real estate business in 2018.

How to break through your mental roadblocks and the 3 most important tips to finally succeed in real estate investing.
... and much more!

You will also receive a Take Away Manual with Presentation Training Notes!

Come join us! It will be fun with great food and like minded people!

WE ONLY HAVE 12 AVAILABLE SPOTS IN THIS ROOM!
RESERVE YOUR SPOT NOW!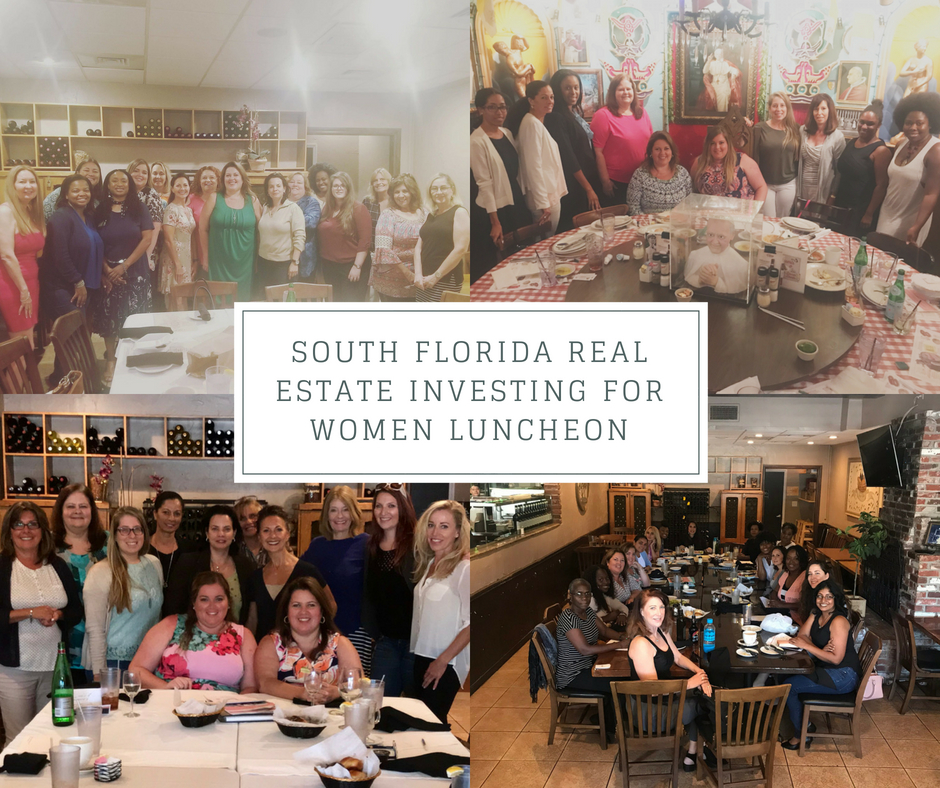 Organizer of South Florida- Real Estate Investing for Women Luncheon
​
​
Liz and Laura are a mother and daughter team. Laura (the mother) has been in real estate for over 30 years and her experience spans from wholesaling, to fix and flip, buy and hold, raising private money and more. Liz entered the industry 4 years ago and she has been wholesaling virtually in several markets.
The combination of lifetime experience (Laura) and modern vision and approach from a young investor (Liz) has been a winning formula.
We are dedicated to empowering women starting their own real estate investing journey, by offering a supportive community of like minded women and up to date training.
Check out 
www.realestateinvestingwomen.com
for more information about training and upcoming events.