Description
AMENDMENT 2 WENT INTO EFFECT ON JANUARY 3, 2017. WHEN YOUR PATIENTS ASK IF MEDICAL MARIJUANA CAN HELP THEM, WILL YOU HAVE AN ANSWER?
Please join us for an engaging day of education and discussion to learn how medical marijuana may impact patients and physician's medical practice in the future. We'll explore the physiology of the Endocannabinoid system, discover how medical cannabis can be utilized for pain relief and treat the progression of Alzheimer's disease. We'll examine business and legal issues with a diverse group of Florida attorneys and ask questions to a panel of physicians that treat patients with medical marijuana. Scroll down for the full agenda and speaker list.
Attendees will have access to TheAnswerPage.com's medical cannabis CME on-line library and can earn up to 6 CME credits.
Click here to watch a 2 minute video recap below from our last Medical Cannabis Symposium

---
Meet Our Esteemed Speakers and Panelists


Endocannabinoid Physiology
Presented by Dustin Sulak, MD
Take an exciting tour of our endogenous cannabinoid system, a cornerstone in our capacity for homeostasis and healing that is seldom taught in medical and nursing education. This material is the foundation for understanding the therapeutic effects of cannabis in a wide variety of health conditions.


---

Mechanisms of Pain Relief Using Cannabis
Presented by Gregory Gerdeman, PhD
Learn of quality research supporting the use of cannabis for chronic and neuropathic pain, common conditions which are often poorly clinically managed. Dr. Gerdeman will review physiological systems involved in sensing and adapting to pain, how these are modulated by cannabinoids with comparison to other drugs, and evidence for synergistic analgesic effects of opioid-cannabinoid combinations.


---

Alzheimer's Disease: Preventing & Halting Progression with Cannabis
Presented by Gregory Smith, MD
Alzheimer's disease is one of several chronic neurodegenerative conditions, both THC and CBD have significant impact on improving symptoms of dementia and separately halting the progression of the condition. None of the available FDA approved medications actually modify the disease as cannabinoids do. Dr. Smith will review current research that suggests micro daily doses of CBD and THC may be recommended in the future as a general preventative against chronic neurodegenerative diseases.


---

Legal Roundtable with Florida Healthcare Attorneys
Current Florida Law and What Physicians Need to Know
Moderated by Jodi Laurence (GreenpoonMarder), the panel will review key points from Amendment 2, potential liability matters and legal issues surrounding a federally illegal substance now legal in Florida. Ask questions to this esteemed group of regulated substance experts that include David Kotler (Cohen Kotler, P.A.), Daniel Sparks (BiotrackTHC) and Jonathan Robbins (Akerman).


---

Physician Roundtable with Practicing Medical Cannabis Doctors
How Treating Patients With Cannabis Affects Your Practice
Moderated by Seth Hyman, the Business Development / Special Project Director at Kelley Kronenberg. Mr. Hyman has been instrumental in lobbying to help his daughter and others with epilepsy. The Physician panel will include Dr. Carlos Smith, Medical Director for Modern Health Concepts, Dr. Jordan Tishler a leading expert in the field of Medical Cannabis therapeutics and Dr. Dustin Sulak.


---

The Patient Journey: From Physician Recommendation to Dispensary
Presented by Nicole van Rensburg
Ms. van Rensburg is the co-founder of two medical cannabis dispensaries in Maryland and Illinois. She will discuss the role of dispensary staff and how her company has set up procedures to keep physicians informed and patients educated.


---


Why The US Government Has Has Been Mailing Me 300 Joints Per Month
Presented by Irvin Rosenfeld
A longtime resident of Broward County, Mr. Rosenfeld shares his story how he was granted permission from the DEA to consume medical marijuana to treat a rare bone disorder and getting his medicine for the last 34 years.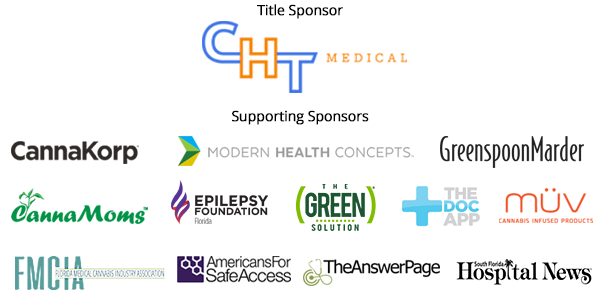 DISCLAIMER: CANNA HOLDINGS DOES NOT PROVIDE MEDICAL OR LEGAL ADVICE
The information, including but not limited to, text, graphics, images, events, and other material contained on this website are for informational and educational purposes only. The purpose of this website is to promote broad consumer understanding and knowledge of various health topics related to the medical use of cannabis. It is not intended to be a substitute for professional medical advice, diagnosis or treatment. Always seek the advice of your physician or other qualified health care provider with any questions you may have regarding a medical condition or treatment and before undertaking a new health care regimen.
The U.S. Food and Drug Administration has not yet approved cannabis as a safe and effective drug for any indication. Canna Holdings does not recommend or endorse any specific tests, physicians, products, procedures, opinions or other information contained on this website or provided at any event for which Canna Holdings is a host or sponsor.