South Florida Cyber Security Forum
Date and time
Tuesday, August 16, 2016 · 7:30 - 11am EDT
Location
Double Tree by Hilton 1717 North Bayshore Drive Miami, FL 33132
Description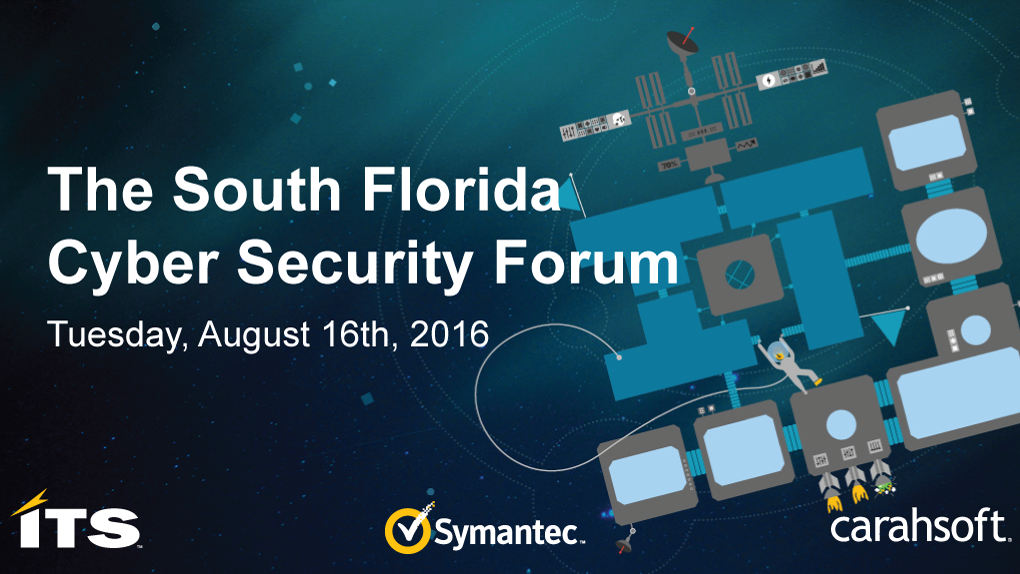 South Florida Cyber Security Forum has been created based on the complexity of today's global threat environment. As IT no longer rules the roost, device and data explosion coupled by being ever targeted by data breaches and battered attacks continue to make cyber security grow. This all revolves around the balance between privacy, anonymity, technology and security.
This is a free morning event with a working breakfast. Agenda has been set to hear from colleagues, thought leaders and IT Professionals along with time set aside to network. Join leading IT Professionals and experts as they gather in one room to help solve this complex problem and get back to securing infrastructure and freeing IT.

Who should attend:
·CISOs, CIOs, CTOs and Cybersecurity Professionals
·Senior Information Security Professionals and Executives
·Security Administrators, Analysts and Consultants
·Privacy Officers and Risk Managers

Agenda:

7:30 - 8:30 am - Registration & Breakfast
Enjoy a variety of breakfast foods and beverage assortments brought to you by Carahsoft.
8:30 - 12:00 pm - Forum, Keynotes, Q&A
---
Industry Expert: The Internet of Things; how it relates to healthcare.
Presented by Mauricio Angee, Chief Information Security Officer at Mount Sinai Medical Center
Mauricio Angée is a Certified Information Systems Security Professional (CISSP) with over 25 years of experience in healthcare, banking and financial services, hospitality, entertainment, and the government sector with a strong background in information assurance, privacy, regulatory compliance, and operational risk management.
Mr. Angée currently serves as the Financial Sector Chief at the FBI- Infragard information sharing group, and is a member of the US Secret Service Miami Electronic Crimes Task Force. In 2013, Mr. Angée was nominated for the CISO of the Year Award by the EC Council.
---
Industry Expert: What's Your Incident Response Recipe and the Temperature of your Security Program
Presented by Renault Ross, Chief Cybersecurity Business Strategist at Symantec
Current State of Incident Response

Building Block of an IR strategy

Industry best practice frameworks

How to prioritize your security tasks

How do you communicate priorities across the business
---
The Current State Of Cyber Security
Presented by Wade Wyant, President of ITS Partners
P

assword is dead

Why ransomware is important

Productive IT Management
---
FAQs
Where is this event taking place?
At the Hilton Grand on Bayshore Drive in Miami
What time?
It's a breakfast event and will start at 7:30 am and last until 11. Breakfast is complimentary.
Is traffic going to be a nightmare?
We specifically picked this location because its just outside of the normal morning bottlenecks going into Brickell (Financial District). It's just off of I95 and 195.
What is the format?
We'll have three security experts discussing various topics relating to cyber security:
Our CEO will disucss today's landscape
Symantec's cyber security guru who once testified on Capitol Hill about cybersecurity will speak on incident response.
A local hospital CISO will discuss the security surrounding the Internet of Things
How much does this cost?
This is a free event.
What about parking?
There is valet parking available, and ample parking in Hilton's garage.
Do I need to bring my ticket to this event?
Nope! Just bring yourself and your appetite.
Mauricio Angee

Mount Sinai Medical Center

Chief Information Security Officer

Renault Ross

Symantec Corporation

Chief Cybersecurity Business Strategist

Wade Wyant

ITS Partners

The Current State Of Cyber Security
About the organizer
The leader in managing and securing critical assets and critical infrastructure with ServiceNow.
If you would like to learn more about ITS, feel free to visit our website or call 616-242-5300.