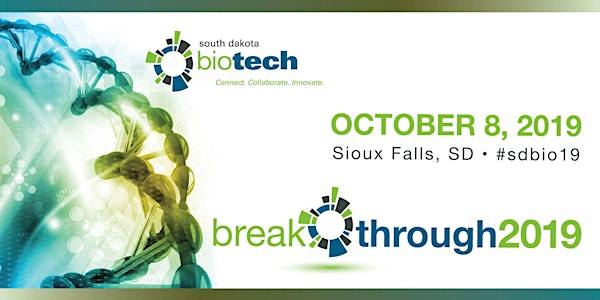 South Dakota Biotech Breakthrough Summit 2019
When and where
Location
Washington Pavilion 301 South Main Avenue Sioux Falls, SD 57104
Refund Policy
Refunds up to 7 days before event
Eventbrite's fee is nonrefundable.
Description
Join us for BREAKTHROUGH! the 2019 South Dakota Biotech Summit & Awards.

Learn about the amazing breakthroughs happening all around us, from human and animal health to agriculture. And collaborate on how we can continue breaking through the barriers of deploying these new technologies to heal, fuel and feed a growing world.
2019 SCHEDULE:

*Subject to change
7:30 – 2:00 PM
Registration and Check-in

8:00 – 9:00 AM
Networking Breakfast — FREDRIKSON & BYRON

9:00 – 9:30 AM Networking Break

9:30 – 10:00 AM
Welcome — JONI JOHNSON, Executive Director, South Dakota Biotech
President's Address — SUE LANCASTER, VP of Corporate Development, SD Innovation Partners

10:00 – 11:00 AM
SPEAKER: The Protein Highway – The Current State of Protein Companies
PHIL KERR, PH.D. - Chief Technical Officer, Prairie AquaTech

11:00 – 11:30 Networking Break

11:30 – 1:00 PM Luncheon–Awards & Recognition
Fireside Chat: Building a Regional Biotech Ecosystem
MODERATOR: EDDIE SULLIVAN, PH.D. - CEO & Co-Founder, SAB Biotherapeutics
JESSICA HYLAND, Executive Director, Iowa Bio
PHIL KOZERA, Executive Director, Bio Nebraska
SHAYE MANDLE, President & CEO, Medical Alley
JONI JOHNSON, Executive Director, South Dakota Biotech

1:00 – 4:30 PM Track 1: Entrepreneurial Path to Translation
1:00 – 2:00 PM COMMERCIALIZATION OF PRODUCT
MODERATOR: BETH LAMBETH - Tech Transfer, University of South Dakota
PANELISTS:
RYAN OINES – Operations, USD Discovery District
DWIGHT NELSON, PH.D. - Founder, Neureux, LLC
2:00 – 2:15 pm Networking Break

Track 1: Entrepreneurial Path to Translation
2:15 – 3:15 PM COMMERCIAL ASSESSMENT
MODERATOR: TBD
PANELISTS:
DAN ENGEBRATSON, PH.D. — Chair, USD Biomedical Engineering
SUE LANCASTER – VP OF Corporate Development, SD Innovation Partners
MATT WILLARD, PH.D. - Partner, The Funding Farm
3:15 – 3:30 PM Networking Break

Track 1: Entrepreneurial Path to Translation
3:30 – 4:30 pm STARTING A COMPANY
MODERATOR: TBD
PANELISTS:
GARY ARCHAMBAULT, PH.D. - Director, SD SBIR
JAMIE ROUNDS, J.D., - Managing Partner, Value Visor, LLC & Murphy Business Dakota Lakes
MEL USTAD, PH.D. – Director, SD EPSCoR

1:00 – 4:30 PM Track 2: Professional Development
1:00 – 2:00 PM HOW SECURE IS YOUR DATA?
MODERATOR: KIRA KIMBALL — Chief Innovation Officer, Marsh & McLennan Agency
PANELISTS:
CHRISTY WESTERMAN - Human Resources Consultant, Marsh & McLennan Agency
TRACY DAHL-WEBB - Risk Management Consultant, Marsh & McLennan Agency

2:00 – 2:15 pm Networking Break

Track 2: Professional Development
2:15 – 3:15 PM REGULATORY PANEL: HOW TO KEEP THE CEO OUT OF JAIL
MODERATOR: PENNY SATTGAST - Founder, PCS Biotech
PANELISTS:
LINDA COOMBS, - QA Consultant
AARON HARMON, PH.D. - QUIBIT
LYNN BARTHOLOW, - Executive Director of Research Compliance, Avera Health

3:15 – 3:30 PM Networking Break

Track 2: Professional Development
3:30 – 4:30 pm HR 101
SPEAKER: DAN OAKLAND - Founder, Alternative HRD

4:30 – 5:00 PM Annual Meeting