Description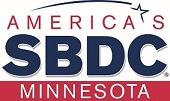 Join the Small Business Development Center to honor outstanding small businesses in our region during National Small Business Week.
Come relax, network and lunch with us!

Feedback from last year's attendees:
"Looking forward to next year's event!"
"My community should be much more aware of and involved in these awards."
"Excellent event and I hope it continues each year!"
"Great event!"
"It was an honor to watch all of you receive your awards."
"Even if you weren't up there receiving an award, all small business owners deserve one. Thanks for all you do for our community."

2019 Honored Recipients
---
Encore Entrepreneur:
Greg's Champion Auto, Mankato - Greg Bednar


Family-Owned Small Business:
Oz Family Dentistry, Mankato - Daniel Osdoba


Minority-Owned Small Business:
Jalisco Market, Gaylord -
Claudia Alejandra Enrrigue Michel
Woman-Owned Small Business:
Amber Pietan Travel Agency, North Mankato - Amber Pietan


Young Entrepreneur (Under 30):
Social Butterfly, Mankato - Brandon Poliszuk



Park in Visitors Lot #4 on Ellis Avenue. Parking passes will be provided.