Description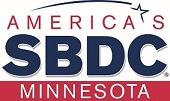 Join the Small Business Development Center to honor outstanding small businesses in our region during National Small Business Week.


2019 Honored Recipients
---
Encore Entrepreneur:
Greg's Champion Auto, Mankato - Greg Bednar


Family-Owned Small Business:
Oz Family Dentistry, Mankato - Daniel Osdoba


Minority-Owned Small Business:
Jalisco Market, Gaylord -
Claudia Alejandra Enrrigue Michel
Woman-Owned Small Business:
Amber Pietan Travel Agency, North Mankato - Amber Pietan


Young Entrepreneur (Under 30):
Social Butterfly, Mankato - Brandon Poliszuk



Park in Visitors Lot #4 on Ellis Avenue. Parking passes will be provided.