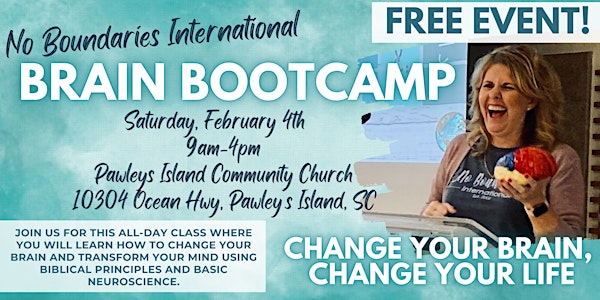 South Carolina⎮Brain Bootcamp hosted by NBISC
CHANGE YOUR BRAIN-CHANGE YOUR LIFE
When and where
Location
Pawleys Island Community Church 10304 Ocean Highway Pawley's Island, SC 29585
About this event
Are you living your best life?
Did you know that repeated choices of sin, unresolved trauma, unforgiveness, or not living to your full potential will alter the structure of your brain?
Jesus has something more for you.
Join us for BRAIN BOOTCAMP where you will assess your current brain health and then develop a plan to change your brain through transforming your mind using biblical principles and basic neuroscience.
After attending, you will be given access to a 12 week course "A Journey of Restoration: CPR Style" to continue and maintain this process.
Because as you change your brain, you will change your life!
RSVP by Wednesday, February 1st, 2023! Register now for your free ticket!
Doors will open at 8:30 am. Class will start at 9:00am.
Complimentary refreshments and lunch provided.
No childcare provided.
www.nbinsc.org