Event Information
Location
THE LANDING EVENT CENTER
1832
CAYCE, SC 29172
ONE OF THE HOTTEST EVENTS ALL SUMMER, A TASTE OF NYC SUMMER JAM IN SOUTH CAROLINA..ENJOY YOUR LOCAL ARTIST & SHOP WITH AMAZING VENDORS
About this event
SOUTH CAROLINA'S SUMMER JAM CONCERTS WITH IN NYC YOUR FAVORITE LOCAL VENDORS & MUSIC
ARE YOU A RISING STAR? MUSICIAN, LIVE BAND, POET, SINGER, DANCER, HIP HOP ARTIST, SPOKEN WORD, ARTIST, AUTHOR, DANCE TEAM?
IF SO, WE'RE LOOKING FOR YOU .. WE'RE ALSO LOOKING FOR VENDORS TO SHOWCASE THEIR BUSINESS TOO.
SUPPORT & SHOP WITH YOUR LOCAL VENDORS WHILE ENJOY THE AMAZING SOUNDS OF YOUR LOCAL MUSICIANS AND MUSIC ARTIST, POETS & MORE. WE WILL HAVE A LIVE PERFORMANCE FROM THE DANCE SOUTH MAJORETTE DANCE TEAM.
WE ARE LOOKING FOR TALENT, ALL TALENTS ARE ENCOURAGED TO REGISTER. ALL RISING STARS, MUSICIANS, LIVE BANDS, POETS, SINGERS, DANCERS, HIP HOP ARTISTS, SPOKEN WORD, PAINTERS/ARTIST, AUTHORS, DANCE TEAMS, WE LOOKING FOR YOU.
Each Ticket comes with a raffle ticket with a chance to win a free 1 hour professional photoshoot and free graphic design logo or cover art to promote your craft and or talent.
The ticket holder will add the artist they know or came to support name on the back of the raffle ticket. At the end of the night the judges will read the raffle tickets, announce the winner. Additional raffles taken can be purchased seperately in the ticket section.
VENDOR FEES ARE NON TRANSFERABLE & NON REFUNDABLE
VENDOR FEE IS $80.00 INCLUDES ONE 6 FT TABLE, CHAIRS,
INFORMATIONAL VENDOR FEE $ 50.00 INCLUDES TABLE, TABLECLOTH AND CHAIR....
INFORMATIONAL ARE AS REALTOR, CREDIT REPAIR, BUSINESS COACHES, PAINTERS, POETS,WRITERS, MUA'S,THERAPIST, DJ'S, PHOTOGRAPHERS, EVENT PLANNERS.
LETS START THE YEAR OFF BOOKED & BUSY SUPPORTING YOUR COMMUNITY WITH THESE LOCAL BUSINESS & ARTISTS.
THEIR WILL BE A VENDOR & ARTIST REGISTRATION FORM TO COMPLETE ONCE YOU' RE REGISTER FOR THIS EVENT. YOU WOULD UPLOAD YOUR BUSINESS AND/OR ARTIST INFORMATION SUCH AS YOUR LOGO AND WHAT YOU SELL OR WHAT TYPE OF ARTIST YOU ARE SUCH AS POET OR SINGER. YOU WOULD PROVIDE THAT INFORMATION ON VENDOR REGISTRATION FORM.
LOOKING FORWARD TO WORKING WITH YOU.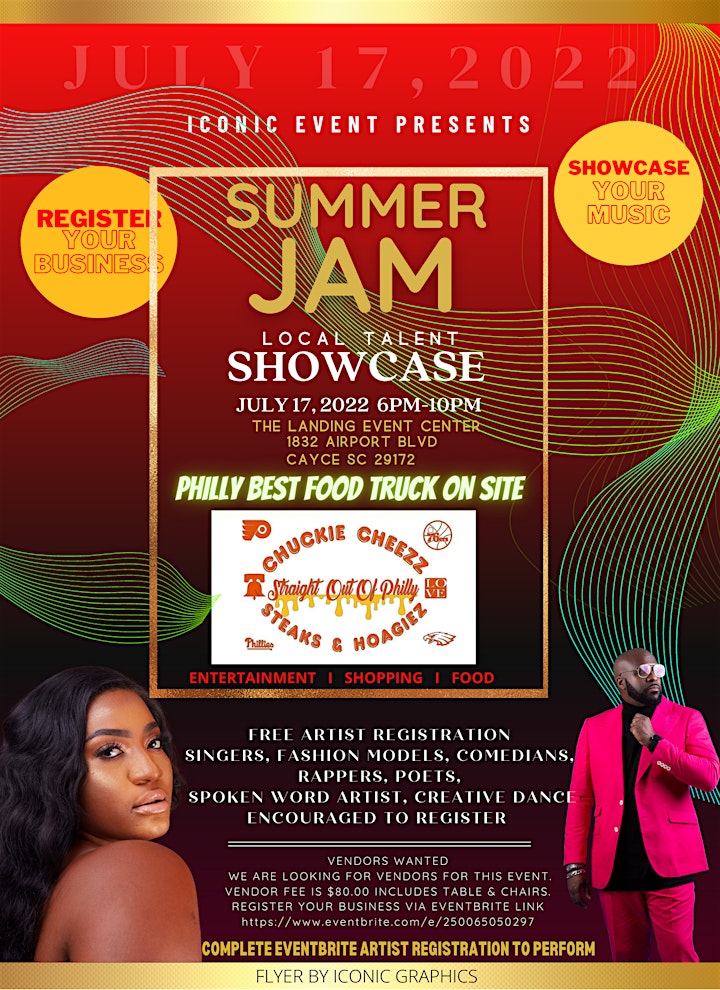 Date and time
Location
THE LANDING EVENT CENTER
1832
CAYCE, SC 29172