A jolley themed trolley event in Cape Coral's Entertainment District
About this event
Get ready to celebrate a "JOLLEY" good time!
Join us for a jolley themed trolley event and enjoy drink samples and appetizer samples at various South Cape hotspots!
Tickets for the South Cape Jolley Trolley Event are available for purchase online via Eventbrite and in-person via South Cape Hub (cash only / no fees), located at 909 SE 47th Terrace. **No cash sales from 5pm-8pm on the day of the event
Tis' the season to KICK OFF THE HOLIDAYS!
Dress for the occasion and you could win the official Photo Booth Contest* & win four tickets to our next trolley event!
Ticket price includes:
Wristband to board the trolleys.
Passport of locations - get every stamp & you could win the grand prize*: a jolley themed gift basket w/ swag
A drink sample and a candy sample at each location.
Eligibility to win prizes for answering trolley trivia!
Access to the official photo booth contest* - winning photo receives a total of 4 tickets to the NYE Trolley Event in December.
Designated driver tickets are available. DDs receive all the benefits of standard tickets, except for drink samples. DDs receive a complimentary non-alcoholic beverage, such as a bottled water or soda, at locations upon request. (This is a 21+ event. Valid ID at check-in will be required.)
Expect lots of entertainment, including live music, dancing, singing and more!
Participating Locations & Samples:
BackStreets Sports Bar - Gingerbread Cookie & Christmas Cups
The Dive - Gingermint & Melt Away Cookie
Dixie Live - Jingle Juice & Sweet Corn Nuggets
Dixie Roadhouse - Rudolph's Tipsy Cider & Fried Ravioli
Good Intentions Uncorked - Wine and Cran & Whipped Cream Cheese and Holiday Berry Triscuit
Kimber's Wine & Cigar Lounge - Grinch's Punch & Santa's Crew of Meatballs
Lehner Burger - Lehrierita & Pretzel Bite Deluxe
Monkey Bar Steak & Seafood - Cape Cod & Chicken Bites
Rack'em Spirits & Times - Hunch Punch & Mom's Holiday Cookies
Ralph's Place - Wine & Bruschetta
Rusty's Raw Bar & Grill - Peppermint White Russian & Pumpkin Cheesecake Dessert Cups
Tiki Bar - Santa Spritzer & Cheese Spread and Crackers
Be sure to stop by the South Cape Hub for the Photo Booth Contest. The contest winner receives a total of 4 tickets to the NYE Trolley Event held on December 31.
Check-in times & locations:
Early check-in: 10am to 5pm at South Cape Hub (909 SE 47th Terrace, Cape Coral)
Regular check-in: 6pm-7:30pm at two locations: South Cape Hub and Big John's Plaza (near Pinch-a-Penny)
Late check-in: 'til 10pm at South Cape Hub
This is a 21+ event. Valid ID at check-in will be required.
For any additional questions, email info@southcapeentertainment.com
* To enter the photo booth contest, have your picture taken at the official photo booth, located at South Cape Hub. Photos will be uploaded to Facebook, and the public will vote. To win the grand prize, have your passport (provided at check-in) stamped at all locations (no purchase necessary) and turn it in on any trolley, at any participating location or at South Cape Hub.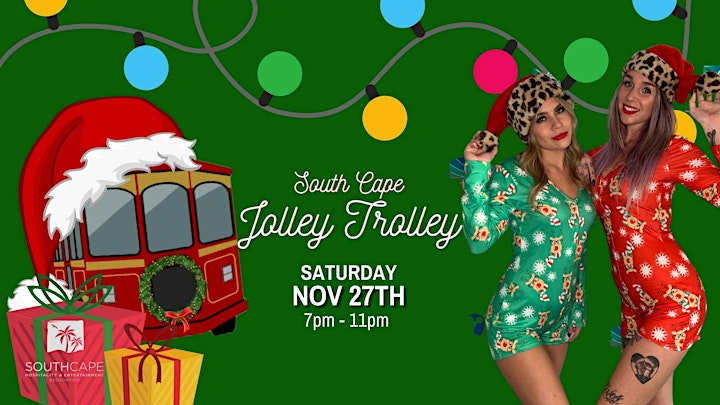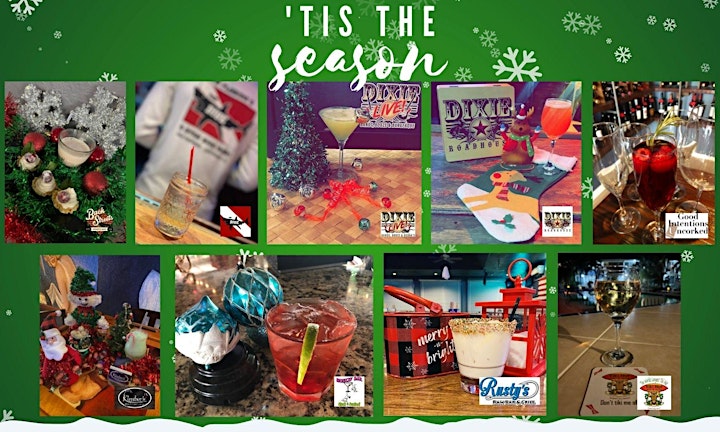 Organizer of South Cape Jolley Trolley
South Cape Hospitality and Entertainment Association (SCHEA) is a not-for-profit organization. We host various trolley events, family events and campaigns throughout the year, all located within the Cape Coral Entertainment District. When you purchase tickets to our trolley events, you help make it possible for us to host additional free events, such as the New Year's Eve Ball Drop and PRIDE Cape Coral.