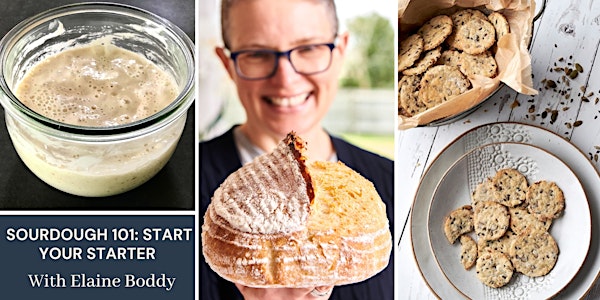 Sourdough 101: Start Your Starter with Elaine Boddy
Join guest chef Elaine Boddy to start from scratch on how to make sourdough recipes with the most important ingredient-- the starter!
Refund Policy
Contact the organizer to request a refund.
About this event
1 hour 15 minutes

Mobile eTicket
NOTE: iphone and ipad users, CLICK HERE to register for class.
If you're interested in sourdough baking, don't miss our upcoming three-part intensive with guest teacher Tara Jensen! Sign up here!
What's on the Menu:
How to build a happy sourdough starter
Sourdough Waffles with Goat Cheese and Blueberries
Whole-Grain Sourdough Crackers
Few things in the world are better than a crusty-on-the-outside, tender-on-the-inside loaf of freshly baked sourdough bread. And if you believe the pro bakers of the world, it's easy: just sourdough starter, flour, water and salt and you're on your way to bread bliss. But what if you don't even have a starter? Then you need to join this class with guest chef Elaine Boddy, author of "Easy Everyday Sourdough Bread Baking," who will start at the very beginning. You'll learn how to get your starter going using one flour or a blend of flours—and will see how the flours you choose transform the starter. You'll learn why the water you use at the outset really does matter. You'll get the practical information you need about containers, temperatures and other starter logistics. Then, we'll tackle the age-old question: is it possible to maintain a sourdough starter without producing a lot of waste? The answer is a resounding yes. Elaine will show you two of her favorite quick recipes that take advantage of the depth of flavor and the leavening power of a happy sourdough. Her Sourdough Waffles with Goat Cheese and Blueberries are so speedy that you can whip up a batch on a weekday morning—and they illustrate how a little bit of sourdough starter adds incredible depth of flavor. Then, we'll make a batch of crackers studded with rolled oats and toasted seeds. The best part? You can make the dough in the time it takes your oven to preheat. Join us to take the mystery out of starting a sourdough starter.
NOTE: Starters take time to get started, so if you begin the process with Elaine, you won't have a mature starter ready to use for the waffles and / or crackers. However, Elaine will provide versions of those recipes that don't require starter at all.
About Elaine: Elaine Boddy is the creator of Foodbod Sourdough. She is a sourdough baker, cookbook writer and teacher, but mostly a sourdough "simplifier." The focus of everything she does is to show how truly simply sourdough can be. She removes the complication, unnecessary steps and fear that can come with making sourdough. Through her blog and cookbooks, Elaine shows bakers all over the world how they can easily make their own healthy, tasty bread week in, week out, in their home kitchens.
Order yourself a copy of Elaine's new book! Use code MILK2022 for 10% off your order when you buy it here.
Want to give this class as a gift? You can purchase gift cards here.
Bonus: All attendees of this class will receive a one-time 15% off coupon to the Milk Street Store after class.
This event has limited spots, and you must register in advance via Eventbrite. One sign-up covers one device. Closed Captioning is available for this event.
Immediately after registering, you will get a confirmation email that contains the Zoom meeting log-in information. One week prior to class (or within 48 hours of registering, if you sign up less than a week in advance), you will receive an email with the ingredients, equipment and prep you'll need to cook along with us, if you choose.
After class, you will receive a recording of the event, as well as a folder of recipes and resources that we discuss during the event. Class recordings are available to all registered attendees for two weeks following each event.
Payments for Milk Street live stream classes are non-refundable. If you find yourself unable to attend, you may transfer the ticket to someone else, but we are unable to refund fees and all payments are final. Classes are subject to cancellation at any time. In the case of cancellation by the event organizer, all paid tickets will be fully refunded.
Proceeds from live stream cooking classes support Milk Street's non-profit work with The Big Sisters Association of Great Boston, The Boys & Girls Club of Dorchester, and other partners.
If you have any questions about this class, please don't hesitate to get in touch via cookingschool@177milkstreet.com.