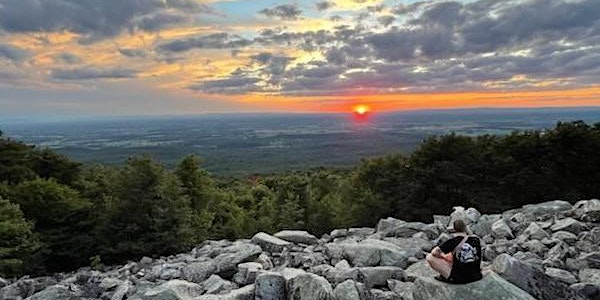 Sourcing the Fire's 9-Day Vision Fast Retreat
Discover a more meaningful & complete version of yourself in community with nature during this Vision Fast: Ceremony of Becoming.
By Friends Wilderness Center
Date and time
June 24 · 12pm - July 2 · 12pm EDT
Location
Friends Wilderness Center 305 Friends Way Harpers Ferry, WV 25425
About this event
During this nine-day Vision Fast Retreat, you are invited to leave your current life behind, severing from work, relationships, household duties, school, social media and the everyday constant flow of life. You will find yourself in a beautiful wooded space set aside for spiritual retreats and journeys. Supported by a small community of other seekers you will enter into a guided ceremony where your perspectives and outlook will broaden and change. With your boundaries and walls becoming more permeable, your essential questions are allowed to come to the forefront:
What am I ready to leave behind?
What am I moving into?
What really is the point of it all?
What do I have to offer this world?
What is most essential in me that brings life and love?
What do I need to let die so that a new life can be reborn?
This Vision Fast is hosted by Sourcingthefire.com and participation is limited. Your ticket request for this event constitutes an expression of interest that will be forwarded to the event organizers for further information and details.
This program of Sourcingthefire.com is donation based; participants are asked to give what they can at an appropriate amount reflective of their life situation. LGBTQ+ community is welcomed and honored with open arms and hearts.
Testimonials:
"Bryan and Mike are incredible guides, servant leaders, and humans. I am humbled by their willingness to invest their time in my and other's lives and their ability to see into someone's soul and reflect back that which is true…that which is important…and that which is possible."
"I highly recommend Sourcing the Fire's Vision Fast. Invest in your life fulfillment and the happiness of the people around you by spending 10 days with Bryan, Mike, and Mother Nature."
"This experience really brought out so much love and acceptance for myself and others. Bryan and Mike are experts at taking the story you have told and speaking it back to you in ways that become transformational. They speak back the truth that you know but aren't always willing to admit. This experience has allowed me to better love myself, trust myself, and give my gifts away to others. I am still having new insights from my vision fast even weeks later. I would highly recommend this experience to anyone looking for transformation and who's willing to do the work."
"Bryan and Mike facilitate professional, safe, and empowering experiences. From the moment I arrived to base-camp, I felt supported and knew that I could show up authentically. The space that Bryan and Mike held allowed me to honestly explore the patterns in my life and learn how to step into my truest self. The Vision Fast taught me how to trust myself. It taught me how to be alone with my thoughts and feelings. It taught me what is truly important in life and how to connect with my Soul. I highly recommend a Vision Fast with Bryan and Mike for anyone embarking on a life transition or seeking personal growth."
"At 51 years old and in my mid-life stage…married for 15 years, 3 kids, and at the same job for 24 years…I was asking myself the hard questions about what was important in my life and how might I invest my time and energy in the second half of my life in a way that would lead to happiness, fulfillment, and peace in my life. The time in nature allowed me the energy and focus to examine my life up to this point, understand why I am where I am, and cry out for a soulful vision for my future. I painfully wrestled with the soul-stealing parts of me which I need to let die, in order for new life-giving seeds to blossom and grow. And as I shed tears, I also shed the chains that were binding me a life not fully and consciously lived."
About the organizer
Friends Wilderness Center is a place of peace and tranquility within a unique 1500-acre wilderness preserve and spiritual sanctuary on the western side of the Blue Ridge, where the sounds you hear are the music of nature – a place to Relax, Renew, and Recharge.