Description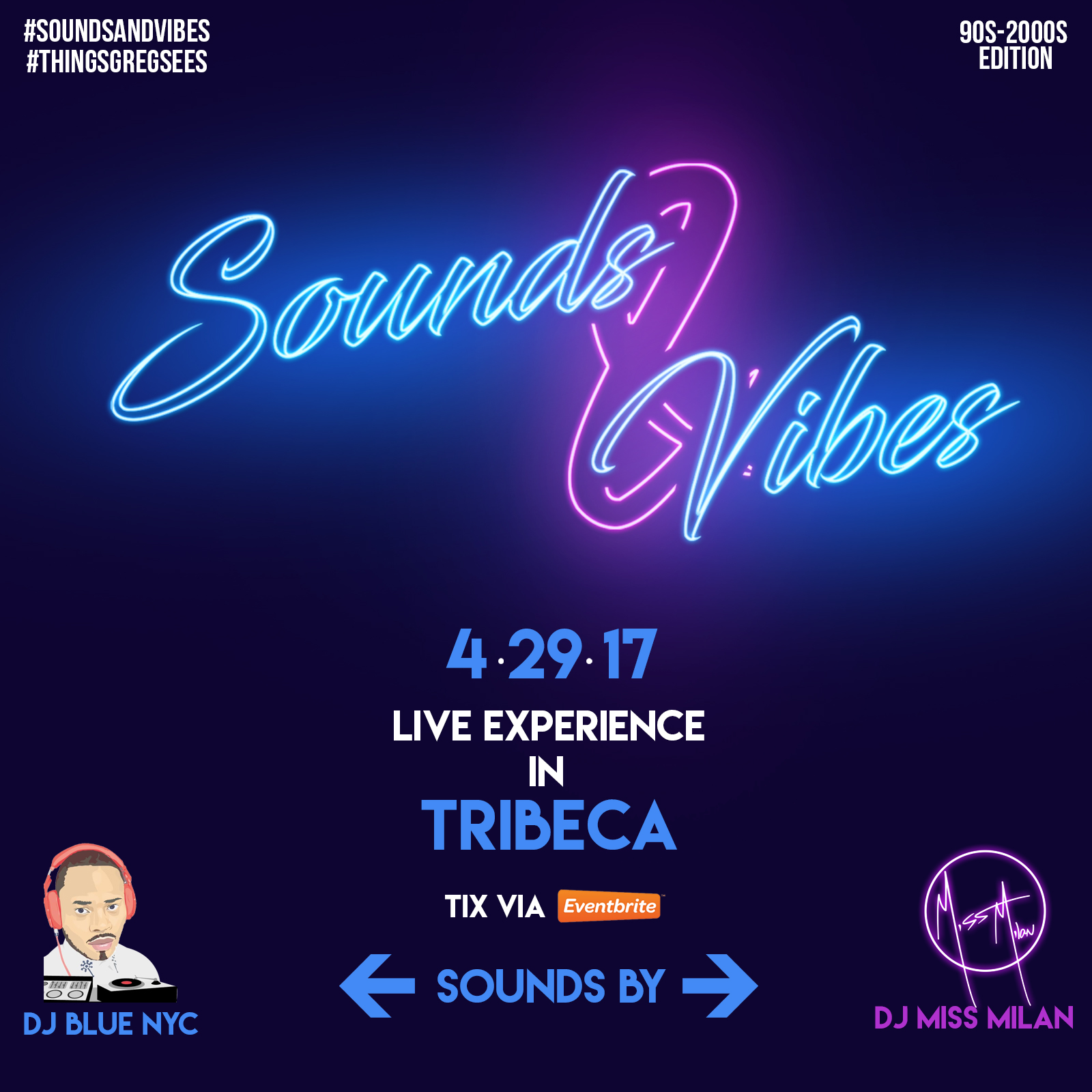 The theme for this Event will play music from the 90's & '00's specializing with club hits, notable radio singles and some b-sides as well. So get ready to re-live your childhood and most of all HAVE FUN!
*Sounds will be provided by @DJBlueNYC (Instagram) & @DJMissMilan (Instagram)
*Drinks will be provided by @GoTenders (Instagram)
*Food will be provided by @LionessCuisine (Instagram) :NOTE: Food will be served from 4-5pm (while supplies last)
*Photography and Visuals will be provided by @RabbitVision (Instagram)
Within the last year thingsgregsees.com has been responsible for providing some memorable Playlists (solely on Apple Music) ranging from the production duo The Neptunes to its highly coveted 90's Girl Group Playlist.
The initial plan was to take you to a place where the music meant something to you. Now for the many who had a chance to download or stream any Playlist and for the ones who might've missed out we now have an event that celebrates just that.
Sounds & Vibes is basically a listening event with the backdrop of a Day Party where people can get the live experience of a thingsgregsees Playlist while networking or pretty much enjoying yourself.
FAQs
Are there ID or minimum age requirements to enter the event?
21 and up alcohol will be served at the event.
How can I contact the organizer with any questions?
Yes, via email at thingsgsees@gmail.com.
Location?
Tribeca
371 Canal St.
New York, NY 10013
Will I be involved with the music selection?
Yes, anyone who wishes to submit a Playlist (via Apple Music, Tidal, SoundCloud or Spotify) can purchase a discounted ticket and will be recognized. One winner will be notified prior to the event.
Is there any re-entry?
Yes but after 7pm re-entry is closed.
BYOB?
Yes, for those who want to bring their own liquor there's an option and ticket for that as well.
Theme?
Yes, each Sounds And Vibes party will follow a specific theme according to Playlist like having a soundtrack to the party.