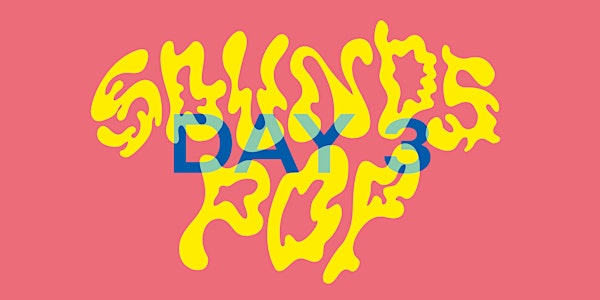 SOUNDS POP - DAY 3
SOUNDS POP DAY 3 Concerts: ANNA MORLEY & DORNIKA
When and where
Location
ACUD MACHT NEU Veteranenstraße 21 10119 Berlin Germany
Refund Policy
Refunds up to 1 day before event
About this event
Berlin School of Sound presents from September 9th to 11th a big variety of styles and geographical backgrounds at Kunsthaus Acud. Female and queer electro-poetry from Brazil, vibraphone pop electro-acoustic music from Australia and post-punk with Balcan sounds. Part of the three day festival are also a field-recording workshop, a label market, a radio program, a discussion panel and food from Brazil. The festival is supported by Musicboard Berlin.
ANNA MORLEY creates electro-acoustic music centered around her beloved vibraphone accompanied by rich layers of strings, percussion, keys and beats.
DORNIKA is a gender fluid Iranian-American artist, Dornika's music explores elements of jazz, hip-hop, pop, Iranian folk, voguing beats, techno and experimental electronic music.
The festival also includes a small marketplace that will be open on all three days of the festival where the artists, labels and media partners will promote their creations, and a food & drinks court featuring Raum Schwalbe's monthly brunch star, the Brazilian Feijoada.
DEUTSCHE FASSUNG:
Berlin School of Sound präsentiert: Sounds Pop, ein dreitägiges Festival im Kunsthaus Acud, das acht unentdeckten Talenten aus der wiederbelebten Berliner Underground-Pop-Szene gewidmet ist. Vom 9. bis 11. September wird eine große Vielfalt an Stilen und geografischen Backgrounds präsentiert. Weibliche und queere Elektro-Poesie aus Brasilien, elektro-akustische Musik mit Vibrafon-Pop aus Australien und Post-Punk mit Balkan-Sounds aus Zypern. Teil des dreitägigen Festivals sind ein Field-Recording-Workshop, ein Labelmarkt, eine Radiosendung, eine Diskussionsrunde und Essen aus Brasilien. Sounds Pop wird unterstützt vom Musicboard Berlin.
Zu dem dreitägigen Festival gehört ein Labelmarkt, der an allen drei Tagen geöffnet ist und auf dem Künstler:innen, Labels und Medienpartner:innen ihre Kreationen anbieten. Feijoada, monatlicher Brunch-Star aus Brasilien im Raum Schwalbe, bietet Food und Drinks an.