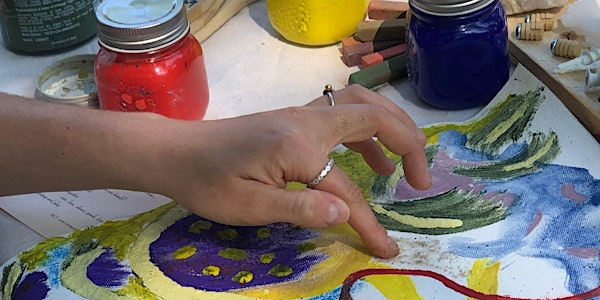 Sounds of Safety with María Bonomi y Lucía Cozzi
Collective painting experience focused on mutual care
When and where
Location
Cooper Park Maspeth Ave Brooklyn, NY 11211
About this event
What does safety sound like? What sounds keep us safe? Sirens, as sounds of alarm, are loud noises or collective announcements that warn us of danger and keep us and our communities safe from harm.
In this family-friendly learnshop, people of all ages and experiences with art are invited to share an afternoon of collective painting, coming together to explore through listening, contact, and color, the sounds that keep us safe and enable us to connect with new forms of being in contact and in mutual care.
This event is free and takes place on Sharon Street alongside Cooper Park. It is organized as part of the Friends of Cooper Park Sharon Street Block Party. The learnshop is offered in English and Spanish. Participants are welcome to drop by anytime from 1-3pm. We are organizing a second session for March 5, 2023.
This learnshop builds on themes present in the exhibition SIREN (some poetics), which connects a group of artists through their different interpretations of the term 'siren'; as a mythological creature, a sound of alarm or otherwise, through a variety of artistic mediums. In doing so, the exhibition asks larger questions about how poetry can be understood and represented as a visual form. We recommend touring the exhibition as part of your visit to Amant.