Sounds For Effortless Creation (The Power of Radha & Krishna) - Mohini's FR...
Description
Namaste everyone,
You are invited to Mohini's 2nd upcoming seminar that will give you a powerful foundation to Dr Pillai's new teachings in order to connect to archetypes Radha and Krishna for your personal financial/material success and spiritual growth.
Mohini's FREE seminar will also prepare those of you who are attending Dr Pillai's upcoming 2-day exclusive seminar in Singapore on 9 & 10 July 2011.
To learn more about Dr Pillai's exciting 2-day exclusive in Singapore on 9 & 10 July 2011 (featuring a rare personal consultation with Dr Pillai), click HERE: http://effortlesscreation.eventbrite.com/
About Dr Pillai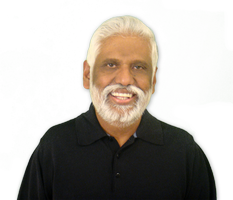 Dr Pillai is an enlightened master from the Tamil Siddha tradition, the same lineage as Maha Avatar Babaji (who was featured in Paramahamsa Yogananda's classic, "Autobiography of a Yogi")
The Tamil Siddhas are enlightened yogic masters whose teachings have long been shrouded in secrecy. Dr Pillai is the first Tamil Siddha master to receive permission from the ancient masters to bring such powerful teachings to the world.
The Tamil Siddhas teach that we should enjoy a 200% LIFE i.e. 100% spirituality and 100% materiality and are well-known for having acquired mastery over their environment.
Through their intensive spiritual practices, Tamil Siddha masters have been known to possess various supernormal (siddhi) powers such as
thought manifestation, telepathy, teleportation & bi-location (to be in two or more places at the same time).
For many years, Dr PIllai was a Professor at the University of Pittsburgh in the USA.
As a scholar, global spiritual leader & meditation master, Dr Pillai is most well-known for having revealed the once-secret AH Manifesting Meditation to Dr Wayne Dyer, thus enabling millions of people around the world to be able to manifest their desires.
In 2008, Time.com hailed Dr Pillai as the "YouTube Guru" with over 5 million people having watched Dr Pillai's video teachings on prosperity & enlightenment on YouTube.
About Your Seminar Teacher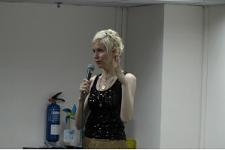 The seminar will be taught by Mohini, one of Dr Pillai's longest serving students.
Mohini is from the US and has been teaching Dr Pillai's techniques worldwide for the past 18 years.
Who Are Radha & Krishna?
Radha & Krishna are two archetypes who symbolise joy, effortless material creation, abundance and bliss.
When you connect with these two powerful archetypes, you too tap into their power to bring joy, miracles and abundance into your lives with the minimum of effort.
Who better to give you an introduction to Radha & Krishna than Dr Pillai (Baba).
Watch this video excerpt from Dr PIllai (Baba) which was taken from His Niagara Falls (US) seminar in April 2011.
Sounds For Effortless Creation (The Power of Radha & Krishna) Foundational Seminar
Having introduced us to the concept of Archetypes in Seminar 1, in her upcoming seminar on 25 June 2011, Mohini will give you a foundational understanding of Radha and Krishna and teach you how you can to connect with these two powerful archetypes through their respective quantum sounds (mantras).
Mohini will also share with you several of the divinely attributes associated with Radha and how by meditating on such attributes, you too can enjoy these attributes in your lives
Mohini's Free seminar is also intended to prepare those of you attending Baba's Guru Purnima Exclusive Seminar and Personal Consultation on 9 & 10 July 2011.
Listen to Mohini talk about the magic of Radha & Krishna and the profound spiritual transformation you can happen during your personal consultation with Dr Pillai (Baba):
What to bring For Mohini's seminar?
pen & paper to take notes

yoga mat or something for you to lie on the floor (eg a towel, old bedsheet, comfortable mat)
How Do I Register?
Mohini's seminars are FREE and and we do encourage you to bring along your friends and family members so they can experience a profound transformation in their lives too.
However, there are limited seats and ADMISSION IS STRICTLY BY TICKET ONLY which you can obtain by registering at this page.
Seats are limited to 90 spaces only!