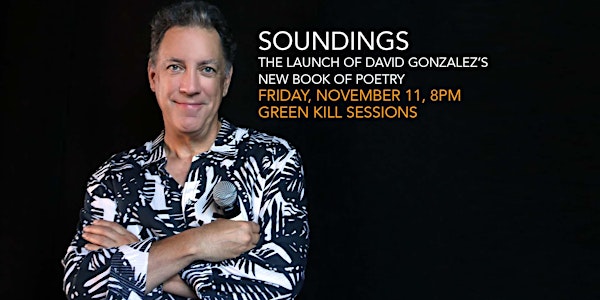 "Soundings", November 11, 8 PM, Green Kill Sessions
On Friday, November 11, 8 PM at Green Kill Sessions, join us for a book launch for "Soundings" , David Gonzalez's new poetry book.
Refund Policy
Contact the organizer to request a refund.
Eventbrite's fee is nonrefundable.
About this event
On November 11, 8 PM at Green Kill Sessions, join us for a book launch for Soundings,David Gonzalez's new poetry book, featuring special guest poets and musicians, Karen Jenson, reading her work, Tristan Shepard playing pedal steel guitar, Jacqueline Ahl and maybe a couple of surprises.
"This is a most necessary voice and text, concerned with a profound, inspiring view of humanity -- here are the maps for a self of earth and cosmos for the new thinker, traveler, philosopher. Bravo, brava!"
— Juan Felipe Herrera, Poet Laureate of the United States, Emeritus
This event will be livestreamed on the Green Kill Sessions YouTube Channel and will be open to a live audience of 30. Tickets are 5 dollars.
1. Please click "Tickets" button to access livestream or live audience ticket.
2. Select "Livestream Ticket" or "Live Audience Ticket". Audience members attending in person must be masked! Please choose the right ticket. A Livestream Ticket provides you with a link to the Green Kill Sessions livestream which can be accessed remotely on your own equipment. A Live Audience Ticket puts you on a list for a reserved set at the event, and also provides you a livestream link. If you are coming to the event, please arrive 15 minutes before starting time. There are no ticket sales at the door. All tickets must be reserved on Eventbrite.
3. Enter the number of tickets you would like to buy.
4. Enter your credit card information: Name, Number, Expiration Date, and CVV code. Double-check the info you entered. Make sure it's correct. It's easy to slip up!
5. Select "Place Order". You will then have access to the page which has a watch event link. Click on that link to see the YouTube event address. An email will also be sent to the email address you provided with the link.
Shortly before the event, you will receive a reminder link.
Please be advised that tickets are not transferable. If you wish to buy a ticket for someone else, you must use their email when buying a ticket for an event.
Because COVID is still a potential hazard guests attending the livestream in person must be masked and vaccinated. Artists organizing events can limit the number of a live audience or decline to invite any in-person attendance.
Soundings
Soundings is a kaleidoscopic collection that dives into five facets of musician, storyteller, music therapist, and theater-maker, David Gonzalez's experience. Each section adds a new layer of meaning and color: "Nuyorican" explores contemporary Latinx life. "Rings of Fire, Ice and Jazz" focuses on music and myth. "Entanglement" centers on science and wonder. "Above, Below, In Between" looks into the natural world. "Back to the Beginning" moves through birth, death, and redemption. Each section invites the reader to place themselves within these broader contexts while staying awake to all that is offered.
"Here are the maps for a self of earth and cosmos. Interconnections, breath, existence, and thought—for the new thinker, traveler, philosopher. Bravo, brava!"
—Juan Felipe Herrera, Poet Laureate of the United States, Emeritus
"Welcome to the birth of poet! Of course, David Gonzalez has always been a poet; it shines through his work as a storyteller, musician, actor. But now—with Soundings—David the poet takes center stage and what we find is poetry tough as the sidewalks of Nueva York, sweet as the breeze in Boricua…"
—Bob Holman, poet and founder of the Bowery Poetry Club
David Gonzalez
David Gonzalez is a storyteller, playwright, and performer whose poetry has been featured at Lincoln Center's Out-of-Doors Festival, Bill Moyers's documentary Fooling with Words, and NPR's All Things Considered, as well as at universities and performing arts centers nationwide. For eight seasons he was the host of New York Kids (1992–2000), a high-energy live radio program on New York Public Radio, where fun, fast-paced creativity and social relevance for children was the mission. Later, David wrote the opera libretto for Rise for Freedom at the Cincinnati Opera, and authored many other works, including The Man of the House (commissioned by the Kennedy Center for the Performing Arts), Mariel, an Afro-Cuban musical, The Boy Who Could Sing Pictures. He has toured widely through the US and abroad. He is a Joseph Campbell Foundation Fellow and has extensive experience supporting communities through the arts.
Soundings, published by The Poetry Box®, is currently available for pre-order via ThePoetryBox.com, and after October 16th can be ordered through your favorite local bookstore or via Amazon, Bookshop.org, and other online retailers.